Reagan and Sara Madalin spent some time together running errands today so that I could get a little research and writing done. She loves going out with her Daddy. And he said she talked the whole time they were gone.
Their first stop was at the tire store. Reagan needed to get his tires inspected. He said she carried on quite a few conversations and made several friends.
Next they went to Sam's. He picked up a few things on our list and did a little Christmas shopping as well. And of course, no visit to Sam's is complete without an Icee for the two of them. One additional thing they picked up was a little Barbie make-up set for her. (He had promised her a prize if she was good at the tire store. She reminded him of that while they were at Sam's.) Until now I've not gotten her any lip gloss or make-up because I dreaded the messes I knew would follow her playing with it. Well, after her playing with it for about 20 minutes, I discovered I need only worry about one mess and nothing further. Why? Because after that 20 minutes, there was no make up left. Here are a few pictures of her playing in her make-up.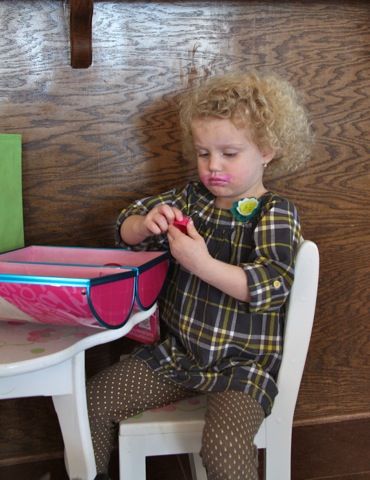 She had about 2 tubes and 3 small containers of lip gloss. She thought it was appropriate to wear ALL of it at one time.
She also put on a little eye shadow. You know, to balance things out a bit.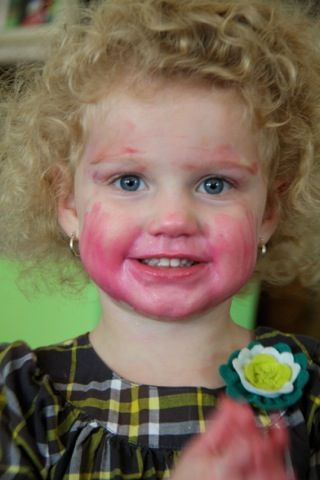 She put the lipgloss on her hands, rubbed them together, then just wiped it all over her face like lotion. All the while, she was telling us things like, "You do it wike dis, cause that's the way you do it." I l
ove that girl and her personality.