For the past couple years we have attended the Not-So-Scary Halloween Party at the Magic Kingdom. This year we decided we'd try the Christmas party and see how we liked it.We made plans to go to the party while visiting the Glenns for Micah's birthday party. So, Sunday evening, Reagan, Sara Madalin, Nicki, Jonah, and I headed over to the Magic Kingdom party with our friends.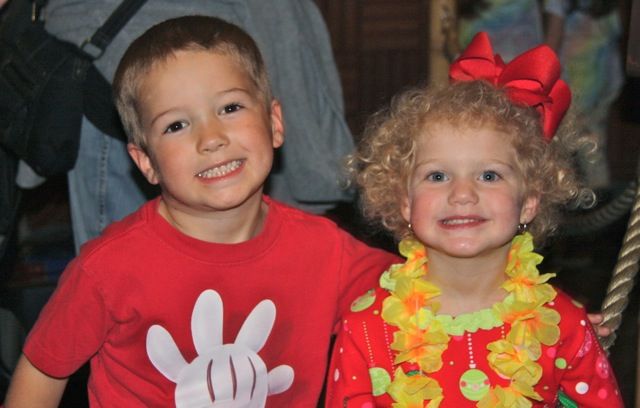 We parked at one of the resorts and caught the monorail over to the park. Before boarding the monorail, Jonah and SM spent some time questioning the monorail attendant. SM walked right up and said, "What's you name?" Jonah looks like he's explaining something to the guy here.
These two are buddies. I think SM is a little too high maintenance for him at times, but the majority of the time, they played very well together. She adores him and thinks he hung the moon.
Sara Madalin's reaction to everything was so funny and sweet. She was really in awe of everything this visit. It's been a year since she was there and she's changed a lot in this past year. She just couldn't believe her eyes when we turned the corner and saw Mickey and Minnie.
This next picture is her when she first walked up to Mickey Mouse.
I love seeing this sight in person.
Riding the teacups. Because we were at the party, and only those with armbands are allowed to ride during the party, we really didn't have to wait for rides. Some rides, like this one, we didn't even get off of, but rode a couple times in a row.
Jonah and Nicki stayed with us for a few hours, then headed home. Jonah had school Monday and had a special part in the school announcements. So, we said good-bye to them and headed over to watch the Christmas parade. I think these two will miss each other a little.
After leaving Jonah and Nicki, we found a spot to watch the parade. SM loved it.
After the parade, we walked over to wait in line to get photos with Cinderella and her Step-Sisters. We really wanted to see Cinderella more than anything. We ended up waiting in line over an hour. During that time, SM's bedtime came and went. She was tired after all the activity and the long day she'd had. But don't be deceived by this next picture. She didn't stay in that position for long.
While waiting on Cinderella, we watched the Christmas Wishes fireworks display. In the past, SM has not liked the fireworks at all. This time, she LOVED them.
We finally got to see Cinderella. SM was so tired, she didn't even smile.
I could have done without the stepsisters, but SM seemed to like them. Maybe because they are almost as sassy as she is.
The castle with the Christmas lights. Beautiful.
One thing Sara Madalin did remember from other visits to Disney was the HUGE balloons. We told her that if she took a nap (which she fought almost the entire ride from Nicki's to Orlando), she could have one. She ended up napping for about 30 minutes before getting to Disney, so we bought her a balloon on the way out of the park.