I think it's been about a week since I blogged and I can't even remember half of what has happened that I've neglected to record. I'm pretty sure (if I could remember) that my posts would have been about nothing but cooking, cleaning, and SPIDERMAN. I know I have some pics on my camera of SM helping her Uncle David in their yard. I think I also have a few left from our Disney vacation. But, to be quite honest, I've not had much time to upload them. Or, I haven't taken time to do so.
We got home from vacation and moved right into preparation for Thanksgiving. Reagan's family is going to be at our house Thursday and I'm planning on visiting with my Daddy some, so I've tried to get as much done as I can in the past few days. Since Sunday, I've made 2 pies, 2 dozen cookies, a green bean casserole, a roast with vegetables, and 2 pots of chili. Most of that was to freeze and carry to my Daddy. I still have to cook for Thursday. But, luckily, I only need to prepare a dessert and a couple sides for that.
Also, thanks to my husband perfecting his caramel macchiaoto recipe, I have cleaned my house from top to bottom, made SM a new jumper for Thursday and decorated my front porch.
And what has Sara Madalin been up to? I'll tell you it hasn't included any more sleeping than I can FORCE her into. That child fights sleep like nothing I've ever seen. And she hasn't had ANY caramel macchiaoto. But she still looks and acts like she has the energy of 10 hours of sleep a night. Here she is this morning, dressed and ready to do a little sprint shopping with Mommy before we head to the Drug Store for their Thanksgiving lunch.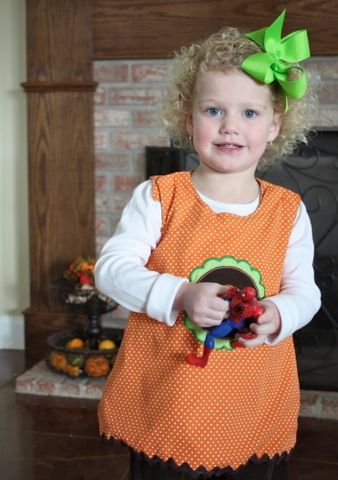 You can't see her top really well, but it's the reverse side of the pumpkin outfit I made her to wear to the pumpkin patch a few weeks ago. It has her monogram on it.
She wears me out, but she is so funny. I can't remember all the funny things she says, but Reagan and I look at each other some times after she says something and it's all we can do not to laugh at her.