Here are a few photos from my phone that were taken over the past several weeks. The first is Sara Madalin at lunch one Sunday afternoon. She was enjoying some homemade banana pudding at a local restaurant where we often eat on Sundays. Now, everywhere we eat on Sunday, whether it's this place or somewhere else, she asks, "Do they have banana pudding for dessert?"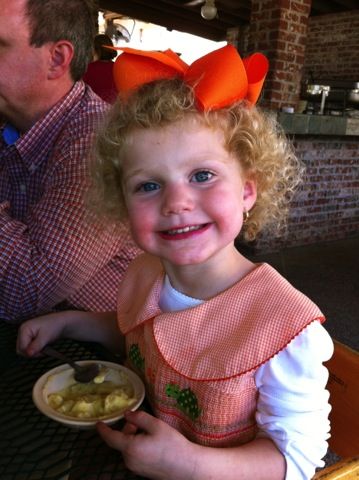 This next picture is at Sunday lunch again, only we were at another of her favorite places to eat. It's a local pizza parlor. They serve ice cream here. We basically visit places on Sunday for dessert.
This was the Saturday we went to the Pumpkin Patch. It was at lunch. I made the outfit she wore that day. She had already gotten ketchup on her sleeve and I told Reagan I wanted to take a picture of her before the whole outfit was filthy.
I snapped this photo as we were headed to school this past Wednesday morning. She's holding her Operation Christmas Child gift box. I dropped it by the church while she was in school. I wanted a picture of her holding it. She was like most any other 3-year-old when she saw the gift. She wanted to keep it. But I took the picture so she could be reminded in the future how important it is to give gifts to little children who are less fortunate that she is and who might not receive a gift for Christmas if she didn't send them one.
This was her at Baskin Robbins this past week. She had stayed for lunch bunch and I had promised that if she took a good nap for her teacher, we would stop and get ice cream on the way home. She will do anything for chocolate ice cream.
Guess who we saw this past Friday night.
We were eating dinner at a local Mexican restaurant. (Do we seem to eat out a lot? I guess cause we do.) Someone came in a said that Santa was next door (at the checking cashing business) and would be leaving in about 5 minutes. So, I grabbed her up and we ran over right quick. She still had tortilla shell hanging out of her mouth. She told him that she wanted a whistle for Christmas. Then, as we were walking out, she asked me, "Where's his sleigh?" I (lied) said, "I bet he parked it in the back."
These next couple pictures are not from my phone, but from my friend, Shea. She took them this morning and posted them on my Facebook wall. In Sunday school they were learning about David, the shepherd boy, and how God called him out of all his brothers to be king. In this first picture she is dressed as a shepherd. She is holding a sheep (a cotton ball on a popsicle stick) that she made.
At the beginning of Sunday school, they all go into the puppet room for a lesson. They get to sing and watch the puppets, and hear the lesson for the day. In this next picture (I was told this by her Sunday school teacher, my friend Stephanie), SM is being David and is being anointed. Her teacher said that the lesson leader said, "And God had big things planned for David." Stephanie said God has big things planned for this girl. We believe that too. SM loved begin a shepherd and being part of the lesson.
Those are use some of the pictures I seem to have collected on my phone recently. I often forget to carry a camera and find myself snapping pictures of her more and more with my phone. I guess that's just a result of our active life.