Thursday morning we packed our bags and hopped a plane to go see a few of our friends in sunny Florida. It's the first time Sara Madalin has flown in about a year. It was such a different experience with her at this age. She's so much more aware and able to handle things so much better. We told her at the end of the day how very proud we were of her.
As we were going through security, she helped us push the baskets along the table and then onto the conveyor belt. She sat and waited as we gathered everything back up and headed to our gate. Once at the gate, she and her daddy watched some of the planes while we waited for our plane.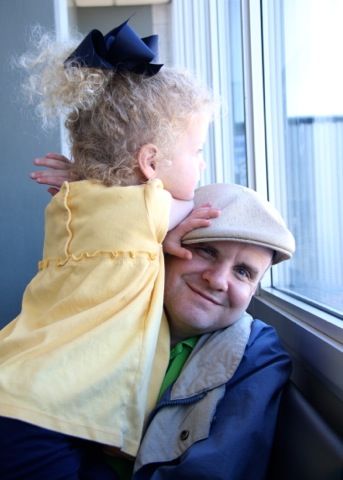 Right before it was time to start boarding, she and I made a last minute visit to the restroom. We went into the family restroom, which she had a little more room and freedom to explore while I went potty. As I was doing that, she used her spider-powers to climb up on the counter and play in the water.
She didn't really make much of a mess. I was more concerned with her falling and hurting herself. But not so concerned that I forgot to take a picture, I guess.
We got back to the gate just as boarding began. The plane was already half-full, so they let all the families board first. Luckily, we got a row of seats together. Here we are right before she and I traded seats. This trip she wanted the window seat. She was so excited and we loved seeing and hearing her reaction to flying.
She didn't sleep on the flight. She was afraid she might miss something. She asked about every sound. "Mommy, why dat baby crying?" She pulled out and looked through every piece of literature in the seat pocket. At one point, as she was looking at the brochure on procedures to follow in various emergencies, she pointed to an animated picture of a man bent over in his seat demonstrating how to act in case we crash, and she said to me, "Wook Mommy! It's Peter Parker!"
(For those not in the know, Peter Parker is Spiderman's alter ego. I'm afraid our child is going to need some serious therapy if she doesn't soon grow out of this obsession with Spiderman.)
As I said, she didn't sleep on the flight. But this was her about 10 minutes after getting into the rental car.
She slept the entire drive to our friends' house.
Once there, we visited with my friend Nicki while we waited for her husband and their oldest son, Jonah, to get home from soccer practice. I wish I'd had my camera rolling when they came in. Sara Madalin was so excited to see him. Here they are as we all ate dinner.
(Please excuse the goof-balls in the background.)
After dinner, SM and Jonah went to his room to play while we sat and talked. After a few minutes I heard Sara Madalin say, "Mommy, cwose your eyes!" I did and when I was instructed to open them again, this is what greeted me.