Sara Madalin loves to work on projects. I will catch her sometimes in her room with her dolls set out on the floor, with a sheet of paper in front of them, and she'll tell me they are working on a project. So, when I want to keep her entertained for a few minutes, I get her started working on a "project."
Monday afternoon, I set her about working on a project so that I could straighten the house a little. I brought out some shoeboxes that I'd kept set aside for this particular project. Then I put out a couple rolls of wrapping paper I'd bought at Target for $1 each, and some ribbon that I'd found on sale as well. I told her that we were going to wrap the boxes and use them as decorations under the tree. She was so excited she could hardly sit still. But then, sitting still is NEVER a strength for her.
She loves ribbon. While I was getting the boxes and wrapping paper ready, she sat and held a roll of the ribbon like it was gold.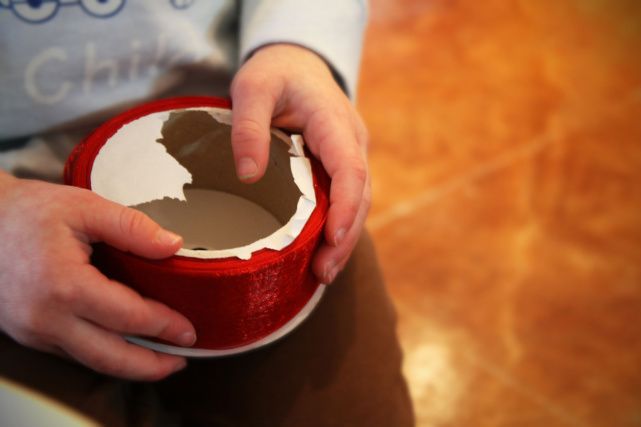 I really did let her wrap a box on her own. I cut the paper for her and guided her on where to place the tape.
Then came the ribbon. She loves ribbon and was so excited to finally get to use it in a "project."
She made it through wrapping on box, then all she cared about was playing in the ribbon and wrapping paper. So, I finished wrapping the boxes to use as decorations. However, if you look closely, you might know that I - an adult woman who has wrapped hundreds of gifts in her lifetime - wrapped the rest of the gifts. Please tell me I'm not the only one that this happens to.
I was just a little short on when judging the amount of paper I needed for this box. Maybe rather than me giving her directions on wrapping, she should have given me some. I guess I can turn that side of the box to the wall.