Last year I found a great recipe for Peppermint Bark. It was so easy to make and was a hit with everyone I gifted it to. This year, I decided to try it again and make it for some of assistants and special class teachers at SM's school. Monday night I made our first batch of the season so she could take it to some of them this week.
I start with a tub of candy canes that I usually find at Sam's.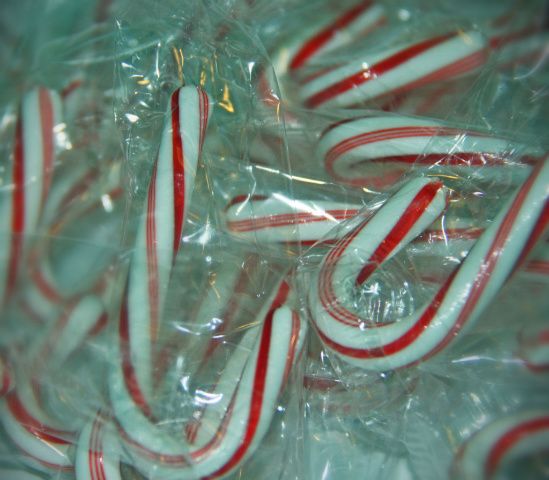 Before I got too involved in my candy-making process, I made a cup of hot cocoa to sip on while I worked. I put one of the candy canes on the side of the cup to melt in the cocoa.
Then, I opened up some (no, MANY) of the candy canes, placed them in a large ziploc back and crushed them with a rolling pin.
Once I had enough peppermint pieces, I melted some milk chocolate candy coating in a double boiler. I lined a sheet pan with wax paper. I poured the melted chocolate into the pan and placed it in the freezer to harden. While that was cooling, I melted a package of white chocolate in my double boiler. Once it was melted, I added about a cup of the peppermint pieces and stirred it to mix it well. I pulled out the pan of milk chocolate, then poured the white chocolate/peppermint mixture over it. I then returned the pan to the freezer. Once it was hardened, I broke it into pieces a little smaller than the size of my hand. Here's a shot of it right before I placed it in an airtight container to store in the fridge.
I'll wrap it and put it in decorative containers, then give it to special people on our list. As my daughter says, "It's yummy in my tummy."