Sara Madalin and I visited with Reagan today as he and his co-workers had their Christmas lunch. I had dressed her in a shirt with a cute Christmas tree appliqué and a pair of pink corduroy pants. But then she told me, "I want to wear a tutu cause I want to be a dancer when I grow up." And since there was no mention of Spiderman in that conversation, I said ok. Then, of course, we had to add the light-up shoes. And we were off.
Here she is with her Daddy at the end of lunch.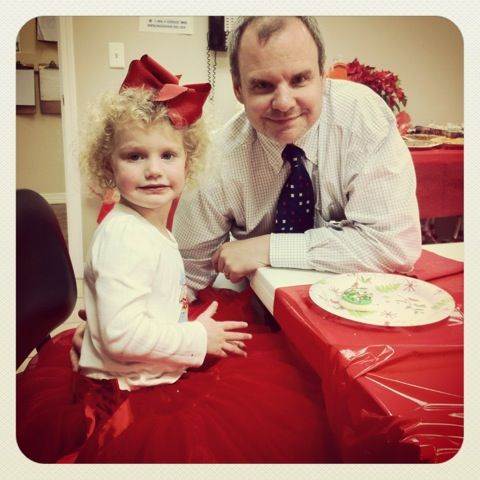 There was tons of chocolate desserts. She tried to sneak one but we stopped her. Instead, she got to eat a LoftHouse cookie - one of my personal favorites.
Will and his mom, Carla, were also there to eat lunch with his dad, Henry. I told Carla that Sara Madalin needed her own shirt like Will's.
Sara Madalin received a few gifts while at the store. Nee-Nee gave her a Spiderman punching thingy. (You inflate it, punch it and it bounces back.)
She also got another gift from B.B. Or gifts, actually. She got a pillowcase with a princess crown appliquéd on it, and a Disney Princess puzzle and book. She asked for the pillowcase to be put on her pillow before going to bed, and we read the book as one of her bedtime stories.
She had a great time, as always, with everyone at the store.