Y'all, I love a great surprise. I like being the person who is surprised. But I LOVE being the one pulling off a surprise.
A few weeks ago, I emailed Sara Madalin's aunt. Not my sister. I'm talking about the sister of Sara Madalin's birthmother. I told her that we wanted to surprise Sayra (SM's birthmother) and Nana (SM's grandmother) with a visit. We haven't seen the family in person in over a year. We saw Nana briefly this past summer, but haven't been up to see them since last September. So, I emailed Stephanie and she and I began to make plans for Reagan, Sara Madalin, and I to come up for a surprise visit.
We went to see some of my family Saturday in north MS, then traveled over to the area where Sara Madalin's birth family lives Saturday evening. Sunday morning, we showed up at their church. Do you think by the looks of this next picture that Nana was surprised to see us?
We had actually seen Papa (SM's grandfather) as we drove into the parking lot of the church. We kind of tried to drive on the other side of the lot so he wouldn't see or recognize us. Then, after we parked, Nana drove by and parked on the next aisle over, right across from us. She could only see the back of our car and she didn't even notice us there.
We waited on Stephanie and her kids to arrive, then we went inside the sanctuary. Stephanie went down to where Nana was putting her Bible and purse down and told her she needed her to see something in the foyer. We were standing in the back of the sanctuary, and when she turned around, I snapped that picture above. Then, she almost ran to SM and scooped her up. I'd say she was surprised and pretty happy to see this little girl.
She carried SM around to show her off to all her friends at church. Since SM thinks everybody she sees knows her anyway, she had no problem with that. She hugged and kissed everybody. I think there were more than a few people with tears in their eyes as Nana made the rounds.
We then headed outside to see Papa. He was still helping with directing traffic in the parking lot. Nana disagrees, but I think SM looks a lot like her Papa in this next photo. Her eyes, chin, and little grin favor his.
We wanted to surprise Sayra too, but she figured us out. Stephanie had told her she really needed to try and be at church on Sunday. Sayra asked, "Is Sara Madalin going to be there?" So, Stephanie had to tell her yes.
Sayra and her husband arrived a little after service started. They have a one-year-old baby girl named Abby. She is Sara Madalin's half-sister. Sara Madalin has never met her before but Sayra had barely sat down before SM headed over to check out that baby.
Abby was pretty good about letting SM touch her and kiss her at first. But after a minute or two, I think Abby had enough. She looked at her mama as if to say, "Who is this kid and why does she keep touching me?"
SM sat with us during church. I knew Nana would want her to. She did pretty good. I had brought her bag full of stuff to do. She tore that bag apart during church pulling things out. She kept handing stuff to me and Nana to hold. She also made Nana some flowers with torn paper and Wiki Stix. Overall, she was pretty good considering she's not accustomed to sitting through BIG church.
At the end of service, she was sitting in Nana's lap and must have discovered lipstick in her purse. Before either of us knew it, she had the lipstick open and was trying to apply it to her lips. It took both of us to get it from her. Then Nana put a little lotion on SM's hands and SM started rubbing Nana's cheeks and neck with it. (I think she was doing that because I put lotion on her cheeks to keep them from getting red and chapped at school.) Isn't this a sweet picture?
After church we headed to Nana's for lunch. When Stephanie and I were planning our visit, I told her I thought Nana would be upset if we surprised her and she didn't get to feed us. We've learned that is one of her talents and areas of ministry. She shows love for her family and friends by making sure they eat, and eat well. I didn't want her to be disappointed with not getting a chance to feed us. Plus, we like her cooking. Anyway, Stephanie said she would tell her that she wanted her to cook for her family and Sayra's family and their brother and his wife. That way, she'd have already prepared a big meal and we could enjoy it too. Boy did we! The food was delicious.
While we enjoyed Nana's cooking, she enjoyed having her family all at her house on Sunday afternoon, especially all her grandchildren. Here they all are eating together in the dining room.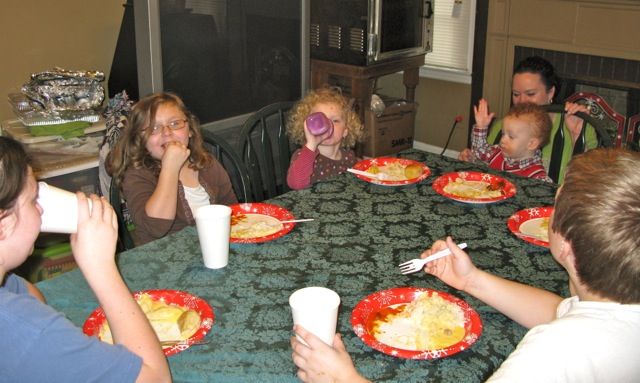 That's Sara Madalin's older sister, Emily, to her right. Emily was a very good big sister while we were there. She watched and helped Sara Madalin the whole time. All the kids played really good together. The older kids are a great help with the little ones. See the little boy with the curly red hair? That's Stephanie's youngest, JonArthur. Sara Madalin to a T! Curious, busy, personality for days! And the curly hair just like her.
It didn't take SM long to learn if she was about to get into trouble to run to Nana or Papa. Here she is laying in Nana's lap after one of us had gotten on to her about something.
Here are all the grands. The oldest is Kayleigh at 10 years old. The youngest is Abby, who just turned one.
And this next picture makes me tear up every time I look at it. Here's SM with the woman that gave us the greatest gift we've ever received, her birthmother Sayra. SM LOOKS JUST LIKE HER!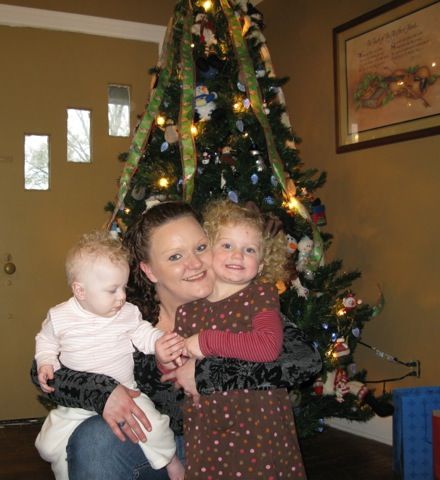 I've been trying to talk to SM some at night about Sayra. I told her one night after we read her book and prayed that Mommy couldn't have babies and that Sayra had her. I told her that Sayra had let us come to the hospital and be her Mommy and Daddy. Then, as we traveled to see them this weekend, I told her we were going to see her birth mommy and I wanted her to be real sweet. To be honest, I don't have a clue if I'm doing all this right, but I'm trying to be as open and honest with her as I can about who she really is and how God brought her to us. I hope some day she understands it all. I think growing up with them in her life will help her later on. That's what we're praying for anyway.
Right before we left, we were all standing around talking in the kitchen area. We looked over and SM was in Papa's lap, charming him out of a pair of ear plugs she'd found on his side table. They talked about those earplugs for a long time. She was the most still of the day while sitting in his lap. I think, given just a short period of time, she'd have him wrapped around her little finger.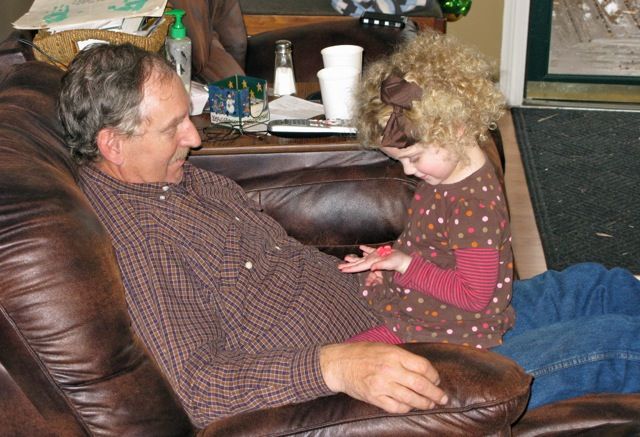 We had a great visit with everyone. We will never be able to thank them enough or express to them what this little girl's life means to us and those who know her. She is such a blessing to all of us. And there is no way I could not share her with them. I want her to know where she came from and who she is. She's not just our daughter. She's their daughter, niece, granddaughter, cousin, and sister. We are so undeserving of what God has given us through her and through them. We pray our life and our actions give all glory and honor back to Him for what He has done.