So, we've been gone for a week. And while we were gone, I just didn't make time to blog. But we're back and I have a few minutes to post pictures from Sara Madalin's Christmas party at school.
Her party was last Thursday. Several of us had signed up to decorate and bring snacks for their party. Another mom and I got together and planned out a theme. The theme we chose was obviously the same theme that most every other mom in our area had chosen, because when we started trying to find party supplies, the pickings were slim.
We decided we'd go with a Rudolph theme in our decorations and snacks. My new co-party planning friend, Lauren, took care of the table decorations. She took some brown plates, attached antlers and eyes, and had a reindeer head. Then, we put smaller red plates on top of that for a red nose. It was so cute.
Lauren and I found tons of ideas on Pinterest. I sent some links to the other moms helping us, so they could put a few things together for the party. I sent a link for reindeer candy canes to Katherine's mom, Lucy. She is so funny. She replied to my email with the question, "I'll be glad to help, but where do I get these things?" She's said she's not crafty. I pointed her in the direction of Hobby Lobby and told her to take a picture of the finished candy canes with her, in case she had to ask for help. I'd say she did a great job with her first craft project.
Lauren made these chocolate covered marshmallow reindeer. They were so cute, and a HIT with the kids.
And here are my poor little Nutter Butter reindeer. They may not look very fancy, but those 3 year olds never noticed.
I also made felt reindeer ornaments for each of the children. We used small table trees as decorations. We put the ornaments and some small red balls on them and used the tree on each table where the children sit.
Once we were done preparing the room, the children were called in from another room where they were watching a movie. They were so sweet and I was so proud of Sara Madalin and how well-behaved she was. She was second or third to enter the room. She was surprised to see us in the room when she got there. She had her hands folded behind her back and waited until Miss Melodi said it was ok to come over and say hello to us.
We had talked to her about us being there for the party. In the past, she's always acted up once we were present in a setting we aren't normally party of, like ballet or something of that nature. Anyway, we talked to her about us being at the party and told her she needed to still obey Miss Melodi and Miss Tricia with us present. And that she needed to sit still and wait her turn, and all those things. She amazed us with how well-behaved she was. She was so sweet. I was very proud of her.
They always say their blessing before snack and lunch each day. It was so sweet to see them pray together with us all there.
Then the real party began. Chocolate, chocolate, chocolate. We had also told her she could have one chocolate thing. She obeyed and only chose one thing - the chocolate marshmallow. They all enjoyed the treats, whether the marshmallows, cookies, or chips.
William Wright's little sister, Gloria Helen, was also there. She thought she was as big as the other kids and did everything they did. She reminds me a lot of SM.
After their snacks, the children moved to their rug to share with us some of the things they've learned about Christmas. Again, SM was so well-behaved and sweet. She answered questions and made this momma so proud.
Finally, they got to open gifts. Reagan and I are so happy with what all she learns at school. Not only is she learning the basics like her alphabet and the months of the year, she's learning scripture and manners. One example of that was, before opening their gifts, each child gave the gift they brought to the person whose name they had drawn. As they received a gift, they had been instructed to say, "Thank you." Then they all waited until everyone had a gift and Miss Melodi counted to 3 before they opened their gift. So, they were taught restraint and thankfulness without really even realizing they were being taught a lesson. And would you look at these sweet faces once they were allowed to open their gifts.
Here's a picture of SM and all the other girls in her class. I don't even want to think about the drama that is to come among this little group.
I tried to get a group picture. This was as close as I got. It was certainly not an easy task.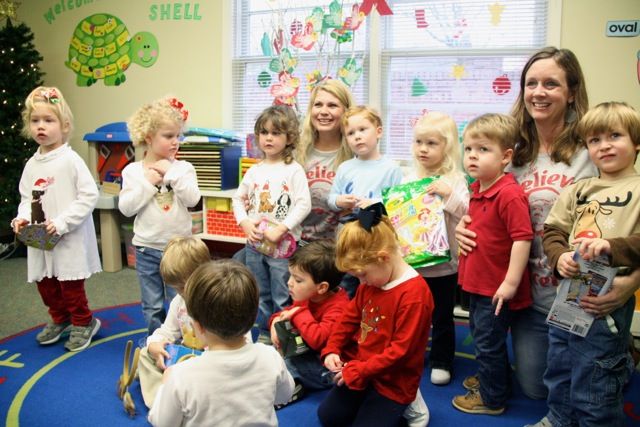 Sara Madalin and all her friends had a great time. Lauren also made them treats to carry with them, such as reindeer food, and reindeer noses, that we found on Pinterest. Then, we also brought home tons of Christmas ornaments that they've made this past month. I hope to take photos of those and post them soon.