While we were gone this past week, we visited Universal Studios, Islands of Adventure in Orlando. We were there with Reagan's sister and her family. We had planned the trip back in the Spring, after Reagan's mom passed away. We had hoped that Reagan's dad would go with us, but he chose not to. I think he kind of wished he had gone after hearing from Susan while we were on the trip. We enjoyed our time together. SM loved having Sue-Sue, Day-Day, Mitch, and Mandy with us. And I think they enjoyed her as well.
While at Universal, we planned to find Spiderman so our daughter could meet her hero. We got to the park when it opened and first headed to the Harry Potter area. Mitch and I really wanted to see and ride the attractions there. I wanted to try the Butterbeer. After convincing my husband that it contained no alcohol, he got me a cup. I'm going to be honest, I wasn't a fan. It was too sweet. I took a couple sips, let Mandy and Mitch try it, then we tossed it and hopped on the Dueling Dragons roller coaster. We tried to get SM to ride the Hippogriffs, but she wouldn't, so we headed to the Marvel comics area of the park.
On our way to that area of the park, we saw a face painting booth. We stopped so SM, who was already wearing her Spiderman costume, could get her face painted. She took it very seriously. She didn't want the artist to mess up the paint, so she was more still than I think she's ever been in her life.
Seriously, she didn't move until the girl was done. She even got a little red lipstick to finish off the look.
We got to the Spiderman meet and greet area just as Spiderman was coming into the photo area. I wish I'd had a picture of her as he turned the corner and she saw him for the first time. It was priceless. She was beside herself. She was about the 4th person in line and she kept looking around everyone ahead of her to see him. Then, when it was her turn, she was speechless. She just kept looking at him. He was so good and got down on her level and talked to her. It was probably the greatest moment of her little life.
Here they are throwing their webs.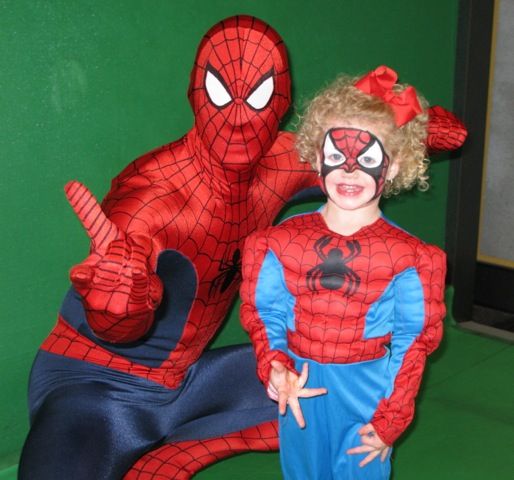 There was a green screen behind them and a professional photographer took a picture of them and placed it on a magazine screen and they both looked like they were throwing webs in a comic scene.
She also saw Captain America. She didn't have a clue who he was until we got home and her Daddy looked up a cartoon of him on Netflix.
We met up again with David, Susan, Mandy, and Mitch. Reagan and I rode the Hulk roller coaster with Mandy and Mitch while Sue-Sue and SM rode another ride nearby. David sat and watched.
She had a great time with her Sue-Sue last week. When Susan was around, she had little to do with us.
We went over to the Dr. Seuss area next. She rode a couple rides there, then we watched the Grinch Christmas show.
She got to meet The Cat in the Hat and Thing 1 and Thing 2. She hugged and kissed all over them.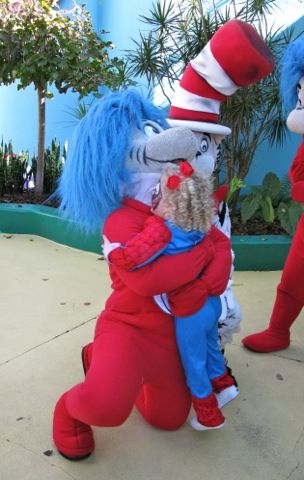 We had people all day who stopped us to tell us how cute she was in her costume and painted face. There were even a few people who stopped and asked if they could take a picture of her. Little did they know, she was just being herself. We were happy to see her enjoying herself.
I struggled with whether or not to even post these pictures, or others, from our trip. I have "friends" read our blog and then joke about how often we take her to Disney, and the other things we do for her. I've considered making my blog private, so I can again have the freedom to post what I want about our lives without having to deal with the criticism of those who think our life is excessive. But I've said it before and I'll say it again, if someone has a problem with our life or the things I blog about, they don't have to read our blog. It's that simple. I'm not trying to be mean, and I appreciate the readers we have and all the encouraging comments we receive from time to time. But it really bothers me that there are people in our life that read our blog just for fodder to criticize us. People who I would expect to be our biggest supporters and encouragers, but are instead spreading negativity about our family. It hurts, and it also makes me sad.
I'll be the first to admit, our life is not perfect. Our family is not perfect. And I am the least perfect person you will ever meet. But we love each other and I want to remember the times we enjoy as a family. I write about these things for us and for those who truly care about us and can be happy for us. Do we spoil our daughter? Yes. But we're her parents and that is our job. Every parent spoils their child to some extent. We are blessed to be able to make some of her dreams come true, like seeing Spiderman at Universal Studios. Every parent wants to make their children's dreams come true. We are no different. But, in our opinion, we don't lead an excessive lifestyle. We give to others, our church, and missions. We live in a modest home, drive modest vehicles, and save in other areas so that we can splurge on these kinds of trips and spend time as a family. We are blessed and grateful for what God gives us. I want to remember these times we spend together. So, I'm going to post our pictures and our stories. I know that these times and memories are precious and I want to someday look back and remember them through these pictures. And when that time comes that we don't take as many trips together as a family, I'll have these precious pictures and stories to look back on. And I'll be glad I posted for our family, and not for others.