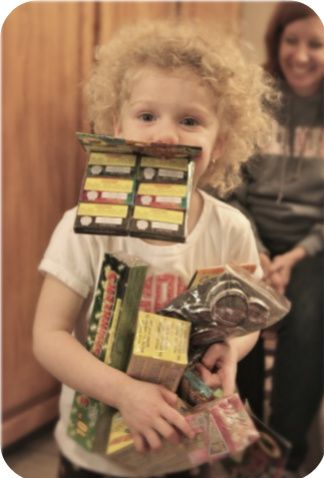 That's a little girl who was excited about shooting fireworks last night. Sue-Sue and Day-Day bought quite a few fireworks. Then, before we headed over to their house, we stopped and let her pick out about $20 worth of fireworks. She had a blast! ;-)
Now, as I mentioned in my last post, I have thought a little about some of the goals I have for this new year. There are a million things I want to do, but I narrowed my most specific goals down to a list of about 7 or 8. Here they are.
1) Find more ways to minister together as a family. I'd like to teach Sara Madalin more about ministering to others this year. Her school and our church both have many opportunities to minister, and I try to involve her in those activities as much as possible. But I'd like for us to look for ways that we can minister to others in our lives as a family. If anyone who reads our blog has any suggestions in this area, please feel free to share them with me.
2) Finish my graduate studies. I have been working on my Master's Degree in Communications since January '08. Then, SM was born in May '08. I took off a few semesters right after she was born. Then I have worked, taking one class per semester since then. I have 2 3-hour classes left, a research project and presentation, and comps. My goal to finish is August. It will hinge on whether or not one final class is offered in the Summer. But, hopefully, I will finish my course work and testing and have a graduate degree by this time next year.
3) And wouldn't it be perfect timing if, after I finish graduate school, we get a call about a new baby? Yeah, I think it would. So, I'm praying SM gets a new baby sister or baby brother this year and I get to decorate a new nursery in our home. I've already got several ideas. But the only way I'll get to share them is if we actually get a baby who needs somewhere to sleep. So, pray about that, will ya?
4) I'd like to take a family photo each month. I take photos pretty much every day. But usually the only subject is SM. We haven't had a professional family photo since our first Christmas as a family. I'd like to take more photos of the three (or hopefully, four) of us.
5) I'd like to plant a bigger garden this year. We grew a few tomato and bell pepper plants this past Summer. I'd like to have a box garden with a few more things this year.
6) I would like to be in good enough shape to run in a few more 5K races this year. I have wanted to register for a few more since I ran my first this past August. So, I'm going to try to plan to run 3-4 this year.
7) I need to purge. I would sooner throw something away than keep it. So, I plan to get rid of some things around the house. CraigsList, Ebay, and Goodwill will be my new best friends this year. Shhh, don't tell Reagan.
8) Finally, in my spare time, I'd like to make some of the fun, beautiful things I've pinned on Pinterest. I've tried a few things, and maybe I'll post those soon. But there are so many projects and cute crafty things out there. I love creative people and projects. So, maybe SM and I can make some pretty things this year.
Hope everyone has a Happy New Year!