We had beautiful weather this past Saturday for a soccer game. It was one of SM's make-up games, so the fields were empty except for our team and the opposing team. Before the game SM and her teammates practiced a little.
We've tried to get her to tuck that shirt in, but she doesn't like it tucked. So, she plays with it out. Drives me and her Daddy crazy.
As they practiced, Coach Wes painted the lines around the field. Our little girl just had to "touch it."
Then, she tried to "take out" one of the little girls on the other team. Or actually, the girl tried to teach SM a thing or two. It all started when SM kicked the girl's ball. Then, she kept kicking it onto another field. Well, the little girl chased her down and tackled her. I'm talking, took my baby down to the ground. Luckily, Reagan and the little girl's mom were not far from them and separated them before someone really got hurt. And by the end of the game, the two of them were hugged up and walking around the field holding hands. Here they are after they were separated, right after the tackle.
Finally, the game actually started, and things only went down hill from there. First, Coach Wes reminded everyone of the rules. Not that it mattered much as far as my daughter was concerned. The game was the last thing on her mind.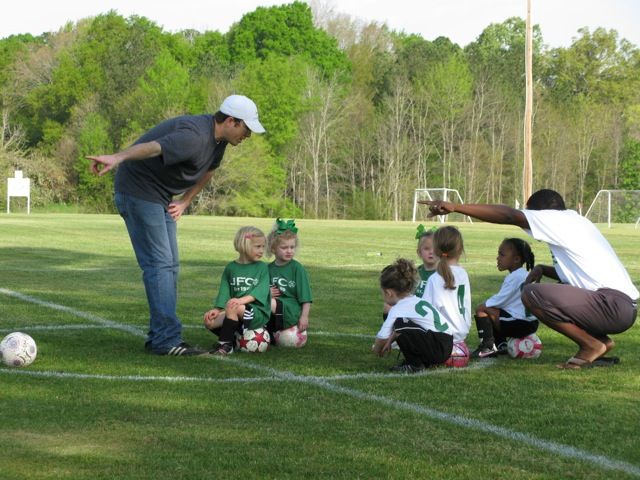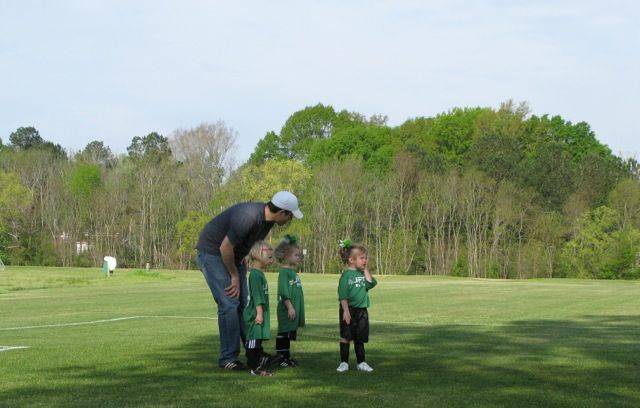 Let's see, at one point, SM left the field and went over to one of the other parents and climbed on top of him as he watched his daughter (her friend Cloe). Then, once she got possession of the ball and was kicking (dribbling) it in the right direction, but suddenly she just stopped and sat on the ball and stopped play. Why? I have no idea. And then, toward the end of the game, she just left the field and came and sat in my lap and said, "Mommy, count my freckles." She has one, by the way. On her left leg. Then, to end the morning, she chased her coach down, pulled her shirt up over her head and tried to get him to laugh at her. I finally just pulled her aside and told her that if she didn't play, and listen to Coach Wes, that we would have to leave. She went back out and finished. After the game, Coach Wes came over and said, "She's a little comedian, isn't she? She's going to be a star one day." Let's hope that's where her future leads her.
Only one more soccer game left in the season for her. I'm sure Coach Wes will be relieved for the season to be over.