Saturday we spent some time in the country at the home of our church's preschool director. Sara Madalin always enjoys going to their "farm" because there are horse, chickens, and lots of room to run and play.
Not long after we arrived, Mrs. Kandi put the saddle on one of the horses and started riding the children around the yard.
After we all enjoyed lunch, Mr. Clay went and go this tractor to pull everyone on a hayride. When everyone started walking toward the trailer, Sara Madalin turned to me and said, "No, you don't go. Nobody else's mom is going." I said, "Everybody's mom is going." But Reagan and I didn't ride. We waited out by the pond until they all came back from the hayride. Sara Madalin found a sweet grandma that let her ride in her lap during the hayride.
Here's our girl with her rod and reel. She had a great time practicing her casting.
She also had fun playing with the minnows someone brought as bait.
Here's Sara Madalin's good friend, Willa. She is like SM in that she has no fear. Here she has a worm in her hands. She made sure everyone saw it.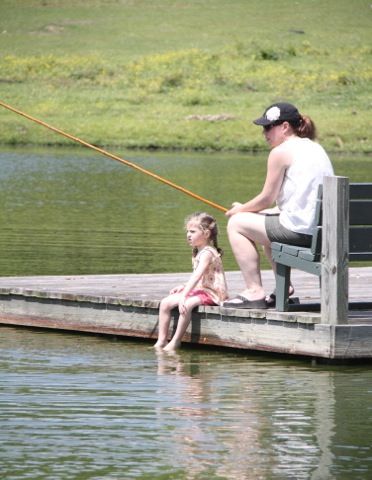 Here's Sara Madalin and one of her good friends, Audrey.
And our favorite part of the whole day. Our girl was asleep about 5 minutes after we left Mrs. Kandi's.
Sara Madalin enjoyed running and playing and we've had a great weekend with our friends.