For almost 4 years now I've been working on my master's degree in Applied Communications. I started graduate classes in January 2008. I guess God thought that was kind of funny, because one month after I started my first class, we received word about adopting Sara Madalin. By the end of my first semester, I was a first-time Mommy.
My instructors have been very patient and understanding of my obligations and responsibilities as a mom and wife. Throughout the past 4 years I've taken off a semester or two at various times, and only taken one class per semester during those which I've attended. It's taken me at least twice as long as most graduate students to get this far.
There are two major milestones for each graduate of the program in which I'm enrolled. One of these events comes at the end of our last semester in the program. We are required to take oral and written comprehensive exams. I still have one 3-hour class in the Fall of this year, and I'll take those exams in December. Although "comps" will require quite a bit of studying, I'm not nearly as concerned about the tests as I was the other requirement that I recently completed.
During the Spring semester of our final calendar year of enrollment, graduate students are required to present a convocation paper summarizing original research in a current communication theory or area of study. We are scored on our research and presentation and the person with the top average score in our department is awarded a certificate and also goes on to present before a college-wide graduate council.
For 4 years I've thought about this event. I'm not usually intimidated by speaking in front of a group of people. But the thought of conducting an original research project, then presenting my findings before my peers and instructors - it created a great deal of anxiety for me. I told my graduate advisor I just didn't want to stand to present and make an absolute fool of myself and the department.
So, for about 6-8 months I worked on my research. I turned in several drafts to my advisor who marked them all up. I know this will come as a surprise to those of you who read my blog often, but I can be a bit "wordy". If you don't know what I mean, you will by the time you finish reading this LENGTHY blog post. My professor would tell me, "Don't say to me in this paragraph that you're about to tell me something. Just tell me. Never start a sentence with 'And, so, or but'. Don't use 'ing' verbs in APA style." Then of course, I often let my mind get ahead of my fingers and I forget to include words, or I type them in the wrong order. Without him, I'm not sure how much of my paper anyone would have been able to understand. After my last edit, I asked him, "Is it ok? Am I going to sound foolish?" He simply said, "It's ok." So, I went into the night of presentations with the mindset, "Well, at least this is over. I'll present and that will be that."
Eight graduate students in our department presented before a group of 25 people on the night of convocation. I was 6th to present that night. We all had score sheets and were instructed to award points in several different categories for each presenter. With each presenter that spoke I kept thinking, "Wow, that's interesting. I wish I had thought about something that relevant." And with each presenter I grew more and more anxious.
Finally, over an hour into presentations, it was my turn. I got up there and began to introduce my topic. It appeared that at least half the people in the room were interested in what I was saying. I think even a couple people smiled or laughed at a few of the jokes I threw in. Then, at my 10 minute limit, when the timer on my professor's phone sounded, I realized I was only about half finished with what I had prepared to say. (Did I mention I have a tendency to ramble? Yeah, not such a good thing when you are given a time limit.) The professor simply said, "Go ahead. Finish." I did and ended up going over my allotted time by about 5 minutes. At the end of my presentation I asked if anyone had questions. Not one single person asked a question or made a comment. In my mind, that was not a good sign. I thanked them for their time and we were dismissed for a break. When I came back in from break, no one, not even my instructors (two of whom I sat between) said anything about my presentation. I left that night thinking I had done exactly what I didn't want to do - sound and look foolish.
For two days I dreaded returning to class. I kept telling myself, "You'll at least get a C. That's passing." Let me just mention, I don't get Cs. Well, I think I got a C in College Algebra. But that doesn't count. I should probably say, I don't settle for Cs. So for me to console myself with the thought of getting a C and it being ok, I was feeling pretty low about my presentation.
When I returned to class two days after presentations, I was sitting in the hall of our building waiting for my instructor to open our classroom door. I was working on my computer and another professor passed by me. He said, "Good job the other night." I gave a half-hearted smile and said, "Thanks." He kept walking then turned around and came back to me. He said, "I mean it. Really great job the other night. I believe you got the highest score." I said, "No, I didn't." He told me to follow him. We went to the office of the graduate chair for my department where he confirmed I had received the highest average score for convocation. I told him he was lying. I believe I said, specifically, "Please tell me you're lying."
(Did I mention I attend a private, Christian college? And the man with whom I was speaking not only holds a PhD in Communications, but he's also an ordained minister. And I basically called him a liar.)
He looked at me, turned his laptop around, and said, "Look." He was showing me the scores on his computer. I then told him I couldn't present again, because I knew the top graduate student from each department went on to present before a college-wide graduate panel. He looked at the other professor, the one who had passed me in the hall, and said, "Well, I don't believe she has an option, does she?"
To make a long story just a little bit longer, I pulled myself together and presented my research a second time this week at a graduate forum. There were 8 graduate students and one post-graduate student who presented. I presented 3rd on this night. Our audience consisted of deans and chairs from each department represented, fellow graduate students, and a few family and friends. Here are the three top scoring presenters at the graduate forum earlier this week.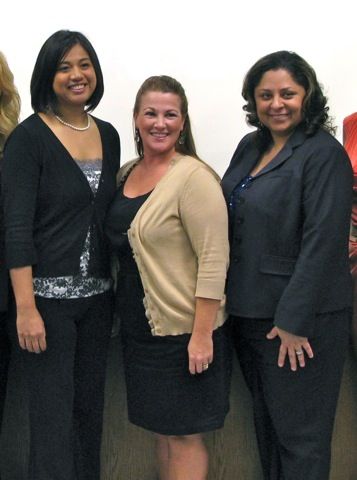 The top presenter for the night was a Biology student who did something along the lines of injecting mice with diabetes or something. I don't think it was that exactly. I believe she had injected them with similar pesticides as residents are exposed to in certain regions of the South. Her research question was something along the lines of, "Does exposure to XYZ pesticides cause obesity in those predisposed to Diabetes?" Or something really confusing and educated like that. She was was very articulate and well-spoken. She's the youngest in the picture above, wearing pearls.
The second highest score for the night went to an educator who also happens to be the first recipient of a doctorate in education from the university. It is a new program and she was the first to finish and receive this new degree. She had examined state test scores of about 1700 students at various elementary schools in MS. She was looking at the level of education of the teachers in 3rd, 4th, and 5th grades in the schools and attempting to determine whether there is a correlation between the educators' level of education, and the level at which their students perform on state tests. She read quite a bit from her slides (which is considered a no-no at the graduate and post-graduate level), but she, again was very knowledgable and presented a very timely topic to those in the room with us. She's the lady standing to my left in the photo above.
The third highest score of the 9 presentations that night? Well, that would be me. I didn't inject rats. I didn't examine 1700 test scores of students across the state. I asked about 10 people to watch a clip of the Nick Jr. animated show, "Franklin & Friends" and tell me if Franklin told a lie. You see the quality work with which I'm involved? I'm really surprised I didn't place first.
Technically, my research was a little deeper than that. I examined the cognitive development of preschoolers and tried to determine, based on my original research, and the research of those before me, at what age do children begin to lie. I found that it is perfectly normal for small children to lie. It means their mind is developing. However, I also looked at deception, which is different from lying. Lying, and learning the moral implications of lying are a part of development in children. Children will have fantasy play, and even lie as they mature. Deception is a whole other monster. I explained a number of other factors concerning communication and lying, but I think I've rambled long enough, and no one really cares about the subject except me. Well, me and the people to whom I presented earlier this week. They thought my subject was interesting enough I suppose.
Anyway, all that to say, I'm done. I did it. And I did it better than I thought I could. Now my husband and my daughter have me back. I'm past the studying, writing, editing, worrying. God is good and He is faithful. In everything.
And just to show there were no hard feelings after I basically called my professor a liar, he posed for a picture with me today on my last day in the communications department.
I'm "cheesing" with the plaque with which he awarded me for my accomplishments in graduate research.
Now, of course, the question is what am I going to do with this degree, once I finish in December? I really didn't know until this semester. I quit teaching a few semesters ago to focus more on Sara Madalin. And I still intend to do that. She needs me now more than she ever has. But I've also discovered, through volunteering at my church, a love for teaching internationals. I have had the privilege of teaching an ESL class for a couple months now. I really feel that is where God is leading me. I believe now, more than ever, that He has gifted me with teaching. I plan to receive full ESL certification later this year and see where He leads me.
On one final note, to all the baby-sitters, friends, family, and my incredible husband who helped me in so many ways throughout ALL of my graduate level work, thank you so very much. I was able to become who I am because I was supported by you.
Now, I'm going to go sleep for about 5 days.