The Wednesday before Easter, all 6 K3 classes at Sara Madalin's school had their annual Easter Egg Hunt and party. I was asked to co-chair the preparations. I had several ideas I'd found online that I discussed with another mom, then I delegated to each of the volunteers from the other classes what I'd like to have them do. Everything worked so smoothly and everyone was very willing to help in any way I needed them. I was feeling pretty excited and pleased about the first party I was able to oversee for her entire class.
Until the afternoon before the party.
A huge storm came in around 5:00 that Tuesday afternoon and we quickly realized the egg hunt, which has always been held on the campus football field, was going to have to either be omitted or moved. I began to text and call around and was told that the gym was unavailable. So, we decided we'd set up refreshments for the kids in the hall of the K3 building. That way, they could at least see the decorations we'd put together, and we'd have everything set up in one place. As for the egg hunt, we still had no place to have it. We had 720 plastic eggs stuffed with candy and 60 kids who were expecting to receive them.
We thought about putting 12 eggs in each Easter basket and letting the Easter bunny, who was scheduled to make an appearance, hand them out to the children when he visited their classroom. But, the morning of the party, as I was driving Sara Madalin to school, her teacher called and said that we could have the hunt in the preschool gym. We still set up refreshments in the hall outside the classrooms, but the children were able to "hunt" eggs as we planned, only in a different location.
(I know. If only THAT was the world's biggest problem.)
Anyway, I, along with about 10 other moms, set up snacks and decorations the morning of the egg hunt. Here's a look at a few things we did.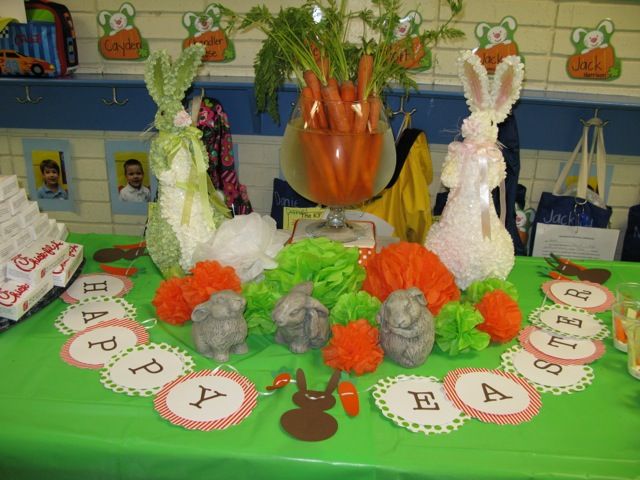 They passed by the snack tables on their way out to the gym. The look on their faces was worth any amount of effort we put into preparing the party for them.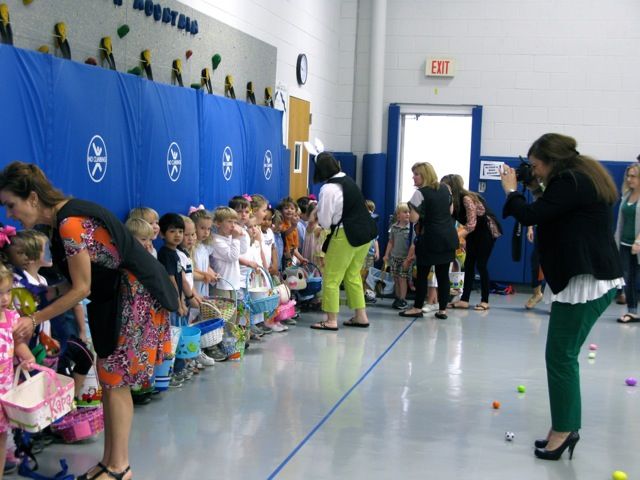 Here's Sara Madalin's class waiting to hunt eggs. They were all so well-behaved and patient. I was proud of them, especially Sara Madalin.
Me and my girl. (Heavens! Where did all that extra skin come from that is making its home around my eyes?)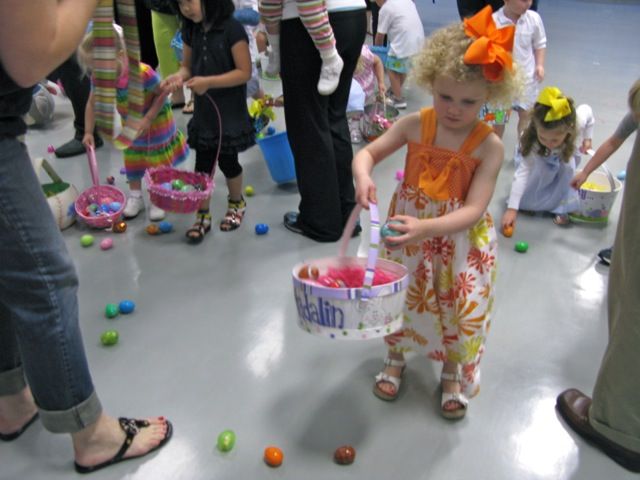 My sweet, special little girl. (Aunt Sue, I made her dress, by the way.)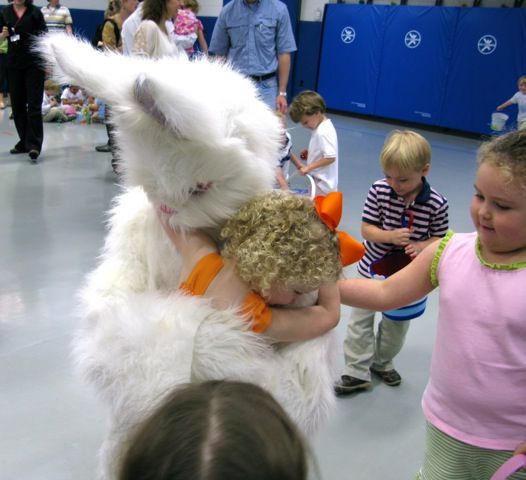 After the egg hunt was over, they all sat down and examined their loot. They were so funny. And again, so well-behaved.
Once everyone had their eggs and had seen the Easter bunny, Mrs. Melodi and Mrs. Tricia gathered them to head back to the K3 building for snacks.
They enjoyed carrots and celery with ranch dip, gold fish crackers, chicken nuggets, and a cookie.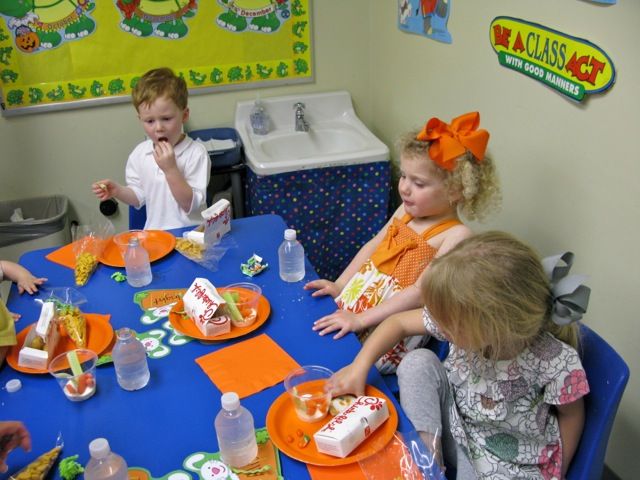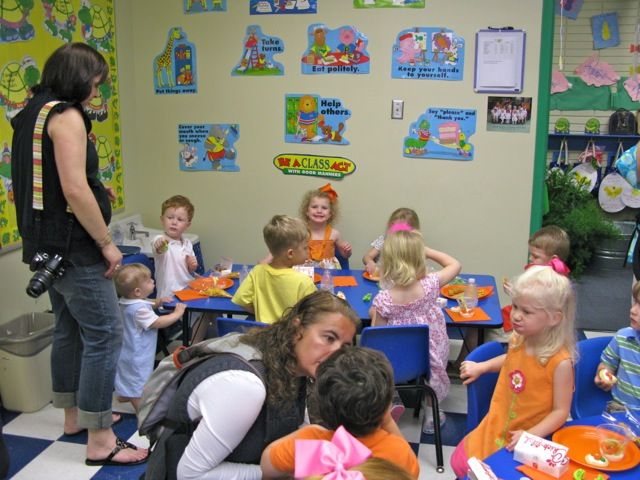 I think they all had a great time. And I'm sure not one of them realized that the egg hunt plans had changed in any way.