Saturday morning before heading out to Mrs. Kandi's for a day of riding horses, hay rides, and fishing, we took Sara Madaln to Bass Pro Shop to pick out a rod and reel. As we were leaving, she spotted these four-wheelers parked outside. She hopped on this one and asked me to take her picture.
She loves to ride our four-wheeler with Reagan. They rode for a while after her nap Saturday afternoon.
She also saw this rock outside Bass Pro and asked for picture on it. I don't where she gets this need for photos to be taken of her.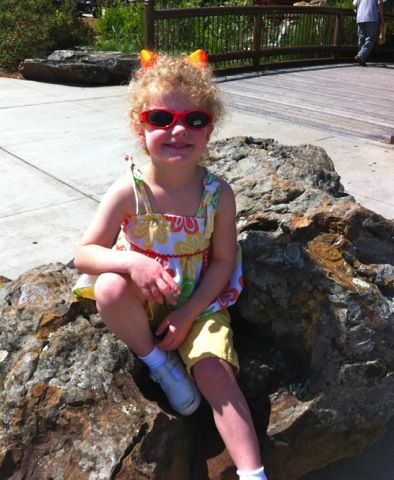 A few weeks ago she and I read "Black Beauty" as her bedtime story. It took us a little over a week to read it. We read a couple chapters each night. It was her first chapter book. She really enjoyed it and has asked a million questions about horses since we read it.
Well, one afternoon this week, she and I went outside to play for a while. I noticed her gathering pine straw from around one of our trees and bringing it and dumping it in front of her swing. I asked her to stop doing that because I was afraid she might pick up a snake or spider. She said, "But I have to. It's hay and I'm feeding my horse."
I asked her what her horse's name is. She said, "Bonnie." We don't know anyone named Bonnie. There's not a horse named Bonnie in the book we read. I don't have a clue where she came up with that name. But, nonetheless, here she is posing with her horse Bonnie.
Here's a close-up of Bonnie eating her hay.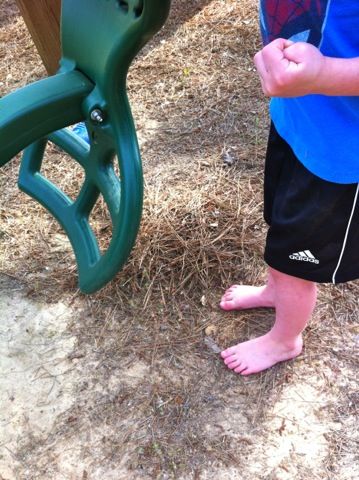 She wears me out every day. I think it's all her teacher and I can do to keep her mind and hands occupied all day. Most days, we aren't successful. She gets bored with us and our trivial little activities. (Ha.) But I love her imagination. I wouldn't want her to be any other way.