Sunday night our church had our annual church-wide picnic. It is held at the Farmer's Market location down the hill from our church. There was tons of food and it was a great time of fellowship for our church members. This year the church provided inflatable jump houses and obstacle courses for the children and youth. They had a blast!
Here is Sara Madalin with one of her best buddies, Audrey. Audrey hardly ever looks at the camera. She's saying cheese, but she's distracted by all the other people and things going on. These two girls love each other.
This little boy is FULL of fun and laughter. He just loves life. His mom is Sara Madalin's Sunday school teacher and my friend. His dad (holding him) is a brilliant genius! Ha.
Next is a picture of our preschool director, Kandi, with Sara Madalin. We love Mrs. Kandi.
And this is Sara Madalin with Miss Amanda. She is one of the preschool workers. I love how she loves and cares for our girl. She lets Sara Madalin be who she is. And she's not afraid to put that little blonde haired girl in some time out. Whenever Sara Madalin was smaller and going through some separation anxiety when I'd drop her off in the nursery, Sara Madalin would ask me if Miss Amanda was going to be there, or I'd go find Miss Amanda, and SM would stay in the nursery without any trouble.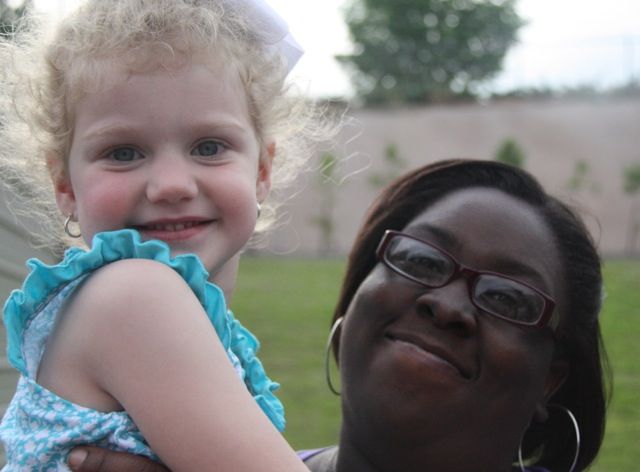 Look at the concentration on her face in this next picture. Usually she's afraid of these type of obstacle courses. Sunday night, it was all we could do to get her to stop going through it long enough to eat. When she'd get to the end, she'd run back to the line and try to break in front of everyone to go again.
She's pretty fond of her Daddy. Except at bedtime. At bedtime she doesn't like either of us.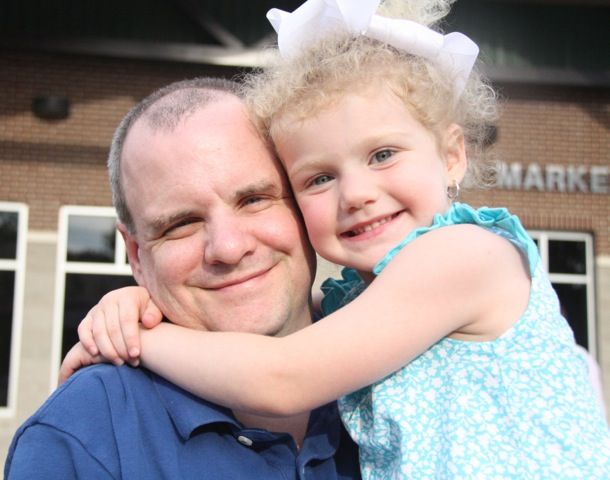 She wanted me to take her picture after we finished our dinner. She's too pretty to say no to that request.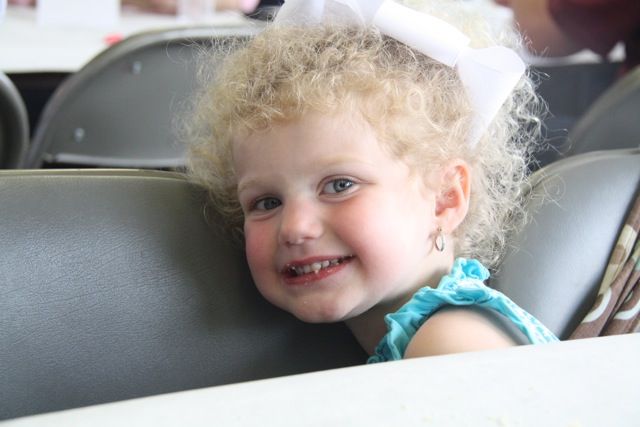 Here's two more sweet, beautiful girls, Audrey and Victoria.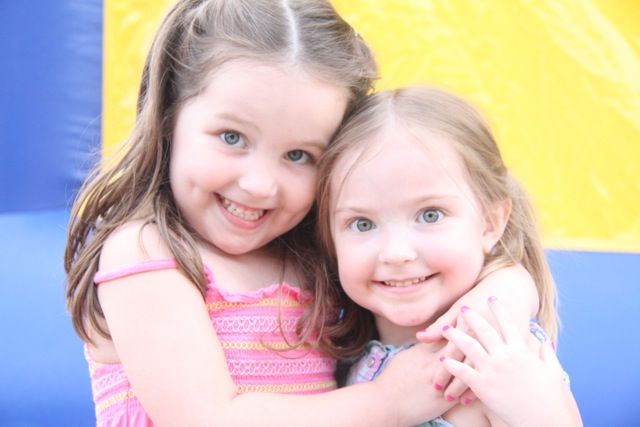 Have you heard the phrase, "Trouble with a capital 'T'"? These two in the picture below are trouble with a capital TROUBLE!!!. This is Sara Madalin and her Sunday school buddy, Lucas. There really should be a rule about the two of them not being in a class together.
Reagan saw that picture and said, "She's a little too friendly with that boy." Ha.