This morning Reagan and I met with Sara Madalin's teacher, Mrs. Melodi, for our end-of-the-year conference. We've had a couple of these conferences this year. The last one was in February or March.
When we went into the room today where Mrs. Melodi was meeting with us, she said, "I just have to brag on Sara Madalin." She said that Sara Madalin has been a different child in the last few weeks. When they come in from playing outside, and it's time to sit on the mat for circle time, she goes to her spot and sits down waiting for Mrs. Melodi to start their day. In the past, she said it would take SM a little while to settle down and sit still. Not that she was the only one. But now, she comes in and sits as she's been asked to. She also told me that although Sara Madalin doesn't sleep at rest time, she does sit and play or read quietly. She's even won a couple prizes lately for her good behavior. She told us that SM is very ready to move on academically. And with her social skills improving, she thinks our girl will be fine in pre-primer next year.
Sara Madalin loves going to school. I don't know how she's going to be when I tell her that she's going to be out of school for a couple months for summer break. Then to tell her that Mrs. Melodi won't be her teacher when she returns in August - I'm not sure how she'll handle that either. She's probably going to handle it better than me. I cried today while talking to Mrs. Melodi and I'm sure I'll cry even more over the next week and a half.
Here's a picture of our special little girl holding her art work that Mrs. Melodi gave us today at the meeting.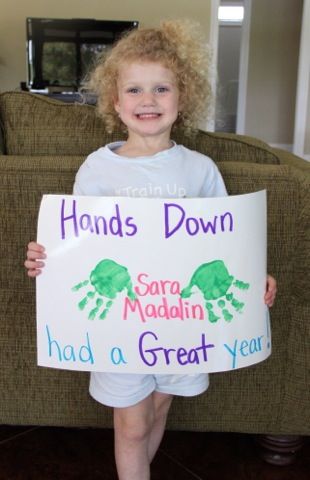 She has tomorrow, next week, and Monday of the next. Then we'll be out of school for lots of fun summer activities.