People have asked me what I plan to do now that I'm not in class or working on assignments. Well, this week has been pretty full and as far as I can see, the coming weeks hold more of the same.
Monday Reagan took Sara Madalin to school for me so that I could try and work on cleaning our house. (It's bad y'all, very bad.) I got a few loads of clothes washed before the overwhelming urge to take a nap won out over cleaning. I don't think I've really slept since December. After my nap, I went to the grocery store and then picked Sara Madalin up from school. Monday evening I managed to get some dough mixed for yeast rolls, made two pound cakes, a batch of chocolate cookies to freeze for Sara Madalin, cooked dinner, and prepared a roast and vegetables for a family in our Sunday school class. So, that nap went a long way toward me being productive Monday evening.
Tuesday I took the roast to our friends, then ran a few errands before picking up Sara Madalin for the afternoon. Guess what, Sara Madalin and I both took a nap that day too. It was a rare but very welcome occurrence.
Wednesday I cleaned. All. Day. And I didn't get a nap.
Today I went to ESL classes at my church. Then I ran a few more errands before picking Sara Madalin up from school. Her teacher told me that she'd had a great day.
I mentioned in a previous post that we've been working really hard on Sara Madalin's behavior. I've not gone into much detail on the blog, but have spoken privately with a few friends and family. I have to brag on her and say what a great improvement we have seen in her in the past month. Her teacher has really been proud of her progress, as have I. Now, she's still busy and has meltdowns like any other child her age, but we have seen such an improvement in her ability to sit and listen in class, and behave during the day. She's a much more pleasant child to be around.
One thing that has helped, I believe, is changing her diet. I've tried really hard to remove artificial dyes and flavors from the foods she eats. This means that she eats mostly natural and organic foods. God has placed people in my life in the past couple years that have started educating me in the area of natural and organic foods, so I think He was preparing me for this. It's been an adjustment, but we've seen such a positive improvement in her, so it is very much worth it. And she's done well with the changes. Rather than her eating snacks provided at school or church, we take her food everywhere we go. When we went to church events this past weekend, I prepared and carried her food. Often that means she's eating something different than her friends. I was afraid she would try to take their food, especially it they are eating something sweet. So far that has not been a problem.
One of the first weeks we started changing her diet, her teacher let me know that one of the classmates would be bringing cupcakes the next day for their birthday.
(All I could think of was those cupcakes from Kroger with 2 inches or red or blue frosting on top. If I'd let Sara Madalin have that, no one in our house would have peaceful sleep for about 3 days. Not to mention the other behavior that I won't even bother to go into because it would change your opinion of our daughter and her parents forever.)
Her teacher said she wanted to let me know in case I wanted to send Sara Madalin an alternative to the cupcakes that would be available the next day. So, I went home and made Sara Madalin her own special cupcakes. They were nothing fancy. I just made a butter recipe from scratch that I found in a cookbook. So, there were no dyes and artificial ingredients in the cupcakes. Then I made buttercream frosting and piped it on one of the cupcakes and put a little plastic decorative piece on top. I put the other cupcakes from the batch in a container and stored them for future events. I sent her cupcake to school with her and her teacher said she never complained. We've done that a couple times since then and she's been really great about eating her special cupcake and not trying to get the others. I've been so proud of her and told her so.
Another thing we've been working on is keeping her occupied during nap time at school. She stays 3 days a week during nap time, only because she has activities after nap time that require her to stay. Naps and our girl - they are not friends. There have been days I've picked her up from school and her teacher told me that they just ended up putting her in the hall with one of the teachers' assistants and just let her run because she just couldn't settle down during that quiet time. But, along with changes in her diet, we've also tried to get smart about what is considered "down time" at school. I try to send books for her to look at, or quiet activities for her to do while the other children are napping or at least lying quietly. Again, with those changes we've seen a great improvement in her behavior during that time. She's not only behaving better and quiet during that time, she's a more pleasant child when I pick her up. I think it's a combination of the things we've done to help her.
Another challenge I've had is the fact that she's so smart. And I'm certainly not complaining about that. She picks up on things and learns so quickly that if I send a book or an activity one day, I can't send it again that week. So, I've been trying to find some things online that will keep her occupied, as well as quiet. I also want to send things that will help her learn. One thing I picked up this week for her to try during nap time was a few locks that she can open with a key. This will also help with her fine motor skills. I let her try it out this afternoon and I'll send it with her one day next week, along with a couple more locks and keys to try and make it a little more challenging for her. This afternoon I gave her three small locks that all open with the same key. She had them all opened in a matter of about 2 minutes. I told you, she's a quick learner.
I snapped a few pictures of her little hands at work. (Please excuse her filthy uniform. Like everything else our girl does, she plays and paints with everything in her, and it gets all over her clothes during the day.)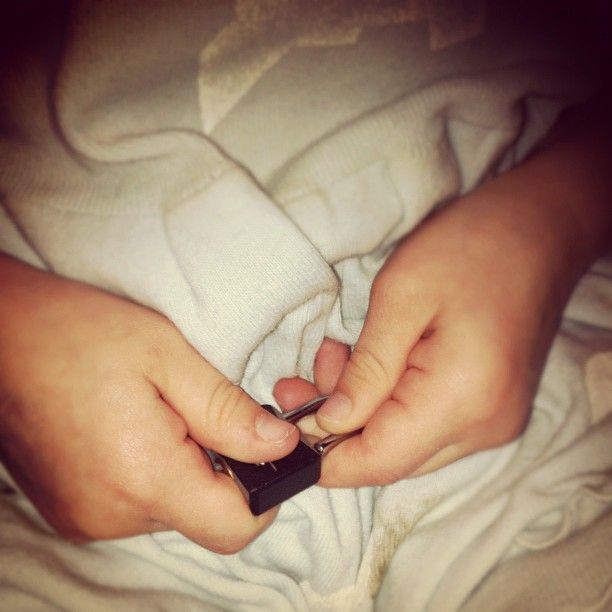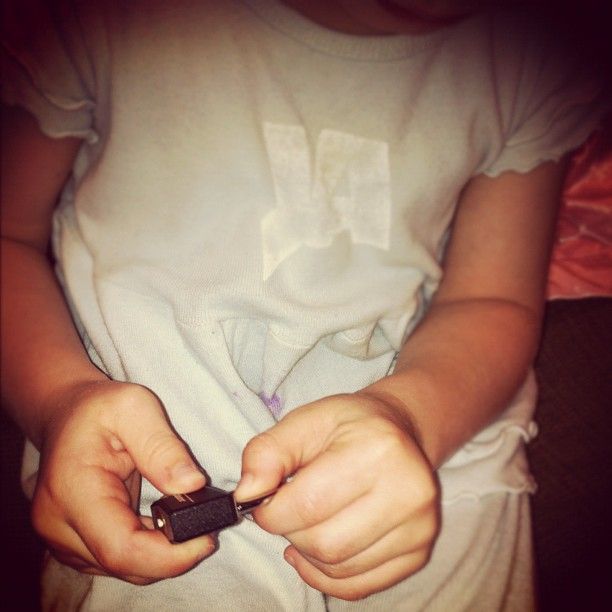 Not only did I have her open the locks, I also had her close them again. She was occupied with the locks long enough for me to cook dinner.
I have a few other things I've found online that I'm going to try and send with her this coming week. One thing I did was pick up a handful of paint chips while at Lowe's today. I'm going to glue one piece of each chip to a clothes pin and then have her match up the colored clothes pin with another chip of the same color. Maybe that will occupy her for about 10 minutes.
I was talking to a friend last night about how tired I am from just being the mom of such a busy child, and also trying to stay a step or two ahead of her. But I also told her, I want to do everything I can to help Sara Madalin be who she's meant to be. I wouldn't want her to be any other way than she is. (Well, I wouldn't mind her sleeping just a little bit more, just for her poor momma's sake.) If that means I have to take a B12 shot every other week, just to (barely) keep up with her, I will do it. If that means I need to make her cupcakes from scratch every time one of her classmates has a birthday, I will do it. If I have to make and send new projects every week to keep her mind and hands occupied, I'll do it. One thing I've said over and over again, when we were praying for God to give us children, I never prayed for a baby, or to be pregnant, or for a perfect child. I simply prayed that God would allow Reagan and I the opportunity to be parents. And I can say without a doubt that God answered that prayer. He has allowed us to learn and grow so much since bringing this girl into our lives. We are so thankful for her little mind, her personality, and everything that God created that makes her the unique little person that she is. I'm so excited to see who she becomes.