Monday evening we went to the birthday party of one of Sara Madalin's classmates, William Wright. Several of her little school friends were there. She loved seeing them and playing on the inflatable jumpers. Here she is with two of the sweetest little boys in her class, Davis and Wright.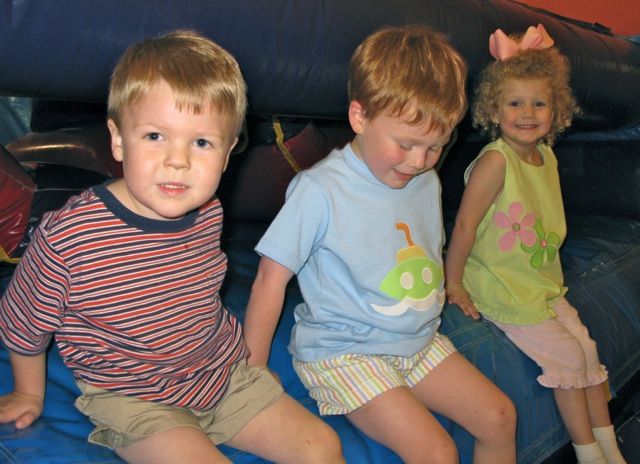 She told me on the way to the party that she and Wrigth are going to Disney together and they are going to buckle their seat belts on the plane all by themselves. She never said whether Reagan and I are invited.
She loved sliding. Sometimes she would slide alone, other times two or three of them would come down together. They played their little hearts out.
Here's the birthday boy. He has got to be one of the prettiest little boys I've ever seen.
This next picture is not the best in terms of focus and lighting, but I just love the looks of happiness and fun on their faces. These two little girls are in SM's class. It's Cloe and Katherine (or Kaff-rin, as SM calls her).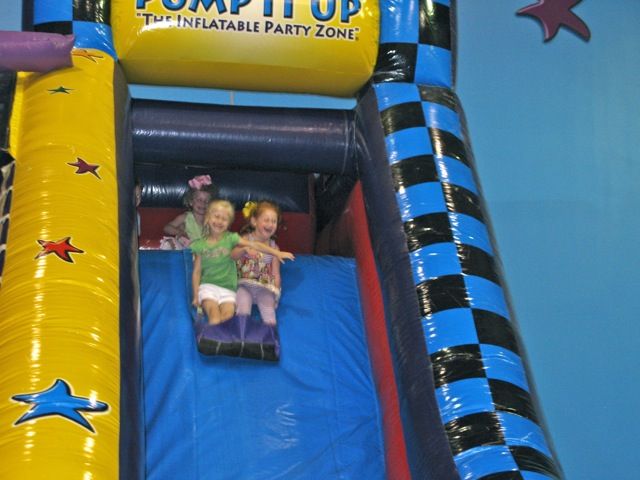 After all the jumping and sliding, they were all hot, hungry, and maybe even a little tired. They enjoyed pizza, Capri-Sun (Sprite for SM), and Lightning McQueen cake (a special cupcake for SM).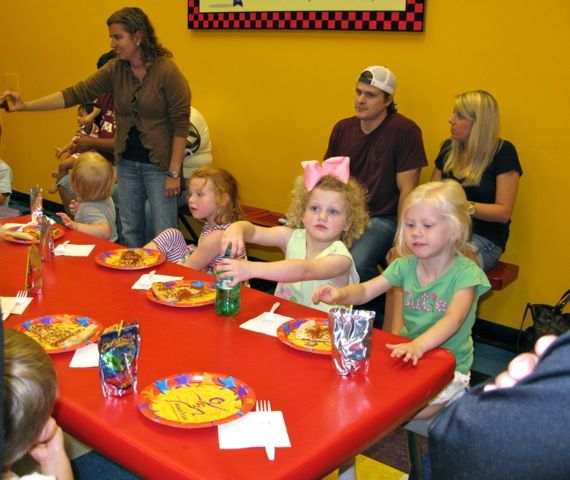 After snacks, William Wright opened his gifts. I've been trying to teach Sara Madalin that when someone is opening their gifts at a birthday party, the polite thing to do is to sit and watch, not try to stand in front of them, and certainly not try to open their gifts. I know every child goes through a stage where they do this. She's never been terribly bad about doing it, but when everyone else is standing, it's hard to remember to sit. I know the parents thought I was pestering her because I kept trying to get her to sit down, but I just think it's good manners to do so. At one point, when she went over and started trying to hand him his gifts to open, I picked her up and told her we needed to step outside for a quick talk. She screamed, "No! I don't want to leave!" While that was a little embarrassing, I didn't back down. And I'm glad I didn't. We walked out of the room, she had a sip of Sprite, calmed down and I reminded her to have good manners. We went back inside and she was much better. Did she stand up again? Well, yes. But I could tell she remembered several times she wasn't supposed to, and she sat back down. I told her I was proud of her. Although she had a few moments that we needed to work on, she did recover from those moments better than she has in the past when we've had similar incidents. I'm proud of her and I know she had a great time with her friends at the party.