First, thank you for your sweet words of encouragement regarding the last blog post. By no means do we have "it" all together, but we are trying to make the wisest choices we can as parents. It's always nice to hear that we are not alone in all of this.
The main thing I want to do with this post is to record a funny thing that Sara Madalin said one night this past week that made us laugh. Reagan said he wanted us to remember it.
She and Reagan were sitting at the table finishing up their dinner one evening and she asked him where her polka dot blankie came from. She carries this pink blankie with her everywhere we will allow her to take it. One side is pink minky dot fabric, the other side is pink satin. It has her name embroidered in brown across one corner. Anyway, she sleeps with it, plays with it, holds it while she watches TV or eats - as I said, she carries it anywhere we will allow.
So, she asked him where the blankie had come from. He told her he couldn't remember. She asked me, and I gave the same reply. Then she said, "Probably it came from Target." We just giggled at her. Then her Daddy said, "Your mommy has you brainwashed into thinking that everything in our house comes from Target." To that our almost 4-year-old daughter said, "I concur." We both just started laughing to hear her say such a word, and to use it properly. She is a mess.
Here she is with me Friday night right before Reagan got home.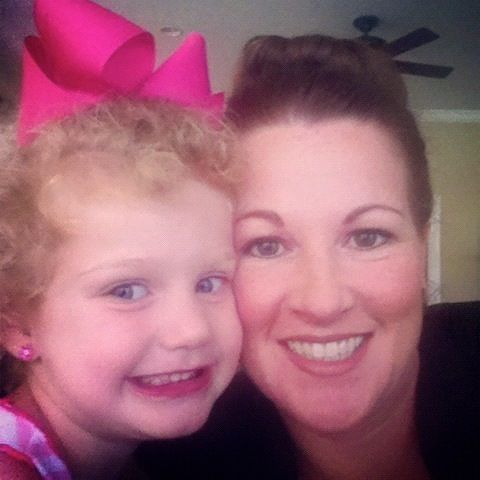 Reagan and I carried her to church to play with her friends while we went on a date. She had a great time and was EXHAUSTED when we picked her up. We like nights like that.
I'm sure she would concur.