Sunday morning we got dressed up and took a couple pictures before heading to church. Here's my sweet angel-girl. She wanted a picture of just her.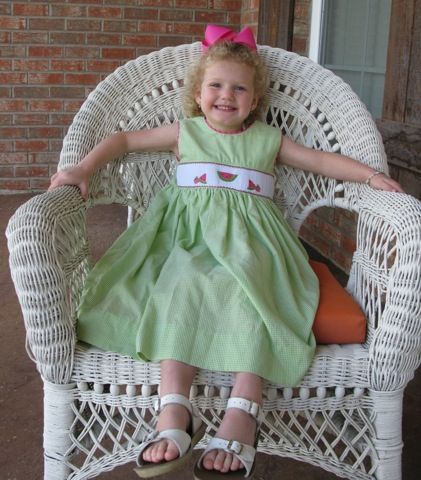 And here's our family picture for May. I actually took one before the end of the month this time.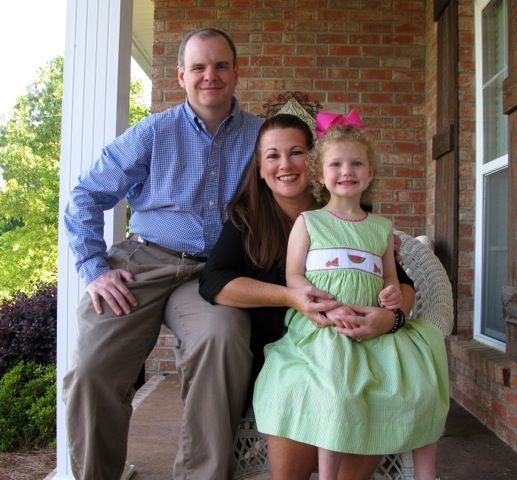 We all went to Sunday school but Reagan and I made the decision to skip the second hour service and get Sara Madalin home for a rest (that's code for "nap" around here) before her dance recital. The "call time" for our girl to be at the Performing Arts Center was 2:00. Her performance began at 3:00. That's about the time she normally takes a nap if she's going to take one. We knew it was a long shot for us to get her to take a decent early nap before the recital, but we also knew we needed to try. We had lunch around 11:00, then around noon I took her to our room to lie down. She was restless for about 20 minutes, but eventually settled down and went to sleep. We let her sleep for about 45 minutes then started waking her to get ready. I think the rest helped her. She was attentive and meltdown-free at the recital.
Again, I can't say enough how proud we are of her and how pleased we have been with the change in her behavior recently. I'm not going on and on about that because I'm bragging on what a good girl she's been. Although, I am bragging on what a good girl she's been. She's still a hand-full and still has moments when she's a typical 3-year-old. But the change in her has been so noticeable that I can't quit talking about it. Her teacher and I were talking today about how much calmer and well-behaved she's been lately. Whereas I would cringe when I'd pick her and be told how she was the most uncontrollable kid in certain situations, I'm now being told how well-behaved she is, and how she got to be the leader at school today because she was sitting still and listening when several others in her class were not doing so. I'm going on and on about it because there have been so many days when Reagan and I have been discouraged and exhausted and just at the end of our rope as to what to do to help her be able to focus and settle down. And now, with just a few minor changes for her, we are seeing a different child. We are so thankful that God led people into our lives who have given us some insight and guidance. I'm thankful for some of our blog readers who've shared advice and encouragement. I've tried to reply to as many of you as I can. But sometimes when I initially read your comment, I'm not at a place or time that I can reply. Then when I have a few minutes at the end of the day, I forget to reply. So, even if I haven't replied or emailed you, please know I appreciate your comments and emails. Thank you for your advice and encouragement.
Now, I think our girl has finally gone to sleep. Reagan and I are going to watch The Voice and this momma is headed to bed. Just so you know, SM and I were both so tired this afternoon that we slept in the car parked in the garage for an hour after I picked her up from school. She started it. I just took advantage of the situation.
Also, I'm working on her birthday party. I'm planning on doing a little sewing tomorrow. If I do actually get around to that, I'll try to share what I'm doing for guest favors and a little about her outfit. And if I don't get around to that, well, I don't know what I'll share.