Saturday morning we celebrated Sara Madalin's 4th birthday with a party at our church's Christian life center/gym. We invited several of her friends from school and church, along with a few close friends and family.
I have to say, I feel like I dropped the ball this year. I usually plan her party for several months. This year, we have just had so many changes and issues, that I've just been off my game - on everything, not just this birthday party.
I went back and forth on several themes I wanted to do for her. I thought about a soccer/sports theme. Then I thought about Strawberry Shortcake. And of course, her request was for a Spiderman party. I finally settled on a rainbow theme and started putting together a list of a few things along those lines. Then, about a month or so ago, we began to explore changes in her diet and I soon discovered that a lot of cute rainbow-themed options, as far as food and treats, were not going to be possible. For one thing, I had to bake her cake. And because she can't have artificial dyes and flavors, the only kind of cake she could have is a plain vanilla cake with white or butter cream frosting. No rainbow cake. And no bakery cake either. And all the cute rainbow-colored candies and treats that you see online at the rainbow parties, we couldn't have those either. So, I decided to keep things simple this year. I baked the cake, had some fruit and popcorn, and everyone was fine and enjoyed it. I think she and her friends had a great time playing together, so even though the party wasn't as put-together as I might have initially planned, I think it was still a hit with those who mattered most - SM and her friends.
As with every year since SM was born, my party decorating crew came early to help me get things set up. And by crew, I mean Reagan and Jana. They are the only two people I can really work with. Haha. Reagan inflated balloons and Jana placed them where I instructed. Here she is hard at work.
We had four tables set up in the main CLC dining room.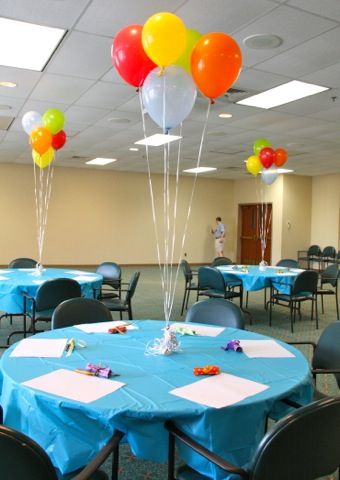 Those little colored things on the table above each placemat are crayon rolls/holders that I made as favors for each of the kids. I used this tutorial.
Here's her birthday cake.
It's a plain cake. I used a bakery-style frosting recipe that I found that uses shortening, powered sugar, vanilla extract, and milk. Then I had to get a little creative as to what to put on it to incorporate the rainbow theme - without using dye. So, I printed and cut out a rainbow with my Silhouette cutter. She wanted 4 candles and she also wanted a "4" candle, so she got those, which added a little color to the cake as well. I covered some wooden blocks with white wrapping paper, then wrapped the edges with rainbow ribbon. The cake is sitting on those blocks. It's not fancy, but it tasted pretty good.
We also had fruit cups, which added a little rainbow color to things.
Sara Madalin can have popcorn, so I had Jana pop some and place it in rainbow colored cups. The kids liked having all the colors because they could choose the cup that was their favorite color. And believe me, they have no problem telling you which color is their favorite.
Here we are with the birthday girl.
I made her outfit one day last week, and I ordered those matching hair bows from an Etsy shop. As soon as Jana snapped this picture, she (SM) yanked the hair bows out of her hair and tossed them on the floor.
We rented an inflatable slide and had it set up in the gym. The kids LOVED it! I loved seeing how much they enjoyed playing on it with each other. Here is Sara Madalin and her good friend from school and church, Cloe.
Gracie, the older sister of SM's friend Audrey, came with her mom and sister. The kids loved Gracie. And she plays with them all so well. I told her mom that she is the best big sister. EVER. Here's Gracie with Cloe, Gloria Helen, and William Wright. I love this picture.
And here's Gracie with several of the kids from SM's class at school - Isabel, Cloe, Davis, William Wright, Gloria Helen, and you can see SM tucked behind and under Gracie's left arm.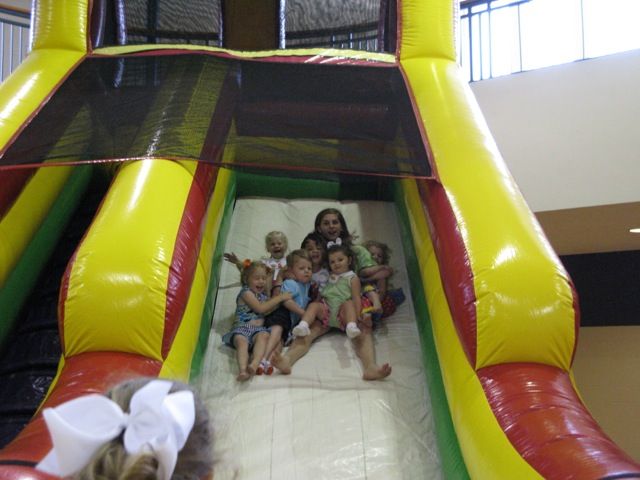 Here's Nori Grace. She was way more interested in playing basketball than sliding. This girl has mad skills on the basketball court.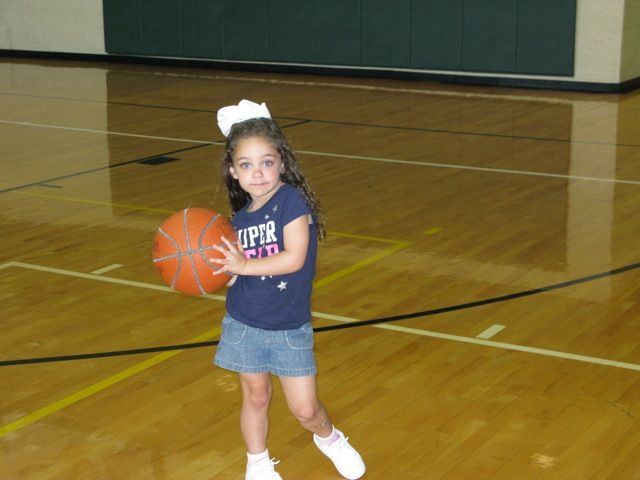 After a little playing, everyone came into the dining hall for some of that yummy birthday cake. Sara Madalin was all about the candles, until I lighted them. Then she was afraid to blow them out. But not to worry, there were plenty of little kids there who were all too eager to blow out the candles for her.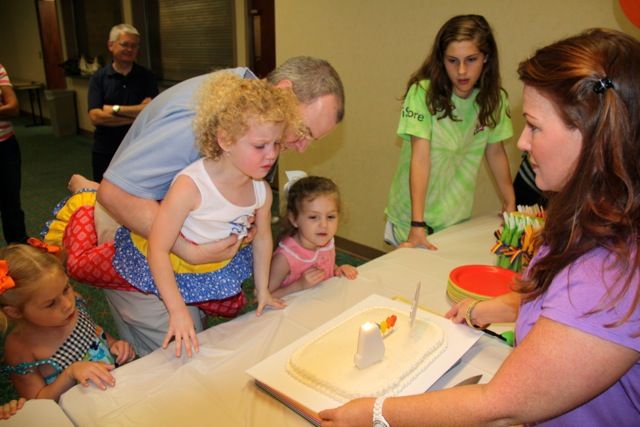 Sara Madalin got lots of fun gifts. She has already enjoyed playing with many of them.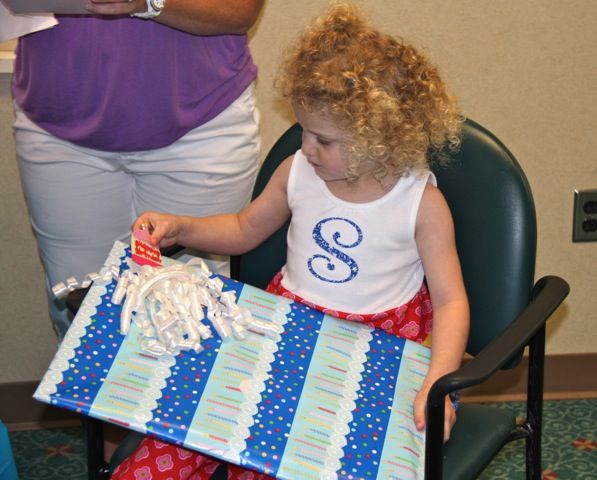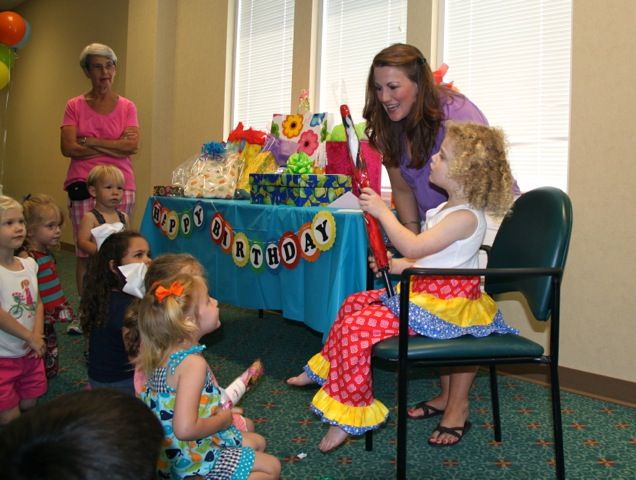 After opening gifts, the kids had a little more time to play before the crew came back to load up the slide. So, they headed back to the gym while some of took down decorations. Mitch decided to carry some of the balloons to the gym to give out to some of the little ones to carry home. I love this next picture simply because of the look of awe on my little niece's face as she watches him with all those balloons.
A few balloons did go home with some of her guests. The balloons that were left, Sara Madalin and Mallory carried outside to release before we left the church.
She had a great time and has since enjoyed playing with many of her gifts. I can't believe she will be four-years-old tomorrow.