Sara Madalin and her classmates all bring cupcakes to share with their friends on their birthday. Sara Madalin's birthday is today, May 21. However, we were unable to take cupcakes to share today because all the K3 classes had a BIG ice cream party planned for today. So, we decided we'd take cupcakes last Friday. When I told her we were taking cupcakes, but it wasn't yet her birthday, she told me, "Well, Mommy it can be my pretend birthday." So, that's what we celebrated with her class last Friday, her "pretend" birthday.
Her friends have been bringing cupcakes for the last two or three weeks. The classes are divided by birth dates and all of SM's classmates have birthdays from April through July. All the cupcakes from her friends have been from Kroger or bakeries and contained additives that she couldn't have. I've been baking cupcakes for her to carry. Usually, at the beginning of each week I'd bake a fresh batch and let her carry 2-3 of the week. The cupcakes brought by her friends have all had character rings on them. One little boy brought cupcakes with Spiderman rings. A female classmate brought cupcakes with Hello Kitty rings. Usually, what Mrs. Melodi would do is take a ring off one of the cupcakes, wash it, then place it on the cupcake I had sent from home for Sara Madalin. It made me so happy that she and Mrs. Tricia did little things like that to help SM feel included.
Well, as I began to plan to send SM's cupcakes, I looked EVERYWHERE for Spiderman rings to place on her cupcakes. And by everywhere, I mean Hobby Lobby and Party City. I probably could have bought some from a local grocery store or bakery, or possibly even found some online. But I didn't take the time to do so. Instead, I just found some plastic rings at Party City and went with those. Here are the cupcakes SM took for her class on her "pretend" birthday.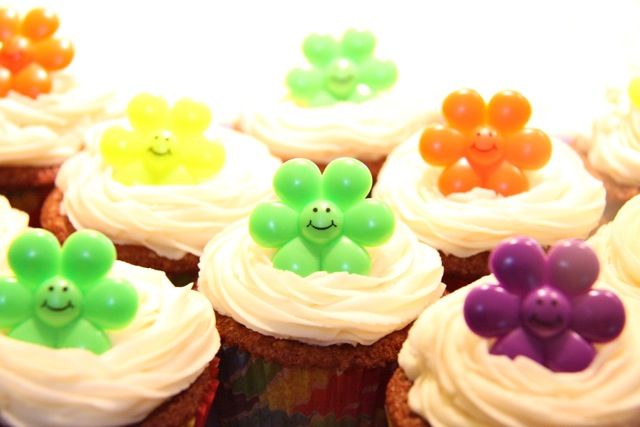 Here's a picture of my girl holding the container of cupcakes before going into school last Friday.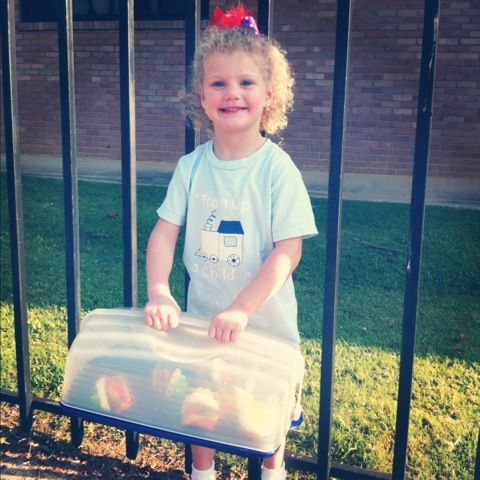 And here she is with her "pretend" Happy Birthday hat on as she enjoyed her cupcake.
She said that she and her friends enjoyed the cupcakes and that they sang to her. She was very happy with her "pretend" birthday celebration.