So far our summer vacation has been quite enjoyable. My girl has been such a sweetheart. I'm praying it continues. She let me sleep until 7:00 yesterday and today. She has slept really good at night. I think it's because she has played outside so much. She came into our room both mornings around 5:30 and said, "Mommy, I slept all night in my bed." Then I help her into my bed where she snuggles between me and her Daddy and she goes back to sleep. It has been so nice.
Once we get up for the day, she watches a little TV and has some milk while I fix breakfast. After breakfast, she plays for a few minutes while I clean up a bit. Then we read. After that, we play outside for a while. Yesterday I let her play for about an hour. Then she came in and bathed, painted some, and played in her room a bit. Then it's time for lunch, one TV program, and rest. She likes to nap in our bed, which is fine with me as long as she goes to sleep. And so far, she has. She goes right to sleep and sleeps for about an hour to an hour and a half. I'm probably going to try to cut those down or completely out by the end of the summer. But for now, it's nice that she's napping so well. Once she gets up, we have a snack and play outside some more. Sounds like a great life if you ask me.
Today she got a treat. I called Miss Amber to take her to a local museum. SM has asked to go there again since last Summer when she and Amber went the first time. They left around 9:00 and were back by lunch. Amber said she had a great time and that Sara Madalin was very good for her. She sent me this picture from the museum.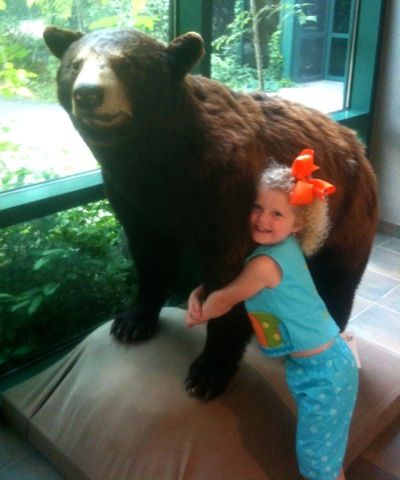 She was so excited that she saw dinosaur bones and snakes. Then Miss Amber let her play at the nearby park. She had a great time.