Today was Sara Madalin's last day of K3 preschool. It was a happy day. But it was also a sad day. Every milestone she passes reminds me how quickly times flies. She has grown a great deal this school year. I think we all have in our house. She started as such a baby in August, and she really has grown into a big girl since then. We have been so pleased with the choice to send her to this particular school. There have been moments when I've been overwhelmed or discouraged as a mother, and her teacher and the administrators at her school have been overt encouraging and helpful. They have shown us again and again they care for our daughter and they want to help her reach her full potential. They've helped me help her this year. And for that I am so grateful.
As with any milestone, there are pictures galore from this morning.
Here's SM before leaving for school. She's holding a picture of herself that we took the first day of school back in August.
And just to help you see the comparison a little better, here she is today...
And here she is in August.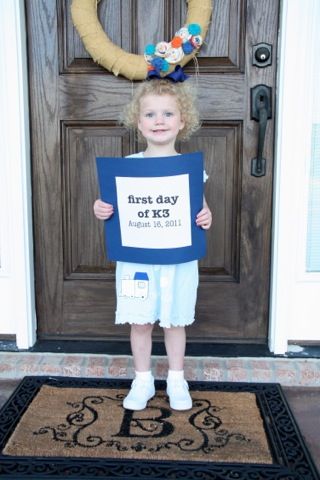 Her hair has grown a little, and so has she.
Here she is with her Daddy before she and I left for school.
And a pic with her Mommy.
She wanted a picture with her Spiderman four-wheeler and Spiderman figure.
And this is a picture of her Spiderman hair bow that her friend Wright gave her for her birthday.
When I told her she could wear that hair bow on the last day of school, she said, "Yeah, dey will think I'm cool."
I dropped in a little early to pick her up today. She didn't want to leave with me. She told me to wait a few minutes, because Mrs. Melodi was about to read them a story. So, I sat and waited. I snapped a few pictures with my phone while I sat there.
Here's our girl and Mrs. Melodi one last time.
Here they are the day before school started last August.
I'm not sure how SM will handle things in August when she goes back to school and she's not in Mrs. Melodi's class. I'm hoping, because she will be at the school some this summer for a couple camps, she will get used to the idea of having another teacher before school actually starts in August.
After leaving school, I took her with me to the grocery store. She was so good for me. So, I told her she could pick out a prize. This is what she picked.
I told her that she and her Daddy would not watch TV together any more.
I can only imagine the cost we'll be paying in therapy for this girl in the next 15-20 years.