I told Sara Madalin that we would do something FUN today (as opposed to every other day of her life). So, we decided to go to the MS Agricultural and Forestry Museum to see what kind of interesting things we could find there.
We got there a little after opening. Most of the "museum" consists of various buildings made to look like an early 20th century rural farming town, which meant that we'd be walking around outside quite a bit. I don't know how many from the South read our blog, and how many are from outside this area, but y'all it's been pretty hot in these parts lately. So, walking around outside from building to building (only a couple of which had air conditioning), was not something I was all that excited about. So, we got there early and were done by around 11:00. Here's my girl as we entered the grounds.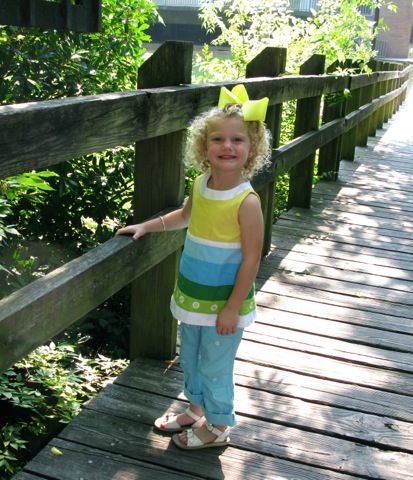 She was fascinated by the tractors. There were several on display, and every time we passed one she'd have to stop and look at it. Then, she said a couple times, "Wow, dat looks interesting."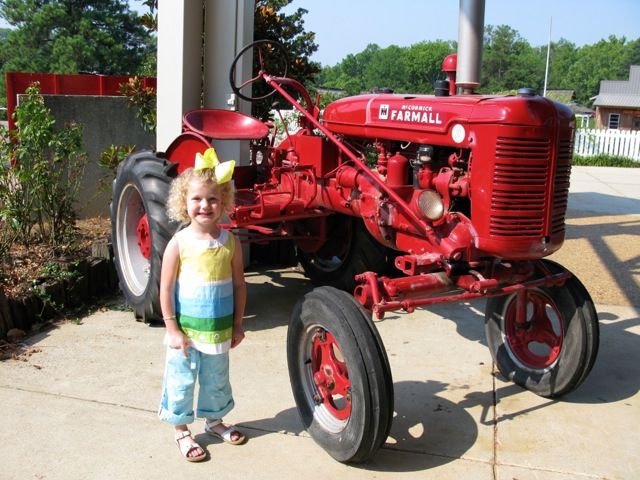 We started in the main building. It was one of only two buildings on the property that was air conditioned. There were displays of various agricultural businesses and activities to view. We saw cotton, a cotton gin, airplanes, and many other things. Many practices were shown displayed with mannequins. Of course, she was fascinated by them. For the longest time we didn't see anyone else in the museum. Then, after about 20 minutes we happened upon a couple sitting in rocking chairs watching a video on airplanes. As we approached them, Sara Madalin turned to me and said, "Dose are real people." The lady looked at me and smiled. I said to SM, "Yes, they are real."
This next picture is a little scary, but she walked right over to them, turned around and smiled like she was expecting me to take a picture.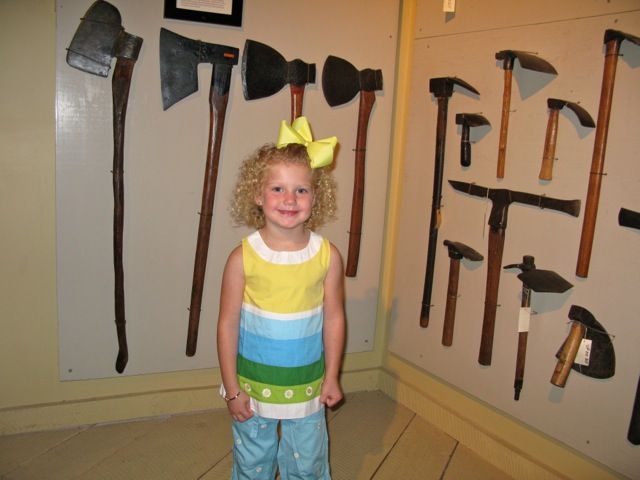 We took this picture for her Daddy's sake. She had a million questions. I told her that she'd have to come back with him so he could answer all her questions.
This was outside a 2-room school house. Someone must have had wedding pictures taken there recently (the site is popular for engagement, bridal, and wedding photo shoots), because written on the steps were the words, "I love you every step of the way!"
We saw a few bunnies and horses too.
By this time, we were both burning slap up. So, we headed over to the ANCIENT carousel for a ride.
She was hot, tired, hungry, and whiney by the time we left. ALL signs of a successful outing.