Friday Sara Madalin and I decided to visit Reagan at the store. SM likes to go and see what all he's up to, to watch the robot fill prescriptions, and to see what all the office workers have going on. First, she helped Reagan remedy a computer issue that one of the intake clerks was having. He let her push a button under the computer and she thought she had fixed things for him.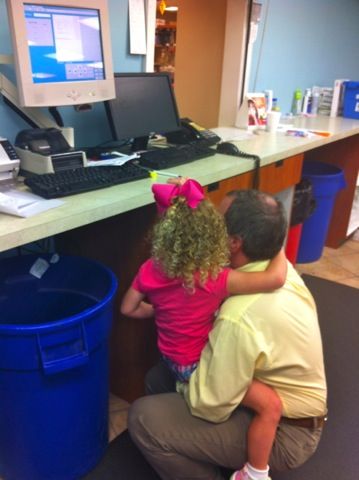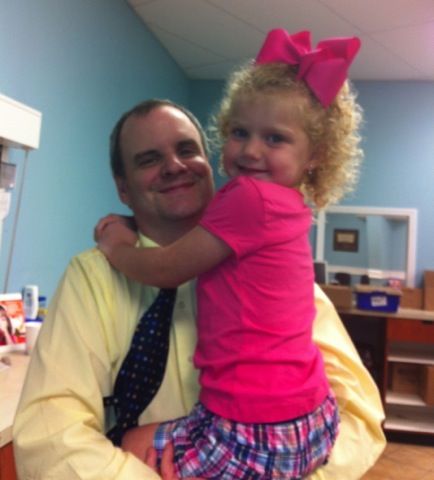 Then she went around to the cashier area and happened to see one of our favorite people, Aunt Bobbye.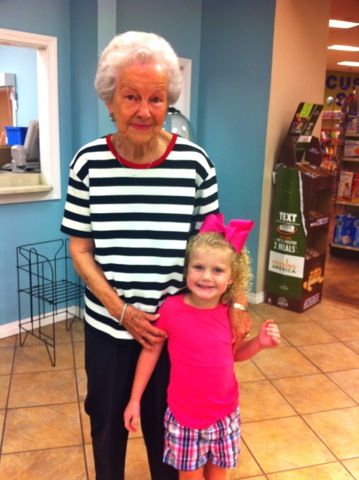 SM ran and gave her a big hug. Aunt Bobbye is one of the few people in our lives that knew about Sara Malinda before she was born. Aunt Bobbye prayed for her and us for months. Then, when Sara Madalin was born, Aunt Bobbye was the first person at church that held her, and then cared for her in the church nursery until we moved to another church. We love her and her family and hate that we don't get to see her as much as we did when Sara Madalin was a baby.
While we were heading to the office, through the pharmacy, Sara Madalin heard the robot filling a prescription. So, she had to go watch. She is fascinated by it.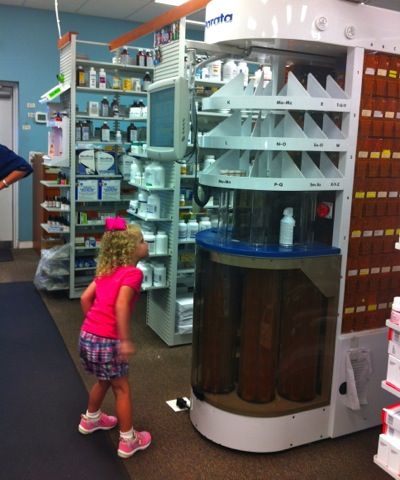 Finally, we made it to the office to see Mrs. Tina, Mrs. Kay, Mr. Dwight, and Nee-Nee (my friend, Renee). Addison was there with Nee-Nee (she is Renee's granddaughter). She was "working" at a desk and Sara Madalin decided she wanted to work too. It was so sweet to see and hear them interacting. Addison is 2 years older than SM and had recently lost a tooth. SM had plenty questions about that, and Addison was more than happy to answer her questions.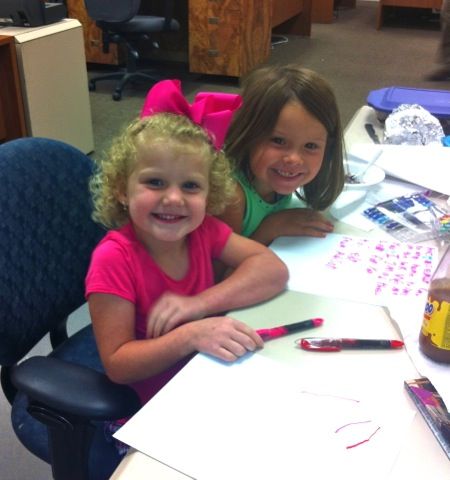 After leaving the store, we stopped at Sonic for a drink (because my daughter, like her father, loves the ice) and rode over to the park. She played for a while, talked to everybody she saw, then we went for a walk. We walked down to the lake, then over to a bridge that is built over a ditch/creek area.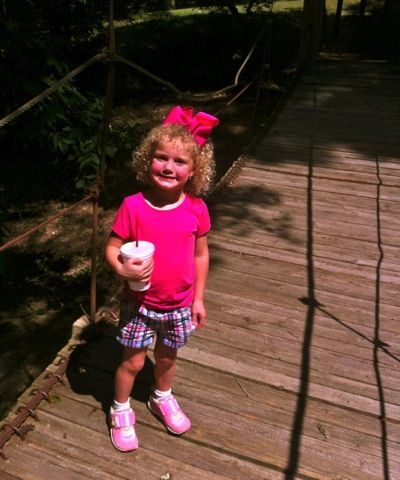 This next picture is her expression after I asked her if she thought there was a grumpy old troll living under the bridge. (For those unfamiliar with grumpy old trolls, watch Dora, the Explorer to catch up.)
She decided to look through one of the cracks on the bridge to see if there was a troll.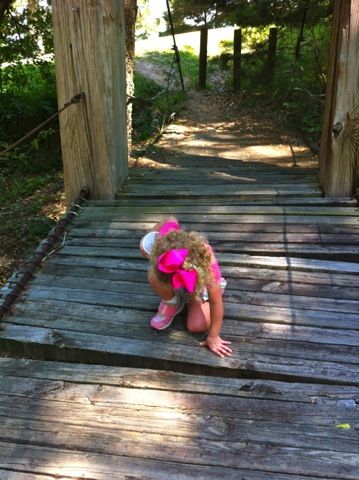 She informed me that, yes, in fact, there was a troll under the bridge and that we should run away before he asked us a riddle.
We went back to the playground where she again made her rounds talking to everyone, until she found a little girl who is now her very best friend.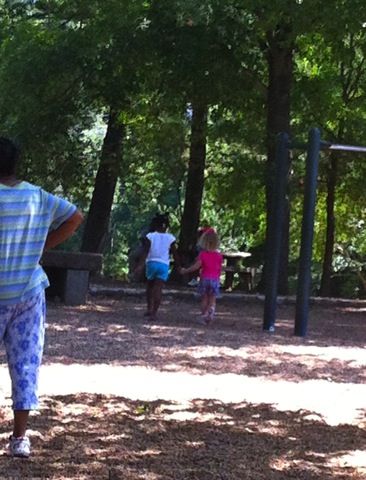 Don't ask me the little girl's name, because I have no idea. All I know is they walked hand-in-hand over to ask her parents if she could go with us to the bridge. They said yes. The girls continued to walk/run hand-in-hand to the bridge. The little girl said, when we got to the bridge, that she was afraid to cross. SM said, "It's ok. I will protect you with my powers." So across the bridge they went, then back, then to the playground again where we said our good-byes and I brought my tired little girl home for lunch and a nap.
She said she had fun at the park and that we would have to go again soon.