Today I enjoyed a wonderful lunch hosted by several of the Chinese-American women who attend English classes at my church. It was held in the home of one of the ladies and all the food was prepared by them. I took a few pictures of the guests, the food, and the hostess's lovely home.
Lena, the hostess, is from China. She met her husband there while he was working in her country. When they decided to marry, she traveled with him to the U.S. where their wedding was held on his family's property in Flora, MS. They then returned to China for another year. While there, his family oversaw the construction of their current home. Before returning to their new home in the U.S., they shipped a number of beautiful pieces of furniture, carved wood, and other authentic Chinese artwork here for their home. This first piece is just a portion of a large carved wood screen that is in her home. She said there was a story to the screen, but I never found time for her to tell me the story. You can see the screen in other pictures later in this post.
This next photo is blurry, but I love the tea set she had displayed. I think I would enjoy visiting her again and just letting her tell me the stories behind each of the things from China that are displayed in her home.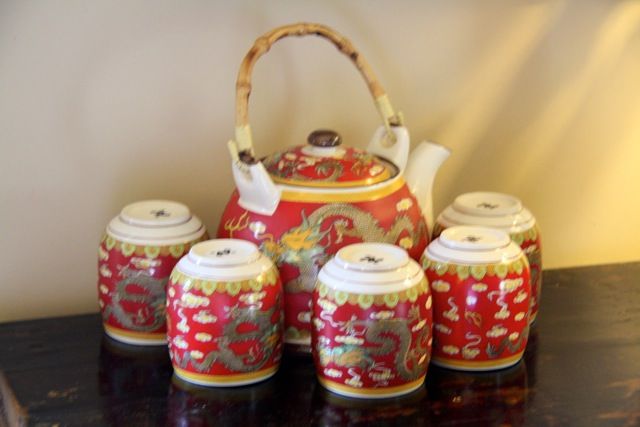 She had a beautiful portrait in her bedroom of her dressed in traditional Chinese wedding attire. It looked like a magazine spread. I hate that I didn't take a photo of it. I asked her if she modeled when she was in China. She put her hand in front of her face and smiled.
Here are some of the ladies from our church who work with the ESL students who attend classes each week.
And oh, the food. I took a few pictures but none of the pictures can really do it justice. Much of the food was authentic Chinese food. Some of the food was American. It was all good.
Here is one of the cakes made by the ladies. Lena (again, our hostess) had explained to me during VBS the difference in American and Chinese cakes. She said that Chinese cakes are usually similar to American on the inside. But the outside is different. They use a very light, fluffy frosting. I was told it is similar to whipped cream. Then, the cakes are decorated with fresh fruit. I tasted one of the cakes. It was really good.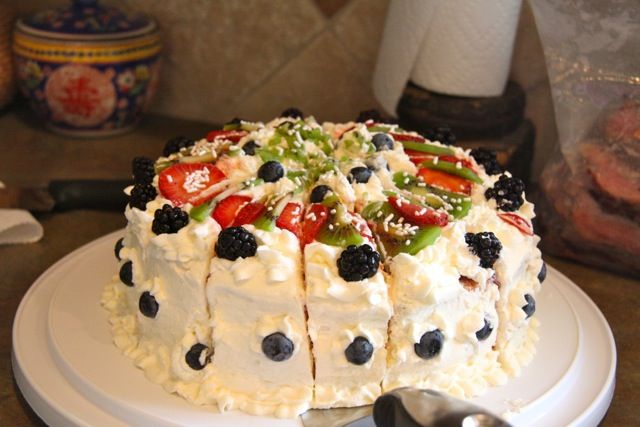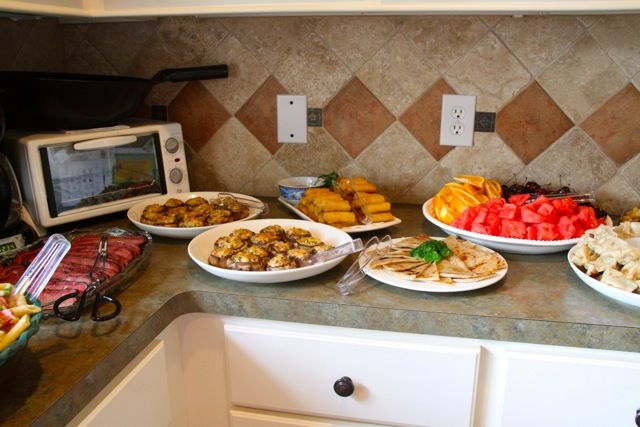 These were meat filled dumplings. I'd never had them before. I enjoyed them.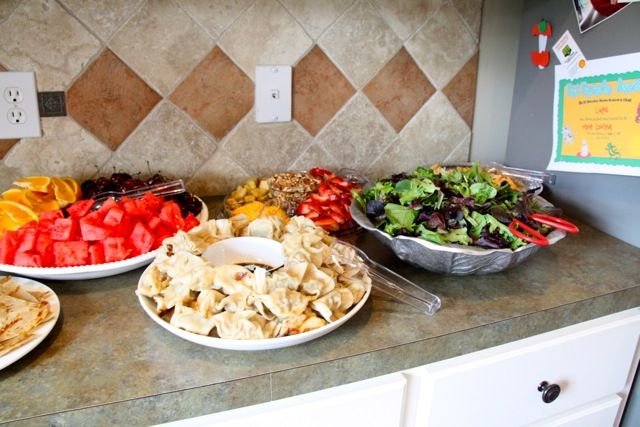 This is Ms. Martha. She heads up much of our activities in the ESL ministry.
This is Ms. Betty. She leads the music portion of our meetings.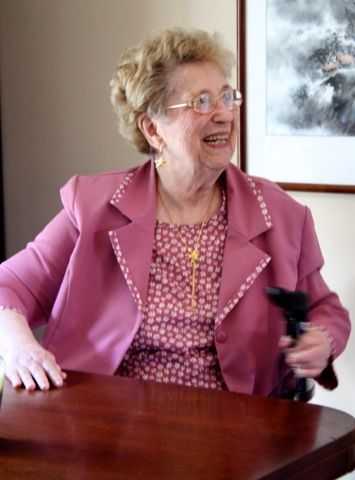 The lady standing is Mallory, our WMU director. She was presenting one of the retiring ESL teachers with a gift.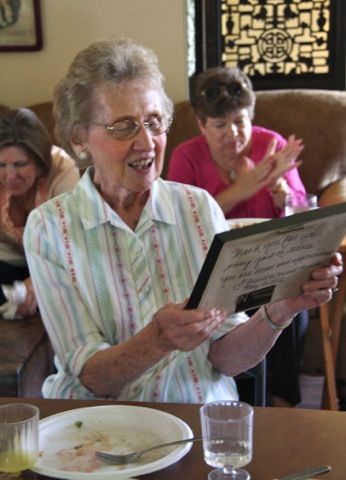 I meant to get a photo with the hostess, but forgot to do so. But you can see her in the next photo. She is so precious. She was in my VBS class last week and I just fell in love with her. It was so sweet of her to open her home to us. I think we all enjoyed it.
And as if having us in her home and feeding us wasn't enough, she made us each bracelets as gifts to carry home. I chose a red and green bracelet (that my daughter has already requested I give her when she becomes a "big girl"). Here's a picture of it I snapped while sitting in my car.
I am so thankful for the blessings God has given me through the ESL ministry at our church. I've met some precious ladies and I've grown in so many ways.