This past school year Sara Madalin has been taught her alphabet using Mat Man and the Handwriting Without Tears curriculum. Every week they would learn to "build" a new letter using Mat Man. They also practiced drawing Mat Man to learn to draw the various shapes used to make letter.
I wanted to continue to practice Mat Man and letters with her this summer. I stumbled upon this site through Pinterest and printed out the patterns and letters. We cut them out and made our own little version of Mat Man. She doesn't know the difference between our version and the real thing. Here she is one day last week after rest time when we were practicing her letters.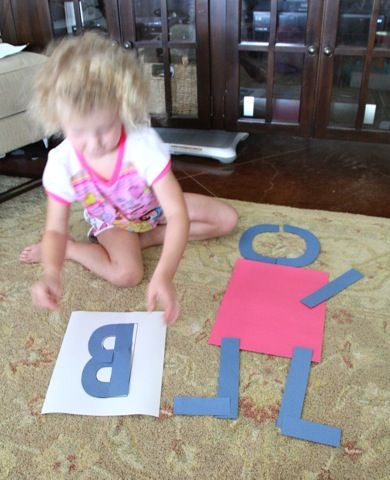 She loves "doing the letters" and asks for us to practice them almost every day. We are also working on some fine motor activities in hopes of strengthening her handwriting skills. She's done quite a bit of tracing and dot-to-dot activities in the past couple weeks. Usually we spend about 30 minutes a day on those type activities, along with a story or two to go along with the letter we are focusing on on that particular day. We don't want all this school prep work to interfere too much with our swimming and other play time activities.