We participated in Vacation Bible School this past week. Sara Madalin went to class in the preschool area of our church and I had the opportunity to teach a class of women in the internationals ministry area.
Sara Madalin had a great week. She had two of the sweetest ladies as her teachers. They were so patient with her and very understanding of her food sensitivities. I was so thankful for them. They made the week a little less stressful for me, and more enjoyable for her.
Here's a sweet picture our preschool director took of Sara Madalin on the playground. She sure looks sweet here.
Each year the boys and girls have a little competition. They bring offering for missions projects. The leaders collect the offering in two different buckets, one marked "Boys" and the other marked "Girls." The team that collects the most gets to spray Silly String on one of the preschool leaders. Sara Madalin saw this for the first time last year at VBS. She has not stopped talking about it since last summer. She even asked me to buy her very own can of Silly String so she could spray our preschool director at VBS. She reminded me to carry it Friday and although the girls lost the competition (which devastated my baby girl who is a little competitive like her Momma), they still let her spray Mrs. Kandi with the Silly String she'd brought.
While she was having a good time in the preschool area, I was in another area of the church teaching a class of ladies about the Parables that Jesus used to describe the Kingdom of God. I had a great time with these precious ladies. We talked a little about God, a little about their countries and families. I think I learned just about as much as they did. There was about 30 women in our classes, 3 of them were in my class. Here are the ladies I spent the week with: Lucia from Mexico, Orange from Taiwan, and Lena from China.
One thing they tried to teach me was how to boil pig feet properly. To eat. They also told me the best foods to eat to make sure you produced enough milk when you have a baby. I didn't say this to them, but I'm pretty sure I won't need either of those bits of advice. But it was very interesting to hear them talk about both.
We started our days with group assembly where we sang a few songs, then someone shared the parable of the day. After assembly we went to our classrooms for our individual lessons. In my class, we reviewed and I tried to explain the parable of the day. Then we talked about how the parable compared the topic with the Kingdom of Heaven. Then we reviewed some vocabulary from the scripture we shared. After lessons, we had refreshments, then the ladies worked on crafts. They made notecards one day. Here is Lucia showing me a notecard she made.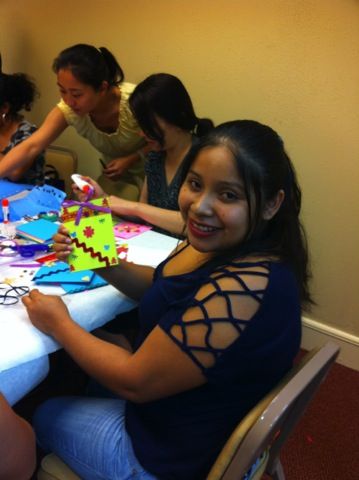 Here are a couple of other ladies working on cards.
The majority of the week the ladies worked on paintings. Each was unique and different. I enjoyed looking at the different paintings. In this next picture, the painting on top was painted by a woman from Taiwan. The painting on the bottom was by a woman from Mexico.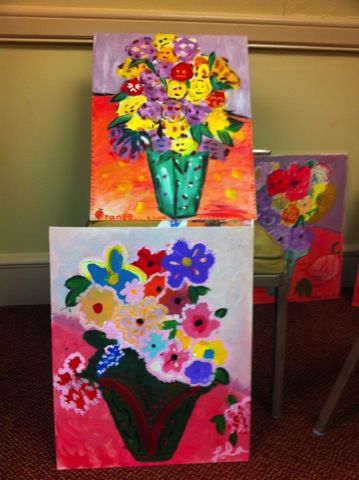 We had a great week, but we were exhausted by the end. I always look forward to VBS week. Then I look forward to it ending.