Saturday morning we went to see the newest baby in town. Sara Madalin and I first stopped to pick her up a little gift.
Then, we all went by the hospital to see Amy and Anna Grace. Amy was sleeping and the nurses said she didn't need to be disturbed. So, we talked to Craig (the baby's daddy) and he said he'd walk us over to the nursery to see Anna Grace, their new baby girl, and Baby Will's new little sister.
Here's the door hanger on Amy's room. I always like to see different door hangers in the delivery suites. I thought Anna Grace's was precious and sweet.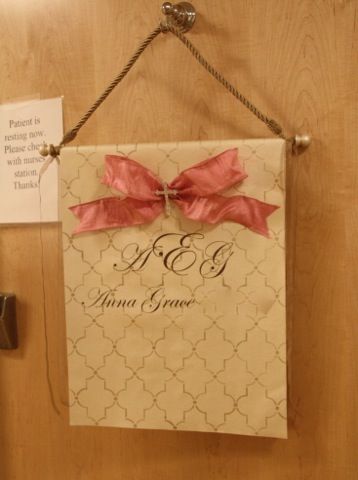 Here's Sara Madalin waiting for the nurse to bring Anna Grace to the window of the nursery.
And then we oohed and ahhed over this chubby cheeked angel for the next 5 or so minutes.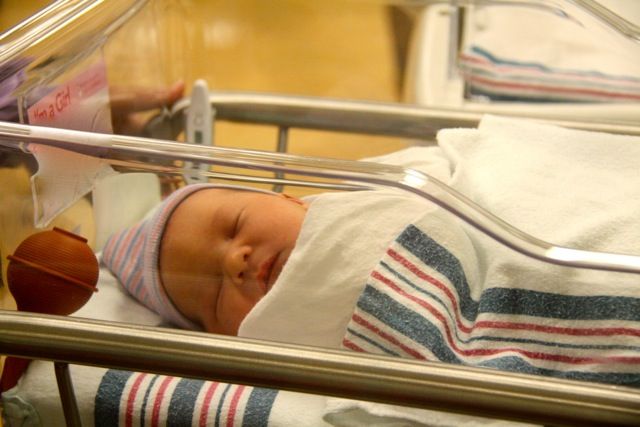 She is beautiful and we can't wait to visit them at home and kiss on those cheeks.
Sara Madalin of course had a million questions. I sent Amy a message last week and told her that SM wanted to know how God was going to get the baby out of her belly. I told Amy I'd leave that question for her to answer and explain.
Here's SM checking out the nursery.
And speaking of questions, while we were on the way to the hospital to see Amy and Anna Grace, Sara Madalin asked us, "When am I going to be a big sister?" Reagan and I both just looked at each other and I said to her, "I don't know Baby. You may not be a big sister. We'll have to see if God gives us another baby." I know she's not the first child to ask those kinds of questions. But she asks them quite frequently these days. Some days I pray God gives her a baby brother or sister. Then, other days I really don't know if another child (or I) would make it if we did adopt again. The little girl with the blonde curls keeps me so busy and tired I'm not sure I have the energy for another "gift."