Our weekend started off with a birthday party for Sara Madalin's friend, Davis. Reagan took her to the party and he said she played hard. Here's a picture of them at Pump It Up.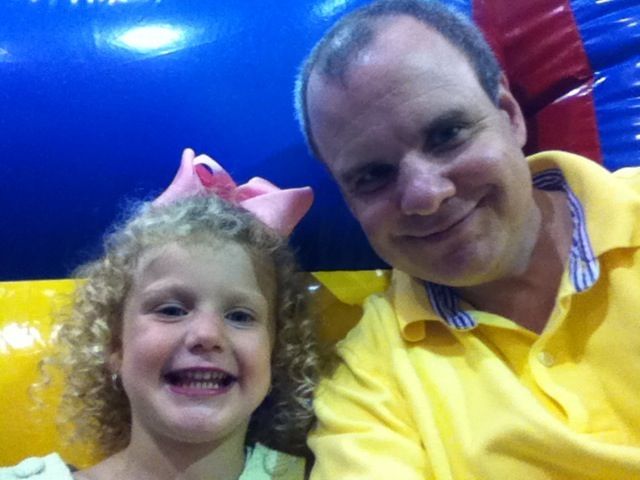 The party started at 12:15, which is usually right around SM's lunch time. But she wasn't quite ready for lunch when they left our house. She had a snack before leaving, then had a cupcake at the party. After the party Reagan stopped to get her some chicken nuggets. He said she couldn't even finish eating them before she fell asleep. That's becoming a habit of hers.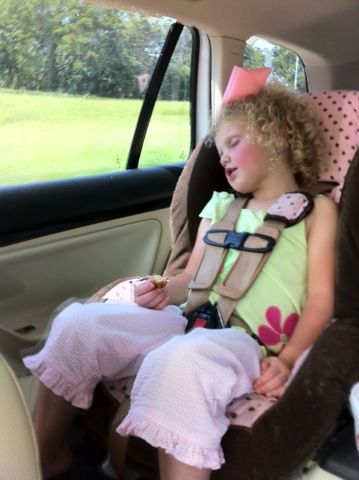 Saturday was also National Dance Day. We have celebrated that day with our friends, Rod and Penny, for the last 3 years. So, or course, we celebrated together Saturday as well. They came over and we had dinner together. Then I put SM to bed and the adults played Phase 10 until I couldn't think straight. Here's Sara Madalin and Penny. She convinced Penny to play horsey with her.
Sunday was church and then plans to attend another birthday party. The day started off with everyone in great spirits, as seen in the picture below that we took really quickly before heading to Sunday school.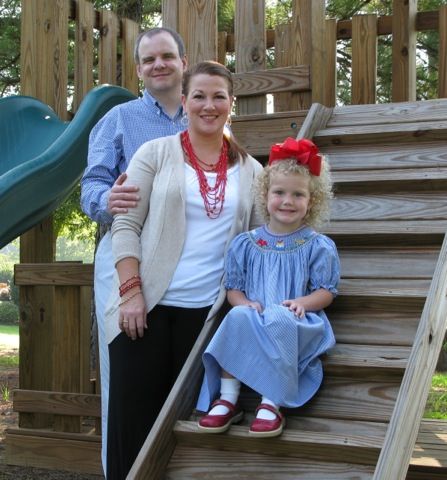 After church we went to lunch. After leaving the restaurant, things went down hill fast. There was a little girl in our car that was EXHAUSTED. So, instead of going to the party and pushing her beyond her limit, we came home. She went right to sleep and took a 2 hour nap.
This is our last week of Summer and it is pretty full. SM doesn't know it yet, but she has her 4-year-old well-child check up Wednesday. She's going to get a shot. And I'm sure there will plenty drama to follow.