Early Saturday evening we made our annual visit to the Canton Balloon Festival. We've taken Sara Madalin every year since she was born. We were talking last night, and I think she was only about 6 or 7 weeks old the first time she went to the festival. We only stayed a couple hours that first night. Each year we've tried to stay a little later. Because of other commitments, we only stayed for about 2 hours last night. We're hoping one day we stay long enough to actually watch the fireworks display.
It was extremely hot. We were sweating before we even got to our usual spot. But Sara Madalin didn't mind. She was excited about seeing the balloons. Here she is right after we set up our blanket and chairs.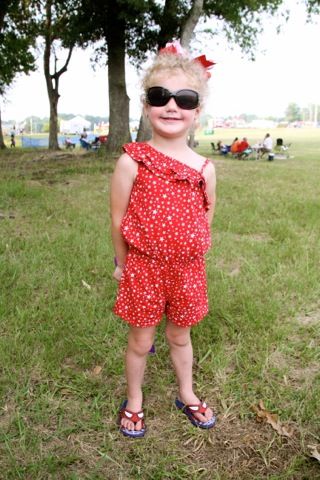 Please take a moment to notice her attire. She's wearing an outfit that I had to fight to get her to wear. I've not spoken much about her sensory issues, but one of the things that she is sensitive to is clothes that have elastic on or near her upper body. (I can't tell you how many outfit, dresses, shirts, or jumpers I've bought only to have to return because "THEY DON'T FEEL RIGHT!") Anyway, when I tried the outfit on her (which was a birthday gift), she said it was fine. Then, when it was time to put it on her to go to the festival, she threw a fit. She didn't have a problem with the ruffle on one shoulder, she just didn't like the thin strap on the other shoulder. It didn't hit her exactly where she thought it should, so she kept tugging at it. We finally convinced her that it would be very hot outside and that she would be happy to have on this cooler outfit once we arrived in Canton. She finally conceded and wore the outfit and received several compliments on it. She kept pulling at the strap pretty much the whole evening. I don't think she'll wear the outfit again.
She's also wearing her Spiderman flip flops and a pair of sunglasses that she picked out all on her own from The Children's Place. She's such a fashionista.
She spent the first few minutes after we arrived playing with her bubbles. This attracted another little kid who wanted to take her bubbles from her, so she decided to hand them to me to put up.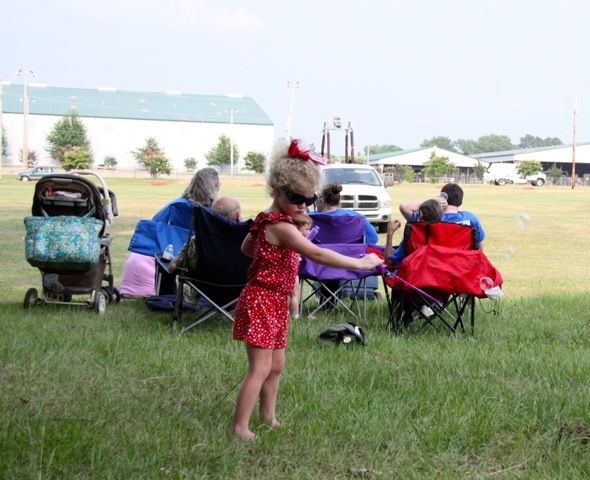 In the next picture you might notice I'm holding something in my hand. It's wipes. I kept wiping her down to try and keep her cool. This was after Reagan had taken her over to jump in the inflatables that were there for kids.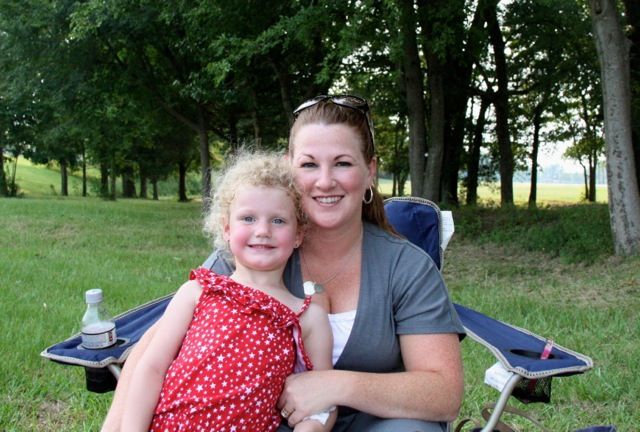 We brought some fruit and her dinner, since we were there around the time she normally eats and she couldn't have anything that the vendors were selling. She enjoyed her cheese and crackers and cantaloupe. We enjoyed watermelon - Smith County watermelon.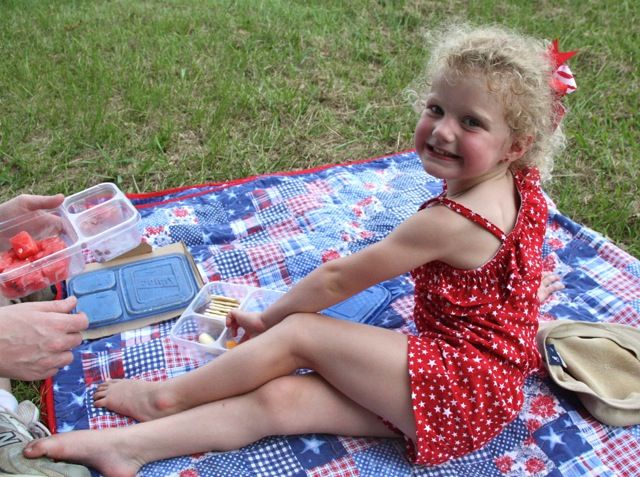 After eating, she took a few minutes to climb on her Daddy before the balloon crews started setting up.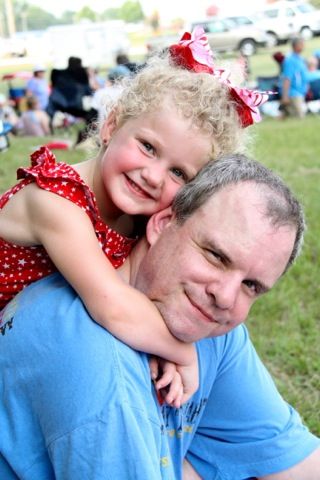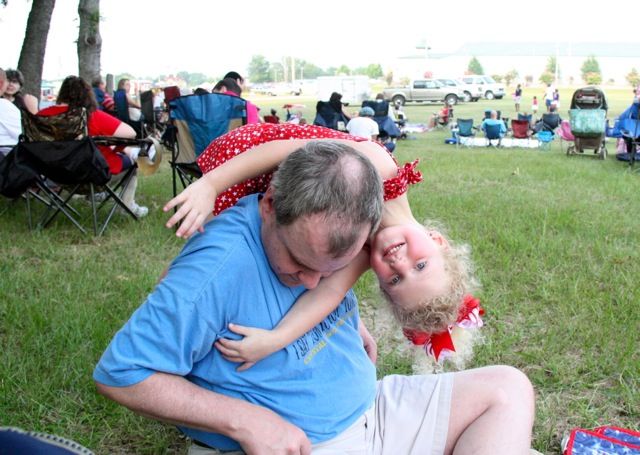 And of course her BFF showed up just in time to take SM around to visit with some of the balloon crews. We've taken a picture of these two every year. It's almost unbelievable how much SM has grown. And so quickly too.
Our annual family picture at the Festival.
Jana has an ad campaign going on right now with "Skip" (playing off the movie "My Dog Skip" that was once filmed in Canton) visiting different locations and activities around town. She pulled out her "Skip" and Sara Madalin got to love on him for a few minutes.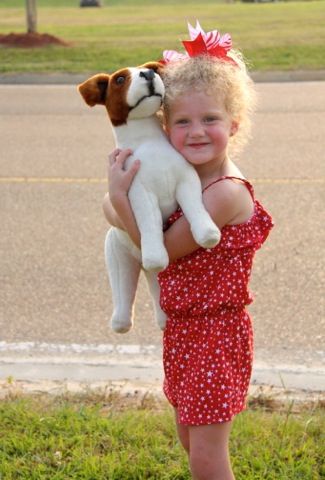 Then, she and Jana took Skip around to some of the balloons. Sara Madalin got a very special treat. She was allowed to sit in one of the baskets (it wasn't attached to the hot air balloon yet) while the crew was setting up.
In addition to traditional hot air balloons, the festival always has character balloons. Sara Madalin happened to be near the pig balloon as they were unrolling it. They let her run around on the "tarp" they used to lay the pig on as they unrolled it.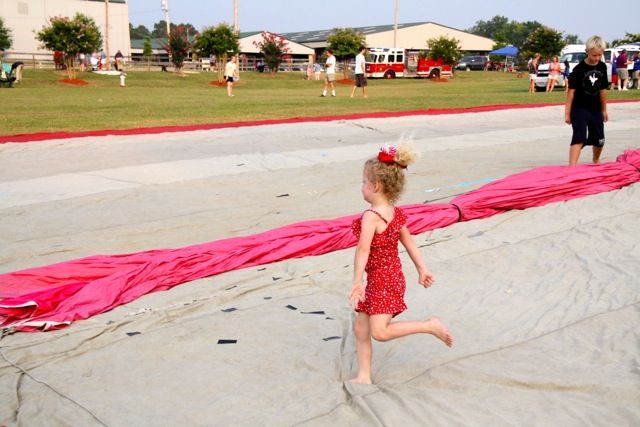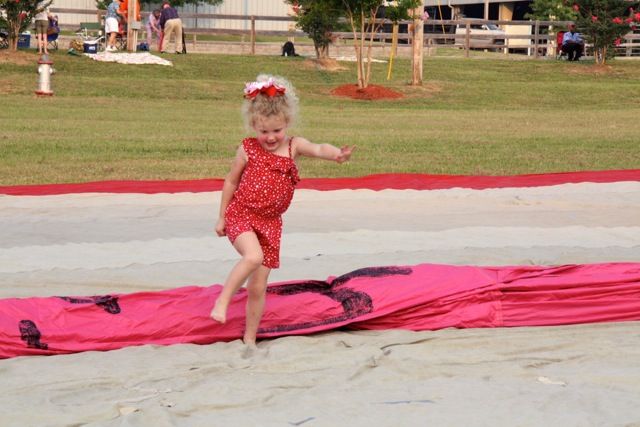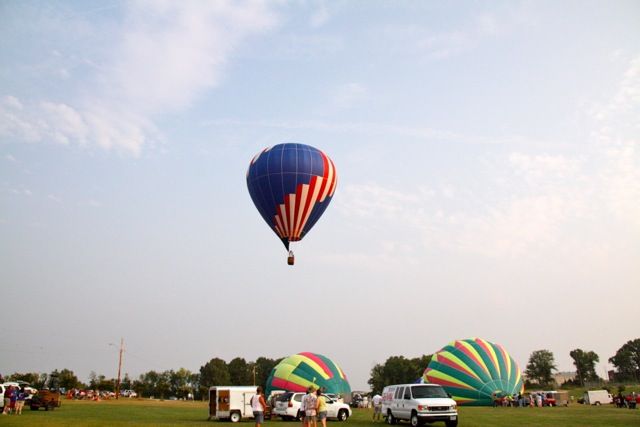 As the crew was unrolling the pig, they told Sara Madalin she could help. Reagan said she watched everything the others were doing and tried to imitate them as she "helped."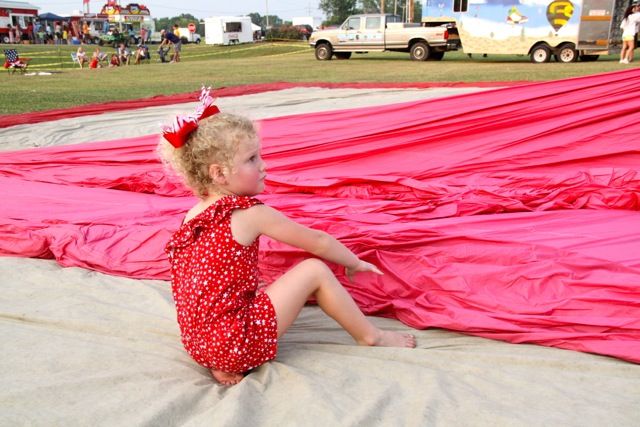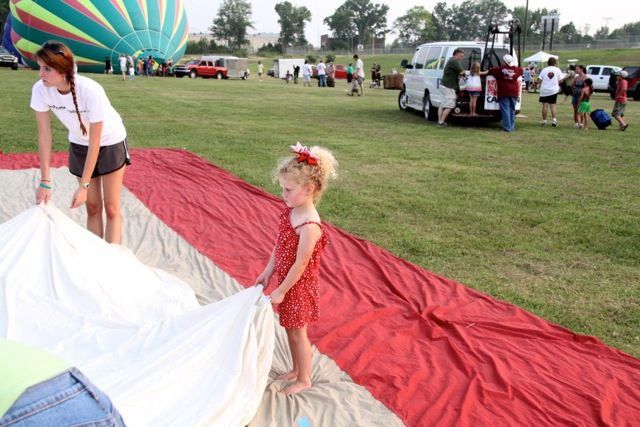 Here's the pig after it was inflated.
When they left the real crew, she came running to me and said, "I was on the crew Mommy!" She thought she had done something special. And she had, for a 4-year-old.
We left after this because Reagan was headed to a Braves game and SM and I were headed home for bed.