We celebrated the 4th of July by doing basically the same thing we do most every other day of the Summer - we went swimming and grilled out at Sue-Sue's. Here's a picture of my sassy little girl before we left our house headed to Sue-Sue's.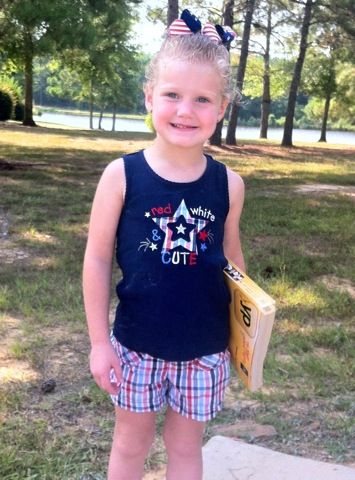 When I told her we were about to leave, she said, "Wait a minute. Let me get my telephone book."
Because clearly, we can't leave the house these days without carrying a big old thick telephone book with us.
She played in the pool from about 11:00 until noon. Then she ate about three bites of chicken and corn for lunch before she jumped back into the pool and continued to swim until at least 3:00. She jumped off the diving board, went down the slide, and swam all over the pool. She is definitely a swimmer. It's all we can do to get her to sit out for even a few minutes to rest.
We left Susan's around 4:00 and SM fell asleep about 10 minutes after we left. She slept and snored hard on the way home. Once we made it home, I woke her up and brought her inside. Then she convinced her Daddy to shoot fireworks with her. And by "fireworks" she meant "dose fings you twirl round and round." Otherwise known as sparklers. Here they are playing with a couple sparklers.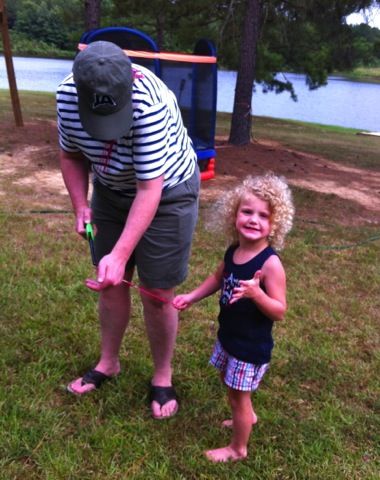 She went to sleep very easily last night and slept all night without a peep.