We've gotten to the point in our Summer vacation where the days seem to run together. I wake up most mornings trying to remember exactly which day it is. We've done all our camps. We have no trips planned. We don't have anything planned. So, when we get up each morning we kind of just decide what we want to do for the day. So far, Sara Madalin is ok with that. But I'm sure it won't last long. She's getting more and more ready to go back to school and she misses her school friends terribly.
We did have a commitment earlier this week that required us getting dressed before noon. Our church is sponsoring an upcoming consignment sale. The proceeds earned through the sale will be donated to a missions organization called But God... Ministries. I was asked to come to the church Monday morning to help with a promotional spot. Several who have volunteered to consign and help during the sale were asked to say on camera, "I'm volunteering with Little Feet." or, in my case, "I'm consigning with Little Feet." I knew I'd only be there for a short time, so I took SM with me. The only problem, during filming of others who were there, the rest of us had to be VERY quiet. Being quiet is not one of SM's strengths. Desperate times call for desperate measures. So, I pulled out my phone and during the "quiet" times, I let her shoot pictures of herself making funny faces.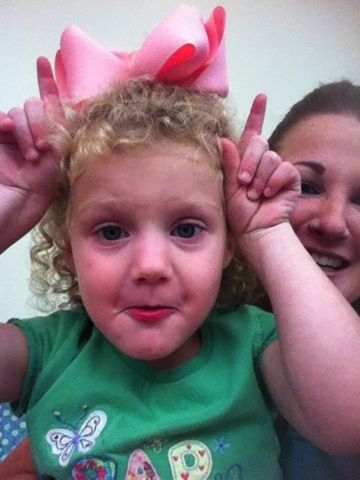 It kept her quiet for the entire time leading up to my turn to record.