It has rained A LOT around here lately. We really haven't been able to get outside and do much in the way of playing or swimming because of all the rain. Sara Madalin had 1/2 day camp last week, which was good for getting some of her energy out, but in the afternoons, she was pretty restless because she couldn't go outside and play. So much so, that by Thursday around nap time, she'd had ENOUGH. Enough of the rain, enough of me, enough of rules, and certainly enough with the talk about nap time.
We got to the point in our daily routine where it was nap time. She was exhausted, but was just fighting rest as hard as she could. So, she told me she wanted to run away from home. I said, "Ok." I'd had about enough too. Then I told her if she was going to run away, she was not allowed to take anything with her. That meant blankie stayed at our house while she ran away. She said, "But I'll miss blankie." I said, "That's too bad. If you run away, everything stays here except what you're wearing." She happened to be wearing a t-shirt and a pair of underwear. She agreed she'd leave everything and that she'd run away.
So, I let up the garage door, watched her walk to outside the garage, then I let the door down. Then, I ran to the front door to watch and see what she'd do. Sure enough, she started walking down the gravel drive - in bare feet no less. She got about half way down the drive then stopped. She turned around as if she was going to come back in. She took a step or two, then turned to leave again. Only she didn't take another step. She stopped and appeared to be thinking about what to do next. Then, suddenly, she turned and started running back to the garage. I went to the garage and listened to see if she'd knock for me to let it up. She did. So, I let it up and she came inside. She said, "Mommy, I don't ever want to run away again." I said, "Good, let's go take a nap." And we did.
Saturday was sunny when we got up that morning, so she and her Daddy went outside to play a little. She also took her rod and reel out to practice casting. The funny thing, though, is that she likes to cast the little practice fish out, but she doesn't like to reel him in. So, she'd cast, then have her Daddy reel it in. She's a mess. Again, she was only wearing her t-shirt and underwear, which happens to be her favorite outfit of late. But, I guess if you're a country girl like she is, you're perfectly comfortable fishing in that.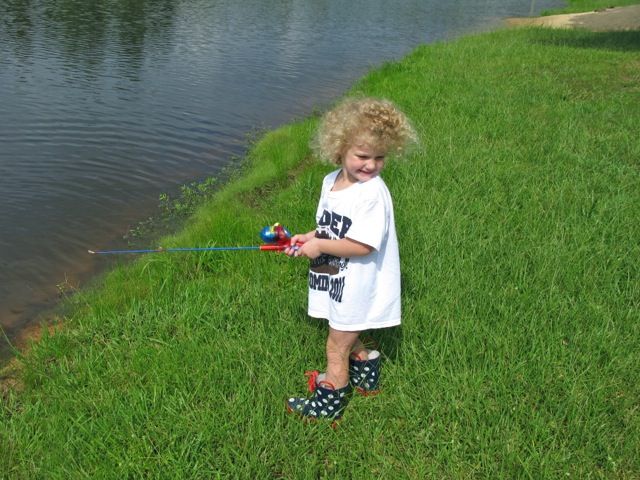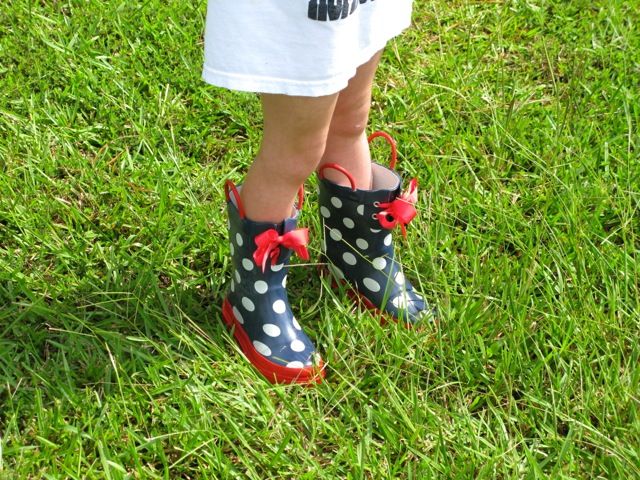 One other funny story about her from this past week was that at one point, as we were talking, she said she wanted to catch a deer. She told me that she wanted to catch one and that she was going to feed it, then ride it, then kill it. I said, "Well, first, I don't think you'll be able to catch one and ride it. Second, how in the world do you think you're going to kill a deer?" She said, "Wiff a gun. Can I use your hot glue gun?"
Well, of course. Because everyone knows you kill a deer quickest with a hot glue gun.