This past Saturday morning we headed to the local Tomato Festival. We went early and only stayed for about an hour because we had a birthday party to attend too. Well, our little social bug had a birthday party to attend. Reagan and I were just her ride.
Here's my people when we first got to the Festival. She was ready with her BIG bow.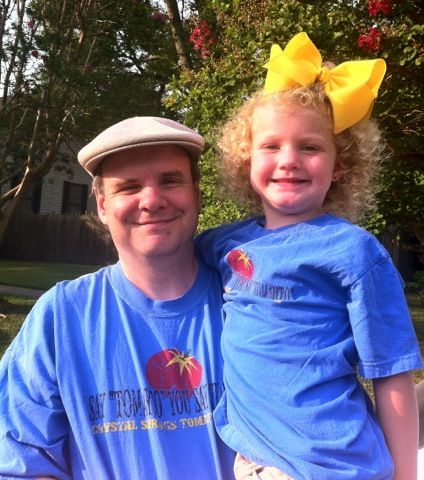 We saw several friends that we only see once or twice a year. We saw Cousin Audrey and her mom, Lauren. Her little brother Micah was there too, but he chose to hang with his Ree-Ree.
We also saw Mrs. Jackie. Sara Madalin asked her about her recent trip to Disney. While they were gone I would tell SM what they were doing and which park they were at each day. She asked if we were going to meet them. Sadly, we did not. Maybe next time.
For the past few years, there's been a mechanical bull at the festival. Sara Madalin has stopped to look at it several times. This year she asked to ride it. We figured we'd let her try. She was fine until the bull started moving. Then she wanted to get down. So, her Daddy volunteered to ride with her. This is the best picture I got of them riding. It's a little blurry because they were moving.
Seeing them ride that bull was worth the sweat dripping down my back as I stood in the 100+ heat.
As I said, we didn't stay long, but it was good to keep our tradition of going and seeing a few of our friends.