Right after school ended this past year, I received a call from another JA mom regarding the "Tea Parties" for the upcoming school year. She asked if I'd chair the committee for the Pre-Primer (K4) and Primer (Kindergarten) parties. I love a good party, so I said I'd be happy to plan for these two events.
About mid-Summer I started contacting other moms for donations, suggestions, help, etc., and started putting things together. It was a lot of fun. As with most any party, there are things, looking back today, that I would have done a little differently. But overall, I think things went well. I didn't take pictures of everything I meant to, but here are a few I snapped of some of the decorations and refreshments.
We had lemonade and water for everyone to drink.
Another mom, Emilee, made these burlap wall hangings for us. Each preschool class has a mascot. Last year, SM was in the Turtle class. This year she's in the Bug class. The children often refer to each other by telling which class they are in. Emilee made mascots for the Pre-Primer classes and Primer classes. I forgot to take pics of the Pre-Primer mascots, but here are the Primer mascots. There is a Monster class, the Dreamers class (rainbow), Elephant class, Chef class, and Cowboy/Cowgirl class (which you can't see very well in the next picture, but you can see it in the picture after that).
Emilee also made the sunflower arrangement. Another mom, Jennifer, made the daisy arrangement. I made the photo collage.
We had chocolate chip cookies as well iced cookies. The iced cookies were most popular. I had ordered 250 of them and ran out. Luckily, I had plenty chocolate chip cookies as well.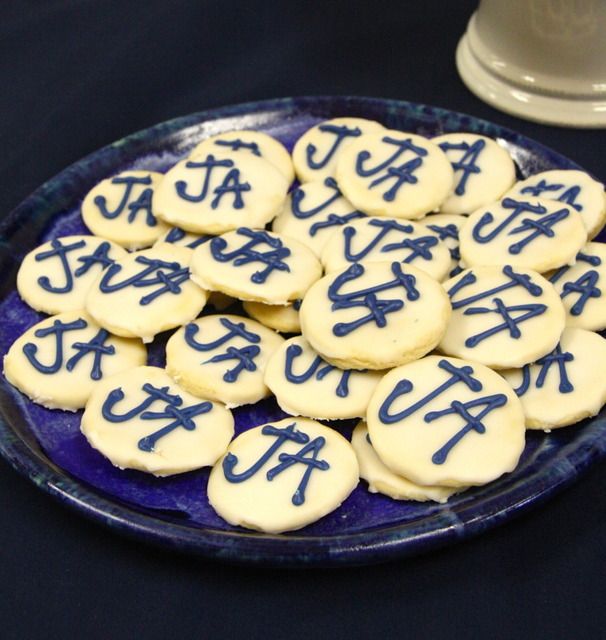 I had fun preparing for the party and got to meet several new moms in the process. I always enjoy being active and involved in SM's school and the activities there. I look forward to helping in other areas in the coming years.