Friday morning our sweet girl went to school to meet her Pre-Primer teacher. She starts back on Monday, and her school does what they call a "Tea Party" where the preschool students come in to meet their teachers. Sara Madalin was beside herself when she started seeing all her old K3 friends.
These two girls were especially excited to see each other. This is Isabel. Reagan said that when they saw each other they started dancing and doing silly stuff. I had a couple pics he took for me, but they were blurry because the girls were moving so much. They are so funny and love each other so much.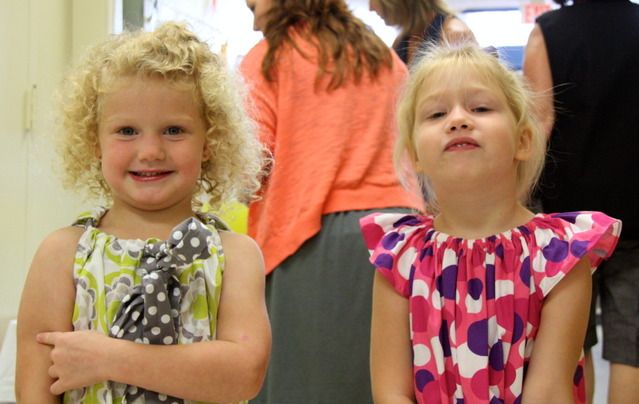 I had left the house before them because I was setting up for the party. So, although I put her hair back with a ponytail holder, I didn't put her bow in because she wasn't dressed yet. Reagan said he was a little overwhelmed as they were leaving the house and forgot to put the bow in her hair. I told him later that afternoon that Sara Madalin was the only little girl without a hair bow and that I hope people didn't think I was a bad mother because of that. I didn't really say that last part. And she wasn't the only girl without a hair bow. I was just thankful for all he did to finish getting her ready and get her there for me. He's such a good Daddy.
Sara Madalin is in the Bug room this year. Her teacher, Mrs. Barry, sent her a postcard in the mail earlier in the week and said she looked forward to seeing Sara Madalin in the Bug Room this year. When I told SM she was going to be in the Bug Room this year, she said to me, "Well, actually, I don't like bugs."
We had a small gift for her teacher that we had picked up earlier in the week and she ran into the classroom and gave it to Mrs. Barry. It was an insulated mug with a Starbucks' gift card inside it. We also attached a note that said, "Mommy says you're going to need a 'latte' caffeine this year."
After giving her teacher the mug, she also gave her a really big hug. We saw Mrs. Barry several times this past Summer when I'd drop SM off at school to play for a few hours, so SM remembered her. (And pretty much EVERYBODY remembers SM after meeting her once or twice.) I was glad that SM was so excited to see her. SM hugged her several more times throughout the morning and Mrs. Barry told me later that she enjoyed all SM's hugs because her children are older and she loves hugs from the little ones.
We (Reagan and I) had gone the day before and met Mrs. Barry and the other parents. We'd seen her classroom too. So, we had prepared SM for some of what would be in her classroom. We told her it was a big girl class, not a baby class like last year. There's not really any toys. There's not any costumes. She had to sit at her desk and do the work that Mrs. Barry or her assistant, Mrs. Smith, told her to do. We also told her about the sticks.
Not, as my child thought, sticks from the yard. Sticks in an envelope hanging on the wall. Each envelope has a child's name on it. If someone misbehaves, they have their stick pulled. They each have two sticks. The first stick is a warning. If the second stick is pulled, they have to go see the preschool director. SM has been to see her a few times last year, so she's familiar with the procedure. Only this year, I think she's a little more afraid of the whole thing. She had a hard time going to sleep Thursday night, and one of the reasons was because she was excited about going to meet her teacher the next day. The other reason she was having trouble sleeping was because she was thinking about those sticks. I know because one of the last questions she asked before going to sleep Thursday night was something related to the sticks.
Having shared all that, can you guess what she had spotted when I snapped this picture of her sitting at her desk Friday?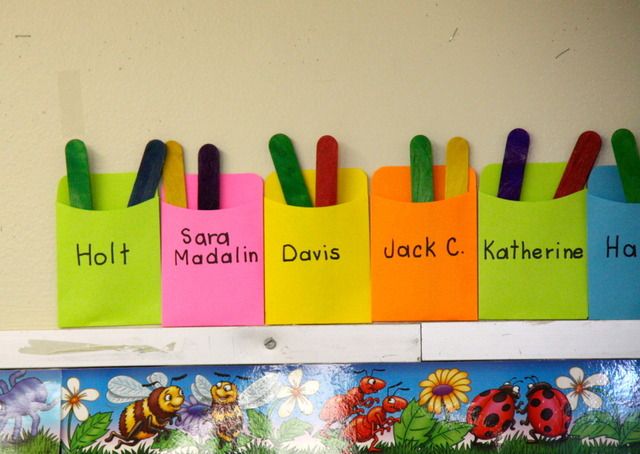 When she saw them, she looked at me and pointed to them without saying a word. I said, "Yes. I told you."
I stayed in her room for a few more minutes before heading back out to check on the refreshments. It wasn't long before she found a book to read. This was after she'd made her rounds in the room to touch and ask questions about most everything else she'd seen.
Here is a cubby that holds all their supplies. Everything is labeled with little stickers that have their names and a bug on them.
I think last year I was a little more on top of the pictures. This year I was distracted with hosting duties. But I did have a chance to speak with her teacher before and after SM came. I had a chance to talk with her about SM's diet and some of the activities we have been doing with SM to control her need for sensory stimulation. Mrs. Barry was very understanding and I think SM will be in great hands with her. I'm a little anxious to see how this year goes. If anything interesting happens (and I have a strong feeling it will), I'll try to blog about it.