For the past several weeks I've been training with a group at church for an upcoming 5K. We have had a great time getting to know each other and bonding on Monday and Thursday nights. We aren't the most athletic group and none of us will even be close to the first person finishing, but we are all dedicated to completing the course. Here's our group one night this past week after we finished a 45 minute run/walk in 100+ degree temps.
We got our packets Thursday night. Here's some of the group looking through their envelopes to make sure all their race info was in there.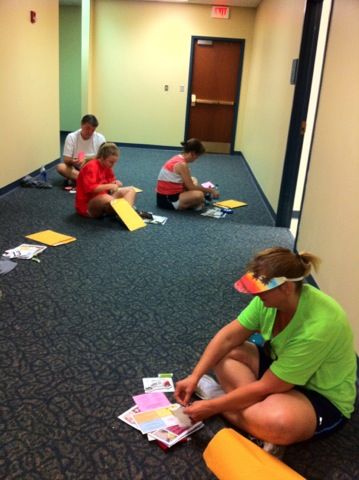 One thing that was a surprise the first night I showed up for training was seeing this next guy in the red shirt.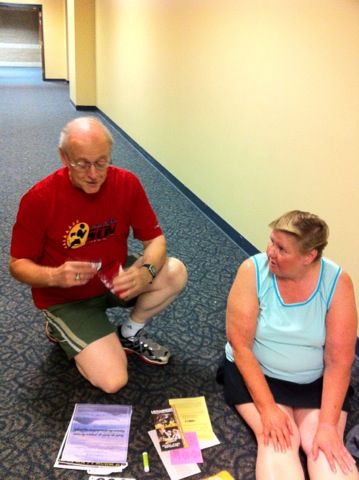 He hired me for my first job when I was 20-years-old. His name is Howard and I worked for him for about 6 months before transferring to the another department. We've run together a couple nights (that's his wife next to him, and she walks) and had a good time catching up on what we've been up to since I left Irby 10 years ago.
This next guy is Jeff. He'll probably be one of the first to finish from our group. How fitting that of all the entries, he received the number 1.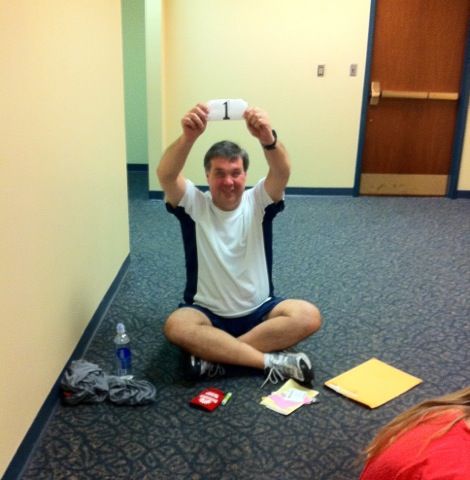 This is our trainer, Rebecca. She was showing us possible placement options for our numbers. We have about half in our group who've run/walked a 5K before, and about half who have not. She's been great about answering all the questions that novice runners have but are sometimes too intimidated to ask.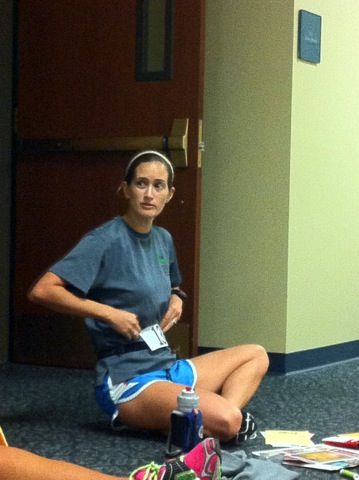 Here's my shirt and number. I'm pretty excited about the race.
I'm grateful for the health God's blessed me with that allows me to get out and even try this course. I'm thankful for the people I've gotten to know through this training. And I'm thankful for the support from my husband that allowed me to train two nights a week for the past few weeks. I feel so much better when I find time to exercise.
I'm not interested in breaking any records. I couldn't even if I wanted to. But I am interested in doing my best. My main goals are to stay loose and run down every hill (and there are lots) and through every straight part of the course. I'm pretty sure I'll have to walk up all the hills. But my goal is to make those steps intentional, as Rebecca says. We've been training on the course each week, so I know it pretty well. I just want to finish it a little faster than I've been doing in the sweltering heat. I'm hoping my time will be better in the cooler morning temps.
We have to be at the race course bright and early tomorrow. Our trainer is going to take pictures, and Reagan and SM will be at the finish line to hopefully catch a few pics as I stumble across toward the end of the pack. I'll try to post and give an update.