So, I crawled out of bed this morning at 6 a.m., put on my running shoes, and headed out in the hot MS humidity to run (well, jog/walk) 3.2 miles. I was sweating just standing on the sidewalk. But it was worth it to complete a goal I'd set a few months ago.
Here's me with our group's coach/trainer, Rebecca, before the race.
She runs a 5K in about 21 minutes. Just call her the Carmelita Jeter of central MS. She could have run two 5Ks in the time it took me to run one.
I had a goal of 13 minutes/mile. I was a little over that. I think my time was 13.125/mile. I was happy with it. The course is pretty hard. Even those who run 5Ks all over the place have said it's tough. There are several really steep hills. And I'll just be honest, hills and I, we are not friends. We're the opposite of friends. Another goal I had was to run all the straight-ways and downhills. I did run all the downhills, but walked/jogged several of the straightways (not all, but a few). I felt, overall, I improved from last year's race.
Here I am with my girl right after I crossed the finish line.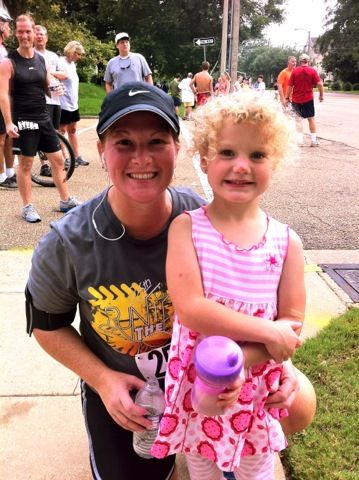 As I came to the finish line, I looked over and saw SM and Reagan. I saw her before she saw me. When she spotted me, she grinned really big and said, "Hey Mommy!" I thought she was going to run out to me, but she didn't. I told Reagan that next year I want to sign her up for the Tot Trot. It's just about 1/2 a block and I think she would enjoy it. She's started mimicking me around the house. She'll run around the living room and then start stretching.
Since I had to leave the house so early, Reagan was left to get SM up and ready to meet me at the church. I had set her clothes and shoes out and told him to wash her hair. Bless him. He tried to put her hair back in a ponytail. I told him we'd try and work on that.
As excited as SM was to see me as I crossed the finish line, it paled in comparison to her reaction when she saw this next guy.
She tracked him from the finish line, through the crowd, and over to the water station where she looked up at him with a huge grin and said, "Hey Santa." He took a picture with her, then she gave him a sweet kiss on the cheek. (Just an aside - I saw a lot of grown-ups walking over to him and taking pictures with him too.) After we left, she asked Reagan how he (Santa) got there and where were his reindeer. I don't know his real name. I've seen him in other race pictures. But she thought he was the real Santa.
I had a great time this morning and I'm looking forward to doing another 5K in the near future.