So, my child thinks that not only should we take a picture of her before school on the first day of the year, but also every other morning after that.
Before heading out to school on the second day of the school year, she posed again for pictures with her book bag and lunch box.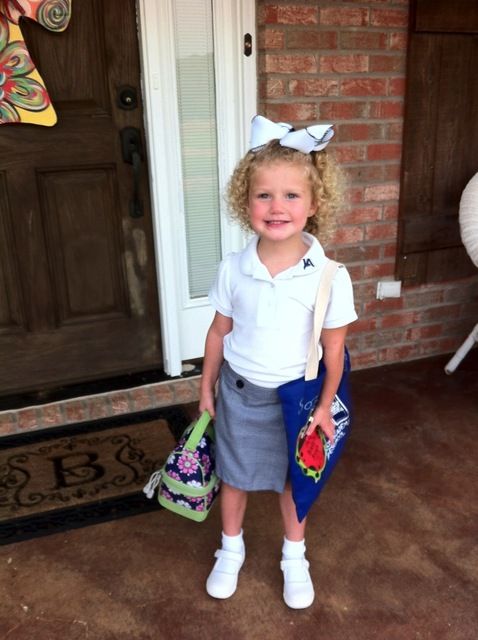 I told my sister that she also walked out to the yard before leaving on the 3rd day, turned back to me, as if to say, "Is this a good spot (for a picture)?" When she turned to me waiting for me to take a picture, I said, "Get in the car. We're not taking pictures today."
It just so happened that, although she was supposed to stay the full day on Tuesday, she had a dentist appointment that required me to pick her up early. When I arrived at school, they called her over the intercom and said someone was there to pick her up. I was talking to her teacher in the hall when SM came in from the playground and started walking down the hall to collect her bags. When she saw me, she turned and ran back to the playground. Another worker at the school followed her out and brought her back in. After that, SM thought it was a game and continued to try and run from us until I picked her up and told her she needed to apologize to the ladies for running, and that she and I were leaving. Now.
We headed to see Mrs. Debbie for SM's 6-month check-up. SM was a little more fearful during this visit than she's ever been before. She didn't really want Debbie touching her mouth or teeth. We didn't get much accomplished. But SM did get a new mask and gloves from Mrs. Debbie. Debbie then carried her around the office taking pictures of SM in various locations. SM loved it.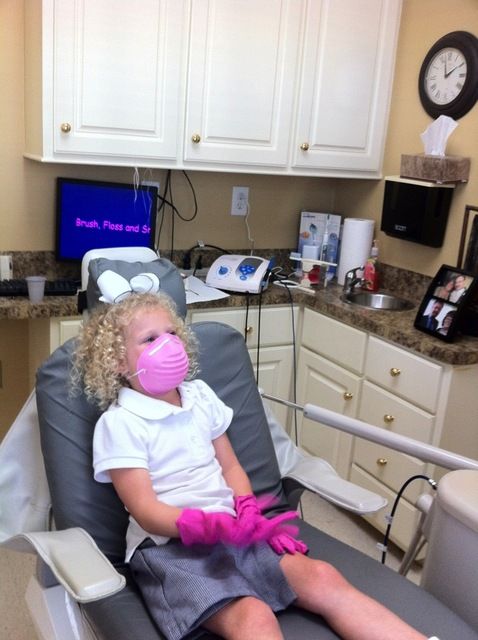 When we got home, she played "Dentist" all afternoon with her baby dolls.
I've asked Sara Madalin each day as I picked her up from school what all they had done during that day. The first day she told me they saw Mrs. Rootbeer (their music teacher, not her real name by the way) twice. I asked if anyone's sticks got pulled (for misbehavior). She said no. The second day she told me she got to be the leader and hold the flag during opening assembly. Then, on Wednesday, she told me that she had cut with scissors - two triangles, one big and one little. She also got to color with pastel colors in the art room.
What she neglected to tell me, and I probably wouldn't have found out had it not been from her teacher calling us on Wednesday night after church, was that she had gone into the boys' bathroom on Wednesday. Her teacher said it was probably a mistake, and that no boys were in there at the time. But then SM, after having gone to the bathroom in there, came out with her skorts and underwear down. Now, I'll admit, the buttons on the skorts are difficult for even me to button, much less a 4-year-old with some fine motor skill delay. So she might have needed help with that. But she could have at least pulled her underwear up. I told her teacher she does that at home too. She goes to potty then comes and finds me to put all her clothes back on. We are going to definitely work on her re-dressing herself in the next few days. And we've had more than one discussion about NOT going in the boys' bathroom.
Her teacher also told me that she had still been hungry after lunch and had eaten a piece of someone's apple. I checked SM's lunch box and there was food still left in there. I told Reagan it wasn't that she was hungry. She just saw someone else with something she wanted so she probably told her teacher she was hungry. That's a trick she's played with me too.
I know, after having spoken with her teacher, that they are working on boundaries this week and the teacher has had to be strict with SM on a few things. We've also had quite a bit of discipline issues with her outside of school this week. I think she is dealing with the change of a new teacher, classroom, etc. and she is pushing all the adults around her to see who's going to give in first.
Bless her heart. Growing up is tough. Especially when you are 4-yard-old and you don't get to be the boss.