Last week our church hosted a consignment sale to raise money for local and overseas missions. We had a great turnout and I enjoyed working with other women (and one pretty smart guy) from our church to minister in this area. I worked a couple shifts on Friday and Saturday. So, by Sunday, I was looking forward to a good afternoon nap. We came straight home after church, had lunch, and decided to settle in for our nap. Usually, Sara Madalin and I nap together in my bed, and Reagan naps on the couch. She doesn't like for him to nap with us. And we decided long ago, if any of us was going to get a nap, we'd let her have her way on this one. (The whole "choose your battles" and all.)
This past Sunday, she told Reagan he could nap with us. Y'all, we slept for over 2 hours. We haven't slept so good in a long time. Right before she fell asleep, she looked at me and said, "Mommy, I love family nap time." Then she gave us both a kiss. She can be such a sweet girl when she wants to be.
We decided that during the week I'd try to cut out her afternoon nap. We've thought she was ready to drop it for a while. But, when we don't nap, she is so wild and irritable by 5:00 that I feel like all I do from that time until she falls asleep is get on to her or spank her. So, I've continued to let her nap. And it's gotten to where she naps later and later. But, she still naps. Last week, she fell asleep on the way home from school every day that I didn't pick her up before lunch.
I thought today would be the day we started dropping the afternoon nap. And things were going pretty well. I was cleaning house, SM was playing. I would check on her from time to time. Then, around 4:30 I realized she was really quiet. I walked to her room and found her like this right inside her bedroom door.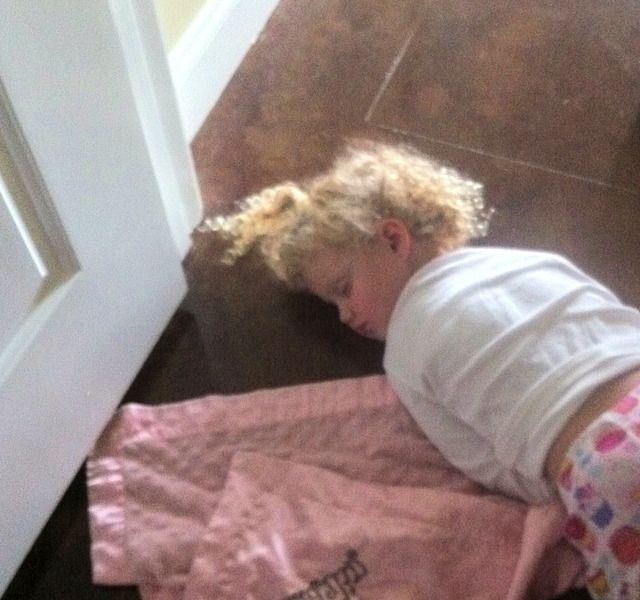 You know that baby was tired to lie down on the hard concrete floor and go to sleep. I took a picture with my phone, then tried to take a picture with my big camera. When she heard the click, she woke up. So, she probably only slept there for a few minutes. But, when it was time for bed tonight, she was out in about 10 minutes.