As I mentioned in my last couple posts, we spent Labor Day weekend in Orange Beach, AL. Reagan, Sara Madalin, and I drove down Thursday afternoon. School was cancelled for the day for Sara Madalin because of weather resulting from Hurricane's Isaac's landfall the day before. So, as soon as Reagan came home after lunch, we headed south.
We arrived at our condo around the same time as Sara Madalin would have normally gone to bed. But, because she had napped on the way down, and because she was so EXCITED about being at the beach, it took a little while for her to settle down and go to sleep. Whereas she's normally asleep by 8:30 at the latest, Thursday night she didn't go to sleep until after 10:00. And when she was finally asleep, she slept GOOD. Here she is in the bed that the three of us shared while on vacation.
Let me just say, she slept much more peacefully that Reagan and I did while on vacation.
Our friends, Martha and Dewayne (Granny and Gramps) and their daughter, Sherri, and her 3 sons, Connor, Andrew, and Matthew, all joined us in the condo a little later that night. Everyone got up bright and early on Friday to head down to the beach. Because Isaac had been in The Gulf just a couple days before, the water was pretty rough. We all were able to get in the water, but we stayed pretty close to shore. It was also pretty windy. After a little while in the ocean, we chose to spend the rest of our morning and afternoon in the pool.
Now, Saturday was a perfect, beautiful beach day. Here's a photo Reagan took with his phone from our balcony before breakfast Saturday morning.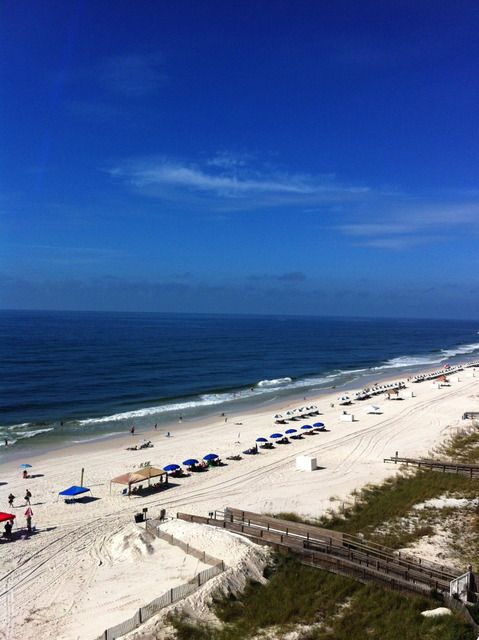 By the time we got downstairs a little after 9:00, the beach was already pretty crowded. Here's our little surfer girl ready to catch some waves.
Once she got the hang of knowing when to lie down and catch a wave, she loved it. She didn't want to stop. Well, except to come play in the sand for a little while. But she loved the water more this time than any other time she's been to the beach. And because she's older, and can play outside a little longer, she was able to enjoy the beach more than she has times in the past.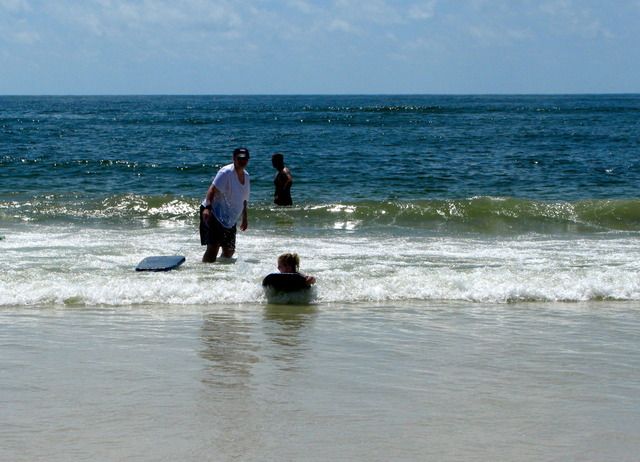 Saturday night we all decided to go out for a meal. Conner chose The Shrimp Basket. Here's our little family before we all headed out for dinner.
While waiting on all of us to get ready to leave, Sara Madalin and the boys were playing. During her play, Sara Madalin stepped on the hem of her dress and tore it loose. I didn't have a sewing kit or safety pin. But I did have some Hello Kitty duct tape in my car's emergency medical kit. Works just as well. And Sara Madalin and Andrew thought it was pretty funny that Sara Madalin had her dress hem tapped up.
Here are Sara Madalin and Andrew before heading out to dinner. They played so well together while we were gone.
Sara Madalin loved having the boys with us this past weekend. And we were glad they were there. They kept her entertained and busy, whereas, if she was just with us, she would have worn us completely out because she was bored.
Here are our sweet friends, Dewayne (Gramps) and Martha (Granny).
And here is Sherri with her 3 boys, Conner, Andrew, and a sleeping Matthew. He had played out and was ready for bed by the time we went to dinner.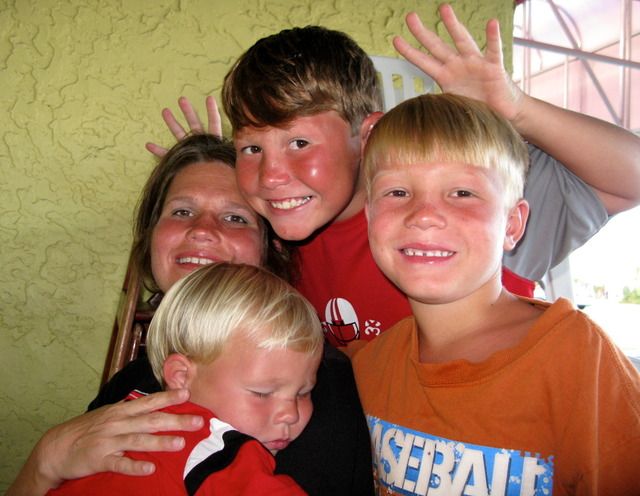 After dinner, we went back to the condo, changed clothes, and took the kids out to hunt sand crabs on the beach. Sara Madalin had never done that before, so she was super excited.
Reagan held the flashlight on the crabs for her and she tried to catch them. She wasn't very successful. Mainly because she would squeal and run when the crab started moving. She was so funny.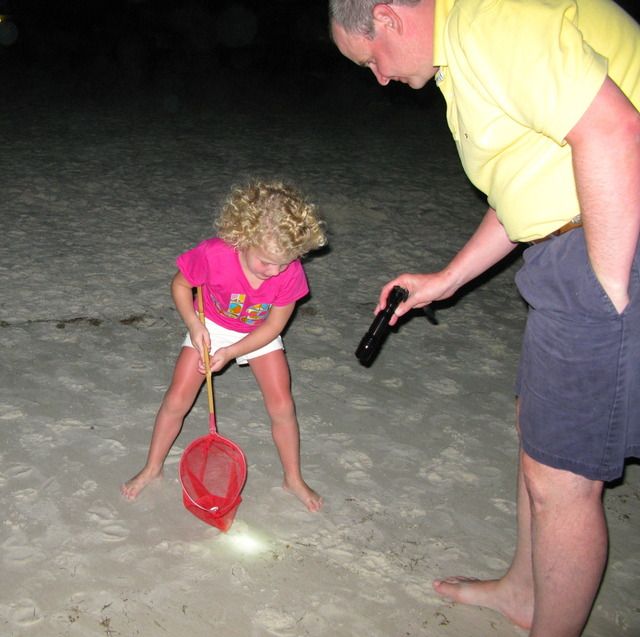 Everyone else left on Sunday afternoon. Our family stayed until Monday. Sunday afternoon we took Sara Madalin out for a few pictures, then we had dinner at Sea n' Suds. After dinner, we took Sara Madalin to play golf. I'm not sure "play golf" would be the best way to describe what we did, but she enjoyed it. We only made it through about 8 of 18 holes before we were all pretty much over it. So, we bought tickets and rode go-carts. Again, Sara Madalin loved it, probably because it was fast (to her) and loud.
After go-carts, we headed home and put her to bed. We went out again Monday morning for a little while, then headed home around lunch time. It was fun, but exhausting. I told Reagan we need to take her back next year if at all possible. She enjoyed the beach more this time than we've seen her enjoy it before. And she is such a natural beach babe. I'm so thankful that we were able to take her.