We've had a relatively laid back weekend. It was nice.
Friday I worked a local consignment sale while Sara Madalin was at school. It was easy and fun, but also a little tiring. Which isn't always a bad thing.
Sara Madalin started Friday gymnastics this past week. The class is held at the end of the day each Friday. That means that she doesn't get out of class until 2:45. She was tired. And WIRED. Luckily, she fell asleep in the car on the way home. I had mentioned last week in a post that we are trying to drop her daily nap. I'm beginning to rethink that choice. She is awful when she doesn't have a nap. She goes to bed earlier and easier, but from about 3:00 p.m. until she goes to sleep, it's about all I can do to contain her. Friday, she fell asleep on the way home, and I let her sleep. After she woke up from her nap, we did a few things around the house, then went to meet Reagan for dinner.
Saturday we cleaned up a little around the house. Sara Madalin learned to play the Wii. Reagan turned on the Wii Fit and let her hula hoop, run, and box. After one of the running sessions, he said she looked at him and said, "Whew, I'm tired." And she was. By noon, she was so tired she didn't even want to eat lunch. (Let me clarify, she didn't play the Wii until noon. She only played for about 20-30 minutes.) Rather than eating, she wanted to go lie down and take a nap. I went to my room with her to lie down and she was out by 12:30. She slept for 2 hours.
We pulled that Wii back out Sunday morning and she had herself a little work-out before going to church.
Sunday after church we went to lunch with our friends, Brandon and Stephanie, and their 3 children. They have 2 daughters who are close to Sara Madalin's age. She loved having them there while we ate. I think we were the loudest table in the whole restaurant, but we had a great time. The girls ended our meal with a few funny face shots. Of course, we took a photo to remember it.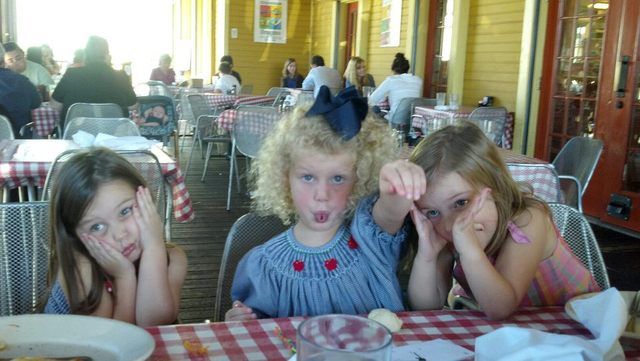 As we were walking to the car, and the girls were saying their good-byes, Sara Madalin looked at me and said, "Will you take our picture?" So, I said yes.
I'm so glad she has such precious friends and that they love each other so much.