Last Friday was our first full day at Disney World. We headed over to Magic Kingdom to enjoy ourselves until about 2:00, then we headed to see our friends, the Glenns, who live about an hour away.
Sara Madalin has gotten to where she really likes to pose for the camera. I don't know why in the world she likes the camera so.
Anyway, we had a short photo shoot while we waited for everyone else to get ready before heading to Magic Kingdom.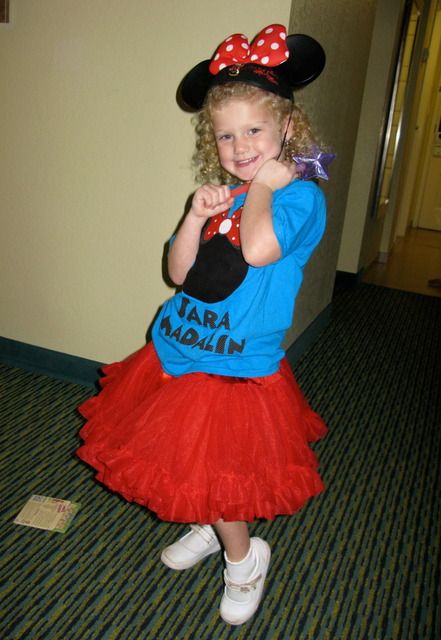 When we got to the Ticket & Transportation Center, the monorail was down and everyone was being directed to the ferry boat. We stood in line and took it to the magic kingdom. Here's a view of Cinderella's Castle as we made our way to the park.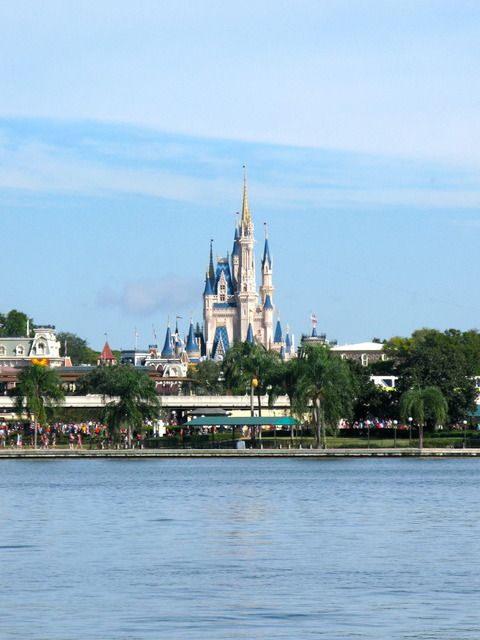 Once inside the park, our plan was to headed to Fantasy Land so Sara Madalin could ride a few rides. The night before we'd only ridden The Haunted Mansion and the Little Mermaid ride. We wanted to try and fit a few more rides in for her on Friday.
Here we are before hopping on the park train to go to Fantasy Land.
Our first ride was The Barn Stormer. It's a small roller coaster. She's ridden it before, but wanted to try it again. She chose to ride with her Daddy.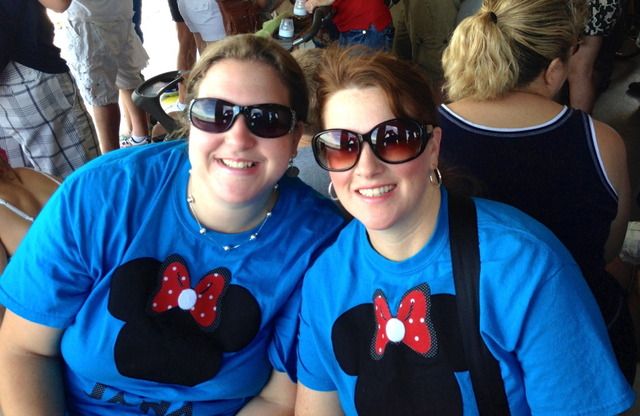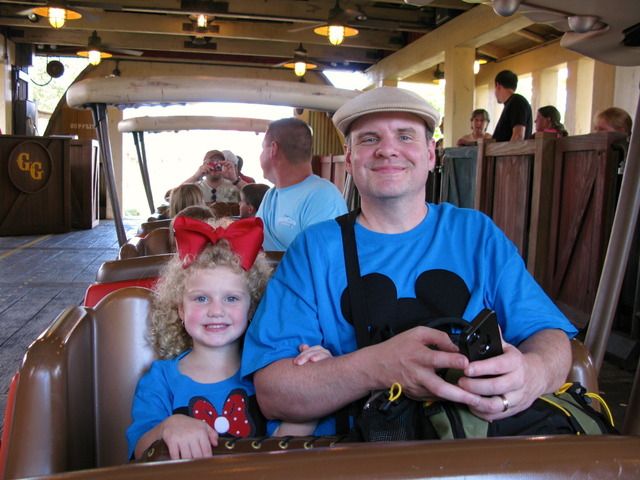 As you may notice, we all wore matching shirts. My husband is a good sport when it comes to dressing at Disney. He wears a costume when I ask. And he wears a t-shirt with his name on it. He's a good guy. I saw lots of ideas for future shirts. Next time we go, I told him I'm getting him a shirt that says "Big Daddy." He said he didn't know if he'd go for that.
After Barnstormer we stood in line for over an hour to ride Dumbo. But these girls enjoyed it, so it was worth it.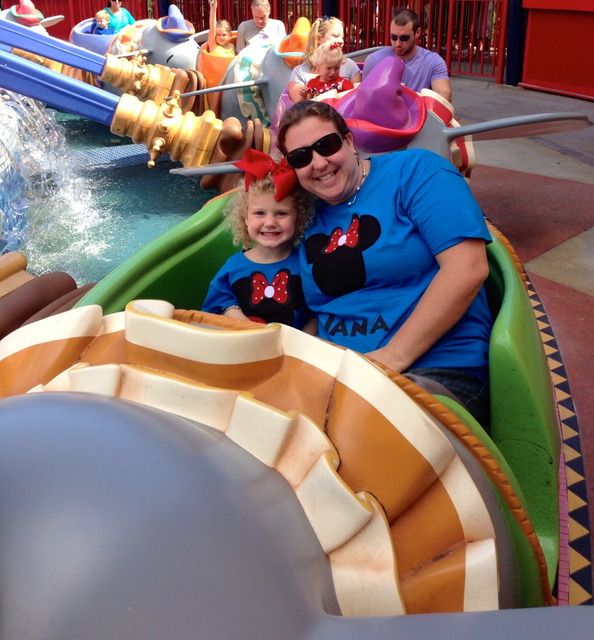 After Dumbo, we took a little break. Look how cute she is.
We had a little lunch, then Sara Madalin wanted to ride the Teacups. That's her favorite ride. It's my least favorite ride.
We left the park early that day because we were going to drive over to see our friends, the Glenns. But, before we left, we stopped by to see Mickey.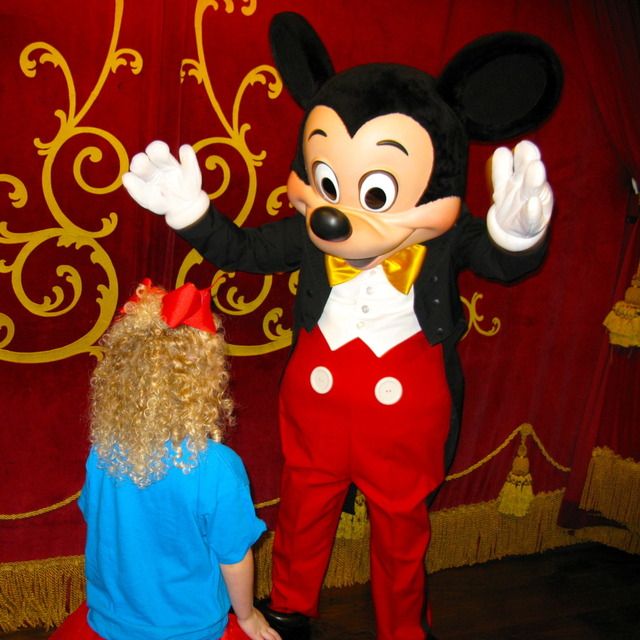 When Sara Madalin walked in to see Mickey, he took her by the hand and twirled her around. She loved it.
After we left the park, we went back to the hotel to pick up a few things, then headed to see our friends. The girls took advantage of the hour drive to catch a little nap. I may or may not have had a little snooze as well.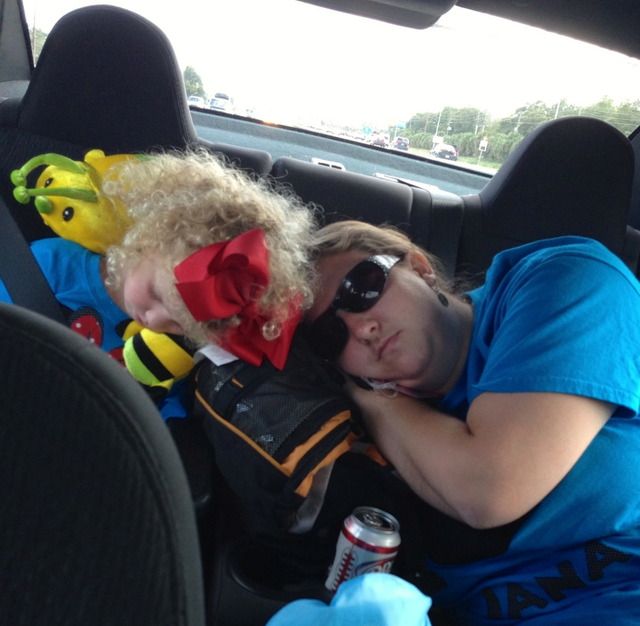 We were all happy to see each other. But I don't think anyone was as happy as Sara Madalin to see her buddy Jonah. Nicki took this next picture. It's pretty clear how much our girl loves Jonah.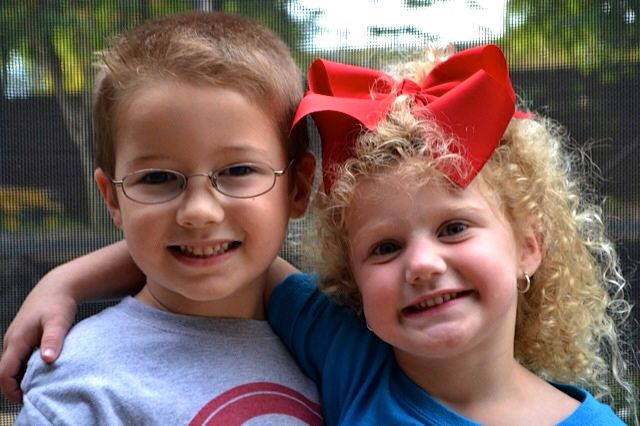 They played in the pool until they could hardly stay awake.
While the kids played in the pool with Dan, and Reagan cooked dinner, Nicki, Jana, and I sat around sipping Diet Coke and talking. It's what we do.
Reagan cooked spaghetti and garlic bread for us. It was delicious. It's the main reason the Glenns keep inviting us back to their house.
We had a great day at the park and enjoyed ourselves so much at dinner with our friends. People think we go to Disney a lot. But the real reason we go to Florida is to see those people.
No, really, it is.