Our friends David and Regina are home from Guatemala for the month of October. They serve as IMB missionaries there and have since 2006. When they left for the mission field, neither they nor we had children. What we did have was more sleep. And we also had all the answers for our friends who had children. Oh, we didn't tell our friends we had the answers. But we liked to get together and share with each other what we were certain was lacking in others' children, and exactly what we KNEW needed to be done to correct it.
Now, 6 years later, we have three children between us and not a clue as to what we are doing. And we certainly don't know the answers to how best to correct our own wild children. We are eating every word we jokingly (and not so jokingly) shared about the behavior of others' children and what we'd do "If that was my kid..." Regina said it's mainly because, at ages 39-42, we're all too tired to know what's best. And we don't remember what we were certain of when we were younger and well rested.
But we at least know how to joke about all of it. And although our kids are WILD and LOUD, they laugh a lot. And they enjoy playing with each other. Almost as much as their parents enjoy each other.
They came over Sunday afternoon for a few hours. We had dinner and let their oldest, Cruz, who is 2-yeras-old, play with Sara Madalin. It took them a few minutes, but they warmed up to each other. I know this because before the night was over, they had both hit the other at least once. That's a sure sign kids are comfortable with each other, isn't it?
Regina and I both normally take tons of pictures of our kids. But Sunday night we were just trying to keep them from falling off something, falling into something, or just doing anything basically that would result in a trip to the ER for either of us. But I did get a couple photos at the end of the night. And by "I," I mean Reagan.
Our group: Cruz, David, Ben, Regina, me, Sara Madalin, and Reagan
And here are those wild little kids that keep us all on our toes.
See, I told you. We're all constantly just one jump away from an ER visit.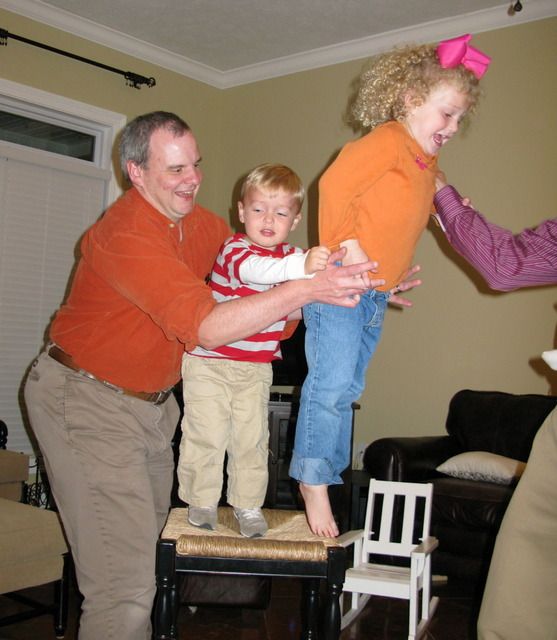 Luckily David was standing right outside the frame, ready to catch her.
We enjoyed our visit and hope to see them again before they head back to Mexico, I mean Guatemala, at the end of the month.