Saturday morning we got up bright and early. As soon as there was little bit of light peeping through the window, SM was up putting on her boots, ready to head outside. So, we all got up, got showers, and headed over to the cafeteria for breakfast.
I had brought Sara Madalin snacks, fruit, and milk, but felt certain that she would be ok to eat something from the food prepared by the cafeteria for her meals. On Saturday morning she had a mini muffin and a piece of apple to go with her milk I had brought her from home. She seemed to do fine with it.
After breakfast, we went outside so she could play for a few minutes. She went to the swings first.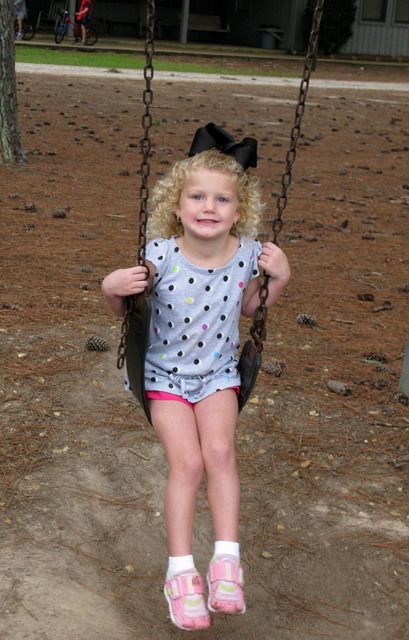 It was long after we went outside that her friend Audrey came outside too. We put life vests on them and took them out to the pier.
I had to run back to our cabin for something, so Reagan stayed by the lake with the girls. When I returned, they were in the edge of the water playing in the mud.
About an hour after breakfast we had a run/walk around the lake. Sara Madalin walked/jogged most of the 2 miles around. She did ride on Reagan's shoulders or take a turn riding in Audrey's wagon a few times. But she probably walked over a mile of it. Toward the end of the walk, I told her to run to the finish line. Well, she did. And she kept right on running. We had to call her to turn around and come back before she headed around the lake a second time. Here we are after she "won" the race.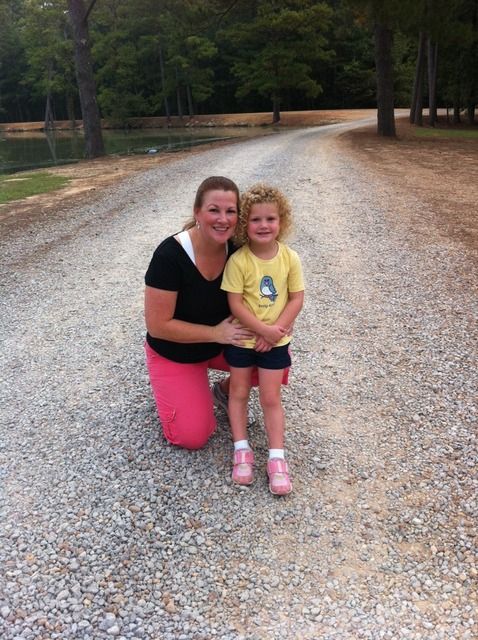 A little while later was the preschool scavenger hunt. The little kids always enjoy getting prizes and candy. I knew there would be candy, so I brought SM her own candy so she wouldn't feel left out. She liked her candy and was happy with what she got.
The big kids like to come out and get a few prizes too. Here's Gracie with a pair of the silly glasses.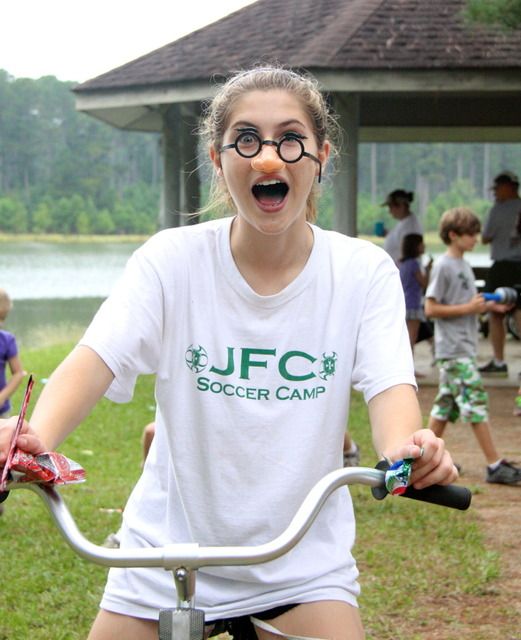 Posing with a few of her prizes.
This is Katherine, who is 6-years-old, and Sara Madalin. When I took this picture, Sara Madalin asked, "Are we twins?" (And look at Tamah totally photobombing in the background.)
After lunch the girls played for a few minutes in the sand at the volleyball court.
Finally, it was time for Sara Madalin to climb the rock wall. This was her first year to be old enough to do any of the extra activities. We let her choose one thing because she also needed to take an afternoon nap. She decided the rock wall would be what she wanted to do. Daddy wasn't as sure about it as she was.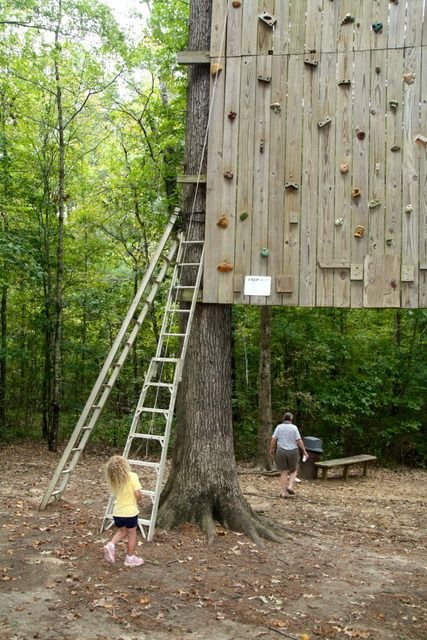 She was probably the smallest person they've had climb the rock wall in quite a while.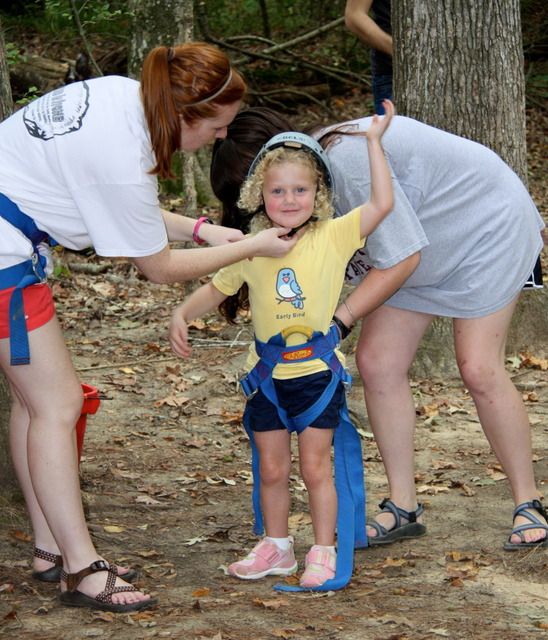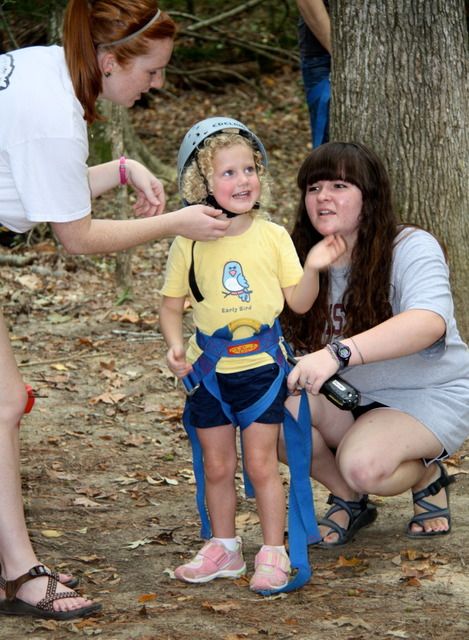 They had to put a glove in her helmet to make it fit.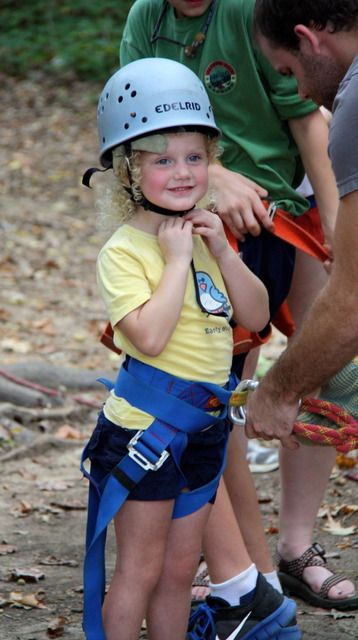 She wasn't afraid at all. She didn't even show any signs of slowing down. Until I called her name, that is. Once she looked down at me and realized how far up she was, she started crying. But we couldn't make her understand that all she had to do was let go of the wall and the guide would lower her using the rope. She never would let go. Reagan finally climbed the ladder and she came back down to him. I knew she was pretty much done then and we needed to go back for a nap.
Millie held her while we watched a couple of other kids climb up the rock wall and climb to the zip line. But as you might be able to see by her eyes, our girl was done.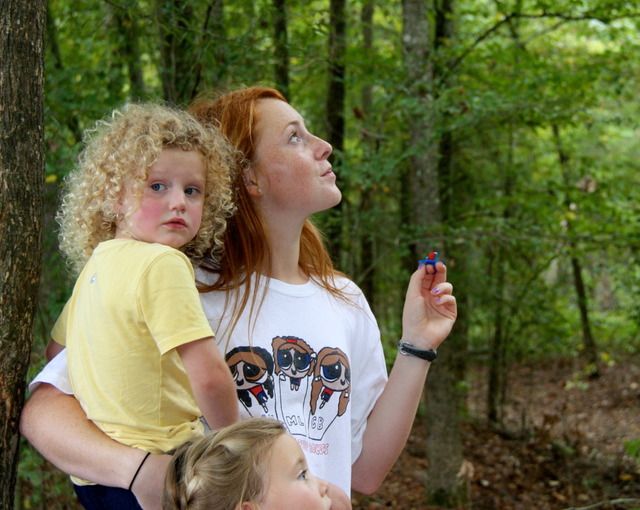 She wanted me to carry her back to the cabin. She'd had a pretty big day so far and I'm surprised she didn't fall asleep before we were back to the cabin.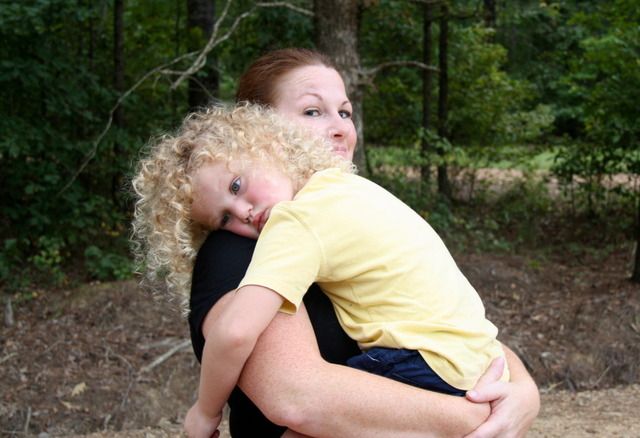 All in all, she was pretty well behaved, even though she was extremely tired. Usually, when she's tired, there's no reasoning with her and she's prone to temper tantrums. We didn't see even one on Saturday.
Little did we know that her fatigue would begin to show later that night and we would experience a complete meltdown Sunday morning. But that's a blog post for tomorrow.